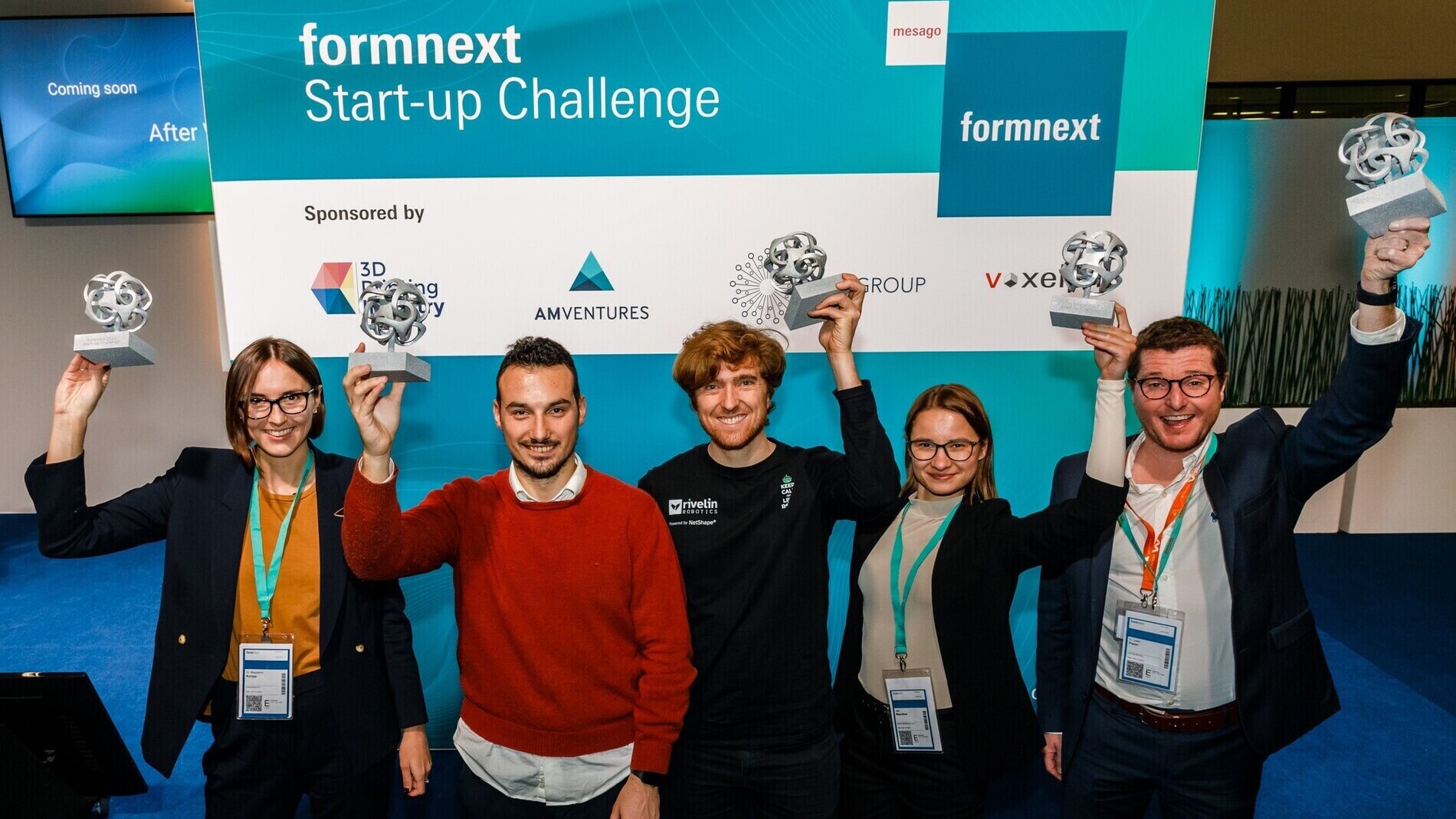 The Formnext Start-up Challenge provides up-and-coming companies with the opportunity to showcase what they do on the world's leading AM platform and to meet new customers as well as partners and investors. The latter is of even greater importance to start-ups due to the impact of current developments on the financial markets. From 7–10 November 2023, start-ups at Formnext will also experience a unique trade fair experience within an industry of technological innovators, where relevant key players, such as other developers, designers, and experts inspire each other. With more than 600 exhibitors already registered, Formnext 2023 is heading for new record figures and is thus more than ever an ideal platform for the challenge winners to become part of the rapidly growing AM community.  
The technological innovations arising from the Formnext Start-up Challenge have contributed to advancements in AM technology and the 3D Printing sector for many years. "The Formnext Start-up Challenge aims to support young companies in the long term. We offer the winners a highly attractive package enabling them to showcase what they do alongside the elite of the global AM world and inject fresh impetus into the international manufacturing industry," explains Sascha F. Wenzler, Vice President Formnext at event organizer Mesago Messe Frankfurt GmbH.
A long-term impact on business success
The Formnext Start-up Challenge has clearly demonstrated its huge relevance to the international investment and start-up scene and its long-term impact on corporate success for many previous winners, including 3Yourmind, Dyemansion, Kumovis, Sinterit, Trinckle 3D, and Xioneer. As Dr. Alexander Kostenko, CEO of Photosynthetic B.V., winner of the Start-up Challenge 2022, explains, "... we made more useful contacts in the 4 days at Formnext than we had in the previous 18 months. This once again accelerated our business in the right direction."
In addition to the 3D-printed award, sponsored by Voxeljet, the five winners will each receive an impressive Formnext exhibition and marketing package, which includes, among other things, a fully equipped exhibition booth in the Formnext 2023 Start-up Area and inclusion in all Formnext PR activities. In addition, as part of Formnext, the winners can participate in a pitch event on the Industry Stage to be broadcast live on Formnext.TV, giving them the opportunity to impress investors, companies, and customers with a brief presentation of their products or services.
Additional award for sustainability
The Formnext Start-up Challenge will also focus on the increasingly important issue of sustainability. The AM Ventures Impact Award worth €5,000 recognizes start-ups who are leading the way in this field. "Additive Manufacturing has become an important technology with huge potential to resolve global sustainability challenges," explains Arno Held, Managing Partner at AM Ventures. "We are on the way to a sustainable and resource-efficient society, and start-ups are particularly well placed to drive this transformation in traditional manufacturing."
The wide-ranging benefits of the Start-up Challenge for the entire AM world are emphasized by jury member Professor Peter Mayr, Head of the Chair of Materials Engineering of Additive Manufacturing at the Technical University of Munich: "The Formnext Start-up Challenge is a unique opportunity for AM start-ups to expand their network, receive feedback from potential customers and industry experts, and evaluate their business models. Only through this collaboration between start-ups, science, and industry can we develop the AM applications of tomorrow and increase the maturity level of AM across domain boundaries."
Furthermore, the high-profile jury includes Professor Kristian Arntz, Professor for Manufacturing Technologies and Machine Tools at the FH Aachen and Chief Executive Officer of the Fraunhofer ICNAP, Stefanie Brickwede, Head of Additive Manufacturing@Deutsche Bahn and Managing Director of the "Mobility goes Additive" network, Arno Held, Managing Partner of AM Ventures, Alexander Oster, Director Additive Manufacturing at Autodesk, and Michael Petch, Editor in Chief at 3D Printing Industry.
Companies can participate in the Formnext Start-up Challenge if they are no more than 5 years old, have a marketable product, and generate annual sales of less than €10 million. Start-ups that have already won a package for the Start-up Area or have a majority shareholder and more than €10 million in annual sales are not eligible to take part.
The winners will be announced in September 2023. 
Background information on Formnext  
Formnext is the hub for Additive Manufacturing, industrial 3D Printing and the next generation of intelligent manufacturing solutions. In addition to the annual highlight, the expo in Frankfurt/Germany, we provide our clients worldwide with a variety of relevant updates, insights and events around Additive Manufacturing (AM) as well as the related technologies along the entire process chains. Formnext is organized by Mesago Messe Frankfurt GmbH (formnext.com).
About Mesago Messe Frankfurt
Mesago, founded in 1982 and located in Stuttgart, specializes in exhibitions and conferences on various topics of technology. The company belongs to the Messe Frankfurt Group. Mesago operates internationally and is not tied to a specific venue. With around 150 members of staff Mesago organizes events for the benefit of more than 3,300 exhibitors and over 110,000 trade visitors, conference delegates and speakers from all over the world. Numerous trade associations, publishing houses, scientific institutes and universities work with Mesago closely as advisers, co-organizers and partners. (mesago.com)
Background information: Sustainable Messe Frankfurt 
The Messe Frankfurt Group is one of the world's leading trade fair, congress and event organisers with their own exhibition grounds. With a workforce of some 2,200* people at its headquarters in Frankfurt am Main and in 28 subsidiaries, it organises events around the world. Group sales in financial year 2022 were around €450 million*. We serve our customers' business interests efficiently within the framework of our Fairs & Events, Locations and Services business fields. One of Messe Frankfurt's key strengths is its powerful and closely knit global sales network, which covers around 180 countries in all regions of the world. Our comprehensive range of services – both onsite and online – ensures that customers worldwide enjoy consistently high quality and flexibility when planning, organising and running their events. We are using our digital expertise to develop new business models. The wide range of services includes renting exhibition grounds, trade fair construction and marketing, personnel and food services. 
Sustainability is a central pillar of our corporate strategy. Here, we strike a healthy balance between ecological and economic interests, social responsibility and diversity.
For more information, please visit our website at: www.messefrankfurt.com/sustainability
With its headquarters in Frankfurt am Main, the company is owned by the City of Frankfurt (60 percent) and the State of Hesse (40 percent). 
For more information, please visit our website at: www.messefrankfurt.com 
* Preliminary figures for 2022
Background information on the Working Group Additive Manufacturing (Honorary Sponsor)
Within the Working Group Additive Manufacturing, about 200 companies and research institutes collaborate under the direction of the German industry federation VDMA. Here, plant engineers; component and material suppliers; industrial companies that work with metals and plastics; service providers in software, manufacturing, and processing; and numerous researchers all work toward the same goal: the industrialization of additive manufacturing techniques. (am.vdma.org)