Formnext streAM is our digital offer for online networking and matchmaking. The platform enables participants across the globe to initiate contacts and set up appointments prior to the exhibition. They also have the opportunity to continue this exchange digitally following the on-site event. Above all, Formnext streAM offers you the possibility to follow the stage program with Formnext.TV live and on demand.
Formnext streAM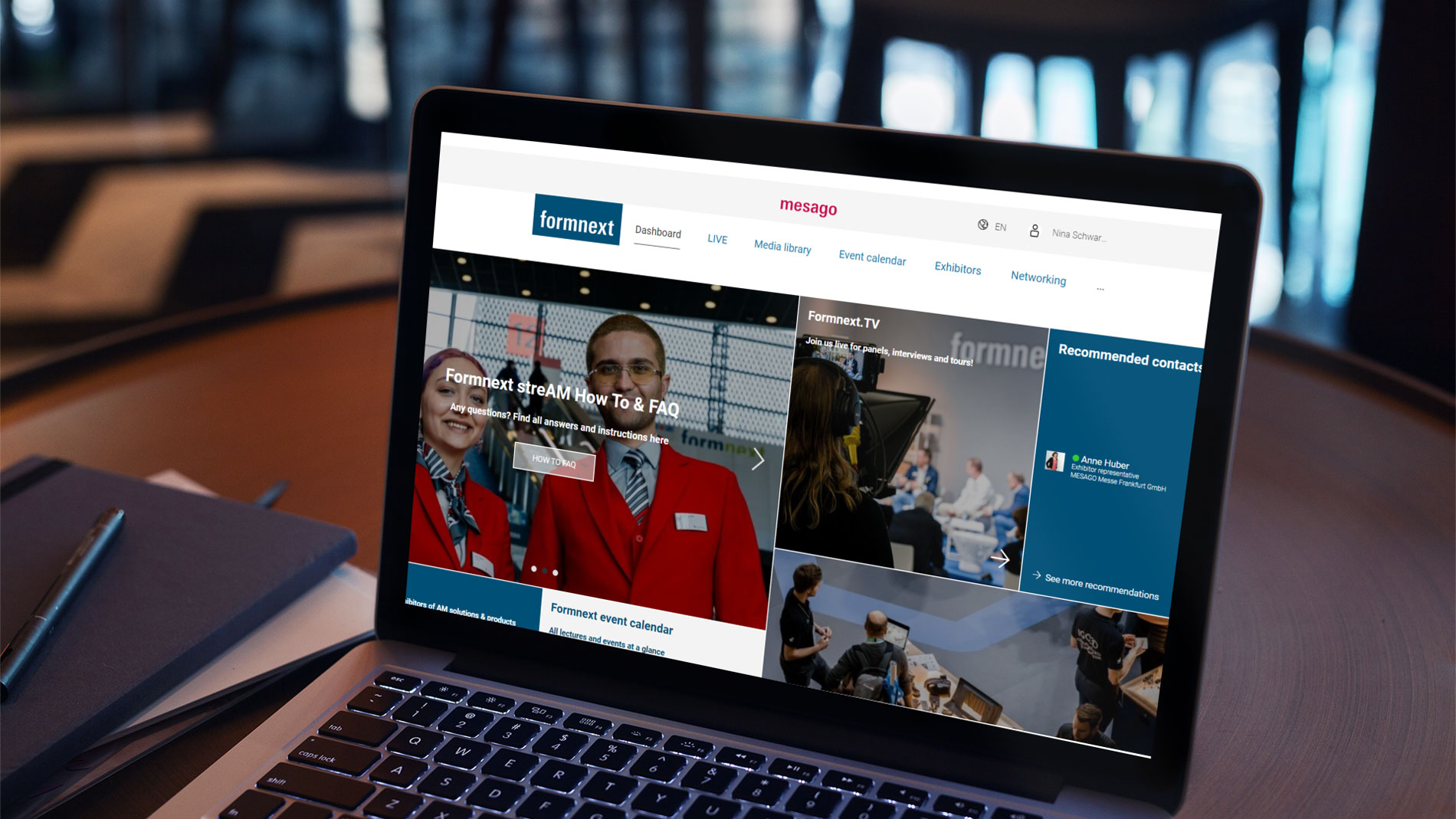 Prior to Formnext
Formnext streAM offers you active online networking even before Formnext. Diverse interaction and networking options (such as matchmaking, scheduling appointments, chats, video calls) support you in generating new business contacts before Formnext and arrange appointments during or after the trade show. Find out who will come to Frankfurt, connect with interesting new contacts.
During and after Formnext
During the trade fair, the digital platform also offers access to the event program for all those who cannot be present in Frankfurt and streams live from the show floor and the Industry Stage. After the show, everyone can catch up on what they missed during Formnext on demand in the streAM media library until 30 November.
In addition to the on-demand media library, streAM also offers you the opportunity to network with exhibitors and experts digitally and beyond the days of Formnext until 30 November 2023, so you can make further contacts or follow up.
The stage program will be published here in due time.

Digitale features:
Exhibitor profiles and product information: Find relevant exhibitor profiles, products and contacts.
Live streaming: Experience the stage program streamed by Formnext.TV.
Matchmaking: Receive contact and program recommendations tailored to your profile.
Live Chat: Use the chat function for direct exchange with other participants.
1-to-1 video call: Have face-to-face conversations with exhibitors, visitors and experts.
Access and timeline
For exhibitors
For initial registration and preparation, the platform will be activated for exhibitors from 18 September 2023. Exhibitors receive access with their exhibitor pass and the Messe-Login
For visitors, press and online participants
Trade visitors and press representatives can use Formnext streAM from 16 October 2023. From this point on, the platform can be used to its full scope by all participants. You can easily gain access via your Messe-Login.
In order to provide all participants with the opportunity to replay the show, the platform will be available until 30 November 2023. This allows you to follow up on the exhibition at your leisure, download contacts and chat histories, follow up on leads, or review the content of the program.