When you step through the door of the World's Advanced Saving Project (WASP) in Italy, the contrast to the outside world could hardly be greater. Framed by what appears to be a collection of 3D-printed chairs, busts, house parts, human figures, and colorful, flashing 3D printers, there are around two dozen workstations lined up in rows. The people seated at these desks are mostly young, and new designs or evaluations of development projects flicker on their laptop screens. The whole thing is reminiscent of the open offices of American start-ups, but it's somehow more colorful and uncluttered here. This also corresponds to the company's guiding principle: being as creative as possible with a constant urge to develop new things quickly.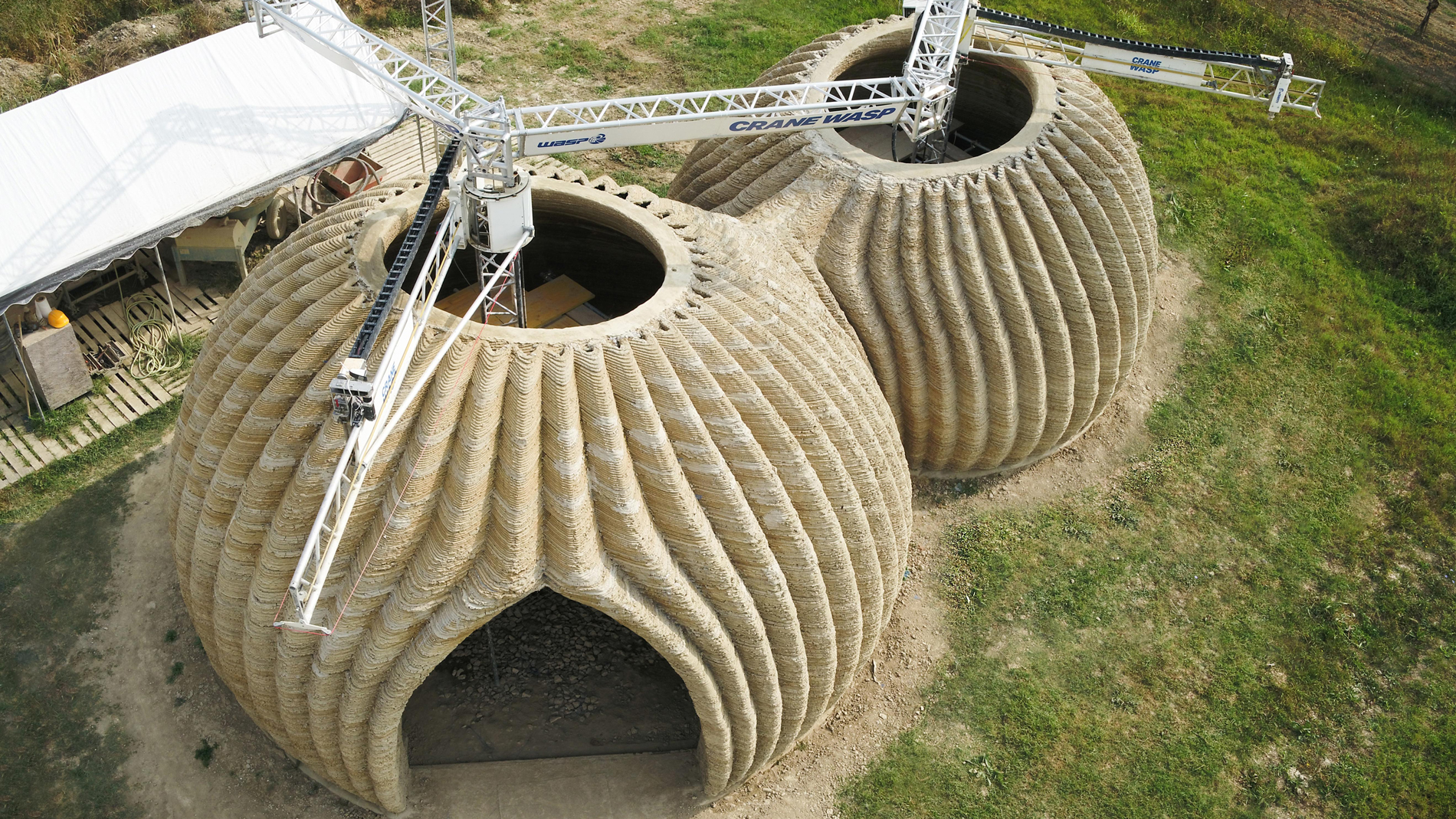 Inspired by the potter wasp, Massimo Moretti founded the company in 2012 to produce sustainable houses using 3D Printing and develop viable construction processes based on the principles of circular economy and digital fabrication. He still leads the company today with a group of young co-founders that includes his daughter, Francesca, who also happens to be WASP's CEO. Sustainable materials are a key priority here – not only in 3D-printing houses, but also in using bio- and recycled plastics. WASP also utilizes natural materials such as clay, sand, lime, straw and, in some cases, rice husks – all of which are sourced as directly as possible from building sites or the surrounding area.
3D-printed constructions based on natural materials
In October 2018, WASP built Gaia – the first house to be 3D-printed from raw earth materials. The world's first 3D-printed eco-habitat, Tecla, then followed in 2020. The only fully 3D-printed construction based on natural materials, Tecla was made with multiple Crane-3D printers working at the same time. Both of these extraordinary prototypes are located at Shamballa Park, which is part of WASP's headquarters in Ravenna.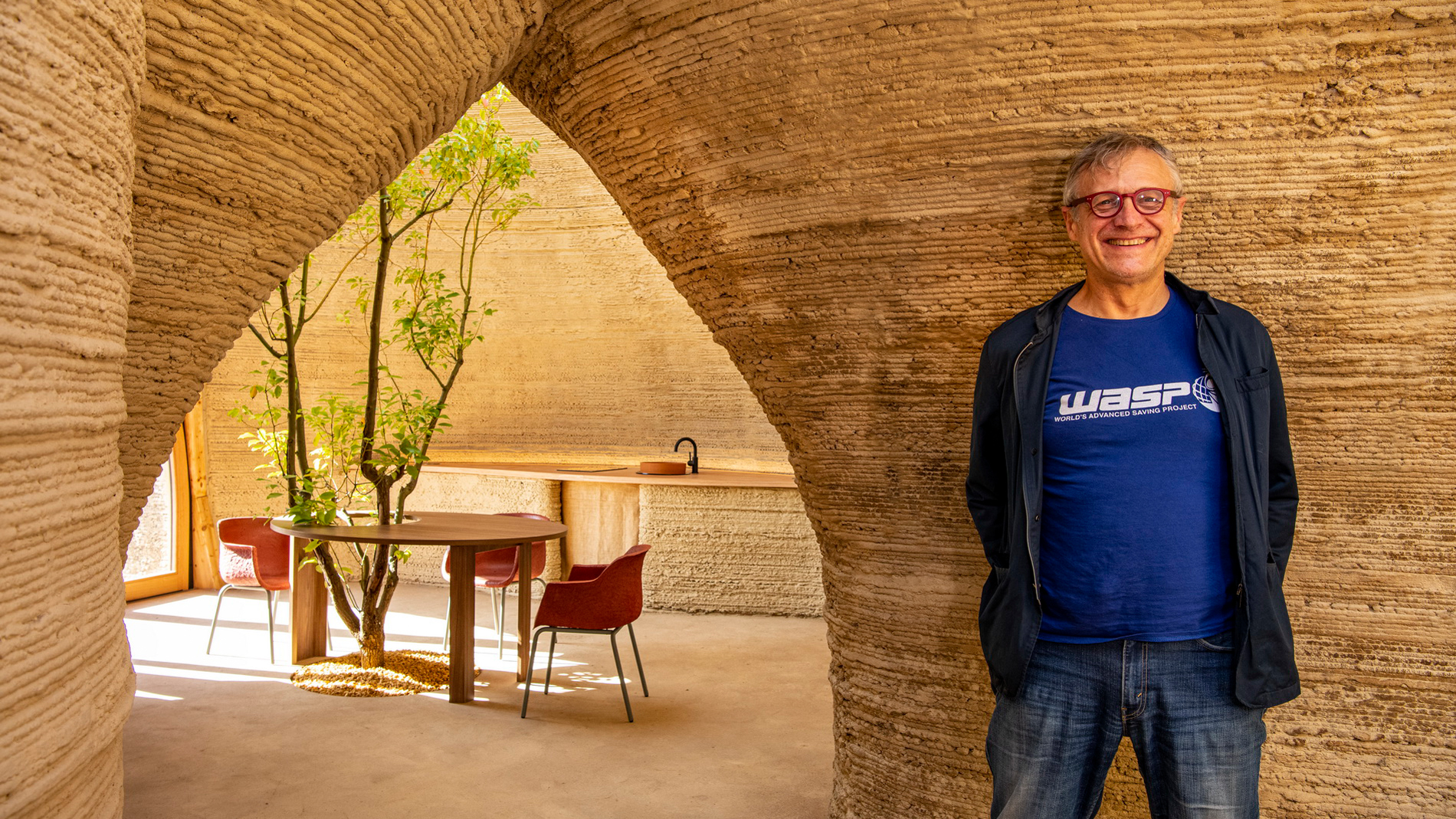 Meanwhile, another WASP development project in Dubai shows how much steam the business of sustainable 3D-printed houses has picked up. This past summer, the company was also able to exhibit a 3D-printed house in a pedestrian area of Wiesbaden, Germany.
Profiting from other business areas
WASP invests the revenue it generates from its 3D printers in research and development on integrated projects. With its four printer families (Pro, Clay, Industrial X, and Crane Architecture), the company enables a wide range of applications, from prototypes and furniture to clay and ceramic components that can be used industrially. At Formnext 2021, WASP will be launching seven innovative machines – each dedicated to a different industrial sector – at two booths. PEEK, clay, industrial clay, and concrete are just a few of the materials that can be used with its technology.
WASP's proximity to the art scene is likely due to its own high level of creativity. "What we do best is develop quickly," Massimo Moretti says. Having grown for years, the company now collaborates with universities, research centers, and academies located in various parts of the world. It has also created an international network for 3D printing services.
FURTHER INFORMATION:
WASP at Formnext 2021:
Hall 12.0, Booth B59
Hall 12.1, Booth G102
Tags
Additive Manufacturing
Construction and architecture