A total of four free-forming units and the portfolio of the company's sister company innovatiQ will be on display. Meanwhile, the components will include highlights such as custom baseball bats from Wilson and Tesa adhesives that see use in additive smartphone manufacturing.
PEEK (polyetheretherketone) is particularly interesting in connection with applications of medical technology. At this year's Formnext, the 300-3X – a free-form 3D printer designed for high-temperature applications – will be processing Vestakeep® i2 G, which is an original plastic granulate produced by Arburg partner Evonik for custom cranial implants. This material is certified for permanent medical implants and thus expands the potential use cases for Arburg's approach to free-forming plastic (AKF).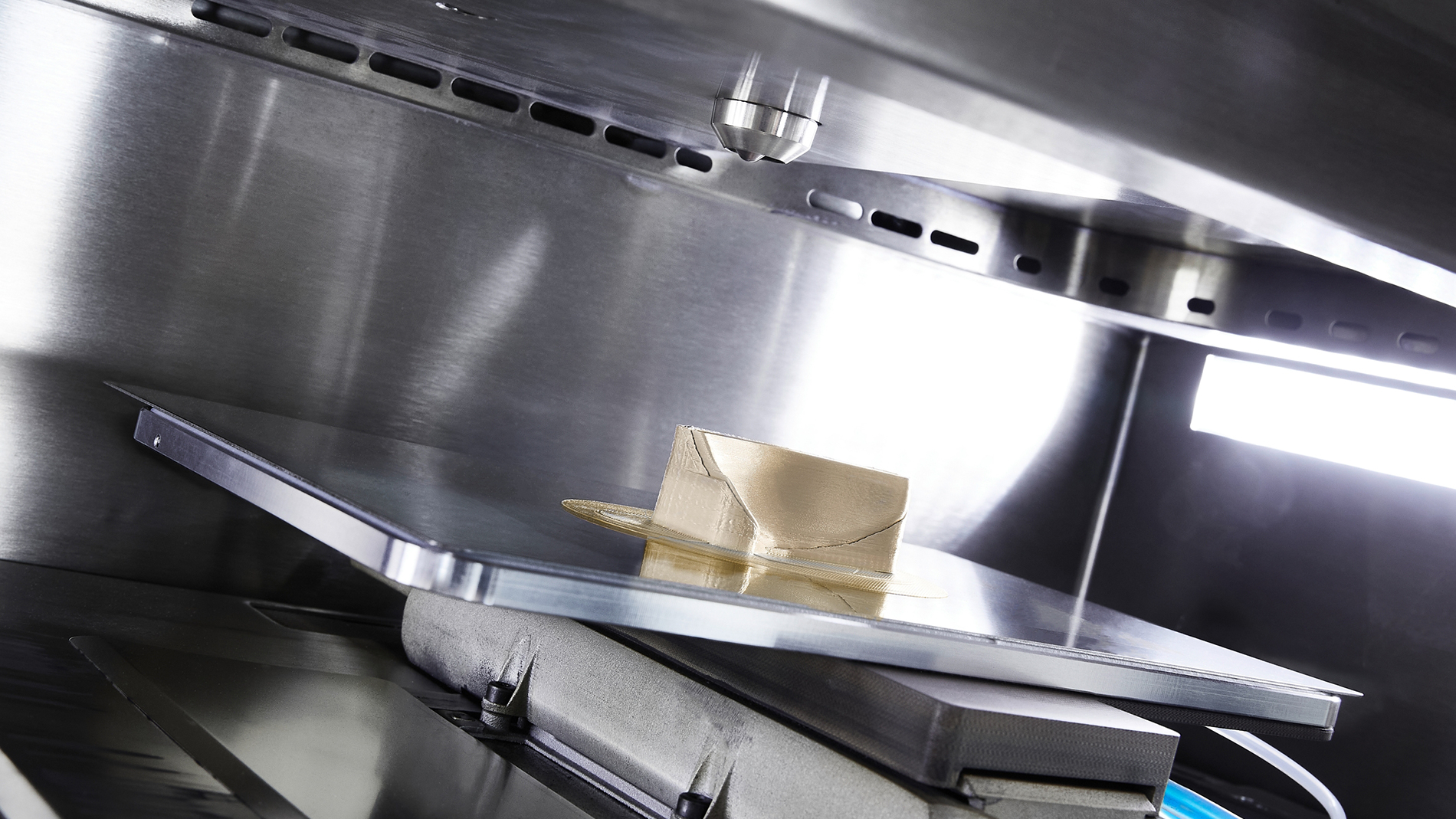 Another application of medical technology will be demonstrated as part of a composite material project with the University Hospital of Basel, which uses another free-form printer (the Arburg 200-3X). The unit the company is bringing to Frankfurt works with the reabsorbable implant resomer LR 706 – a composite of poly L-lactide-co-D, L-lactide, and ß-TCP (also from Evonik) that contains 30% ceramic additives. This material not only makes implants more stable, but also releases calcium to promote bone growth.
Wilson bats and robotic grippers
Arburg will be using numerous examples to show how free-forming customers can generate added value. Another highlight will feature baseball bats from Wilson, a US sporting goods manufacturer that uses the AKF technique to refine mass-produced items (like bat handles) according to customers' individual specifications.
Arburg's products can also be used in the area of automation solutions and operating materials. A 300-3X will be manufacturing a dual-component gripper out of PC/ABS and TPU that is designed to handle a complex removal task in Arburg's production of injection parts. The key lies in a soft TPU membrane that expands in a form-fitting way through the use of pressurized air. Arburg will also be working with another partner, OTEC, to show how AKF components can achieve the same surface quality as injection parts through post-processing.
Added value and rapid time-to-market
The claim that the free-forming 300-3X can even process unusual materials is something that Tesa has already proven in practice. Formnext will also feature a smartphone with a glued glass cover that reduces waste by around 90% compared to conventional adhesive methods thanks to AKF.
LAM techniques: innovatiQ machine capable of manufacturing LSR parts
Along with the company's four free-form display units, Arburg's booth will also be showcasing the portfolio of innovatiQ for the first time, which will include the 3D printing system LiQ 320. Since this company was integrated into the Arburg family in 2020, Arburg has been offering additional AM technology to its customers to enable them to operate more flexibly in their respective markets. The LiQ 320 uses liquid additive manufacturing (LAM) to produce components out of liquid silicon rubber (LSR).
FURTHER INFORMATION:
Roboze at Formnext 2021:
Hall 12.1, booth D131
Tags