by Thomas Masuch - 12 September 2021
When Jochen Loock, an automotive business development and AM technology consultant at Fraunhofer IAPT in Hamburg, was called to Turin by Stellantis to provide support for advanced innovation projects, he didn't expect to stay for several months and help usher in a new German-Italian cooperation.
Jochen Loock was working as Fraunhofer IAPT's lead advisor to the Stellantis Group (which includes Chrysler, Fiat, Jeep, Maserati, Opel, Peugeot, Citroen, and DS), which involved aiding the development of advanced bionic design and additive manufacturing technologies for low-volume series production. To enable the German engineer to work remotely for Stellantis, Abacad one of the group's long-term suppliers – offered him a place at its offices in the south of Turin, near Fiat's Mirafiori plant.

Over coffee breaks, he kept talking about the possibilities of Additive Manufacturing with Adriano James Piras, who is responsible for business development and sales at ABACAD. "We realized that we actually have very good synergies," Loock now recalls. "At Fraunhofer IAPT, we have a lot of expertise in Additive Manufacturing, and Abacad has plenty of experience in product engineering, design, and construction, especially for the automotive sector."
 
Its collaboration with Fraunhofer IAPT is a departure into a fairly new world for Abacad, as well. Having been founded in 2000 by its managing director, Daniele Borriero, this engineering service provider's core business lies in the industry that shaped the economic fortunes of the city on the river Po for decades. "We're in Turin, so we build cars," Piras puts it succinctly. He's been working for Abacad since 2019, but got into the automotive industry back in 2002.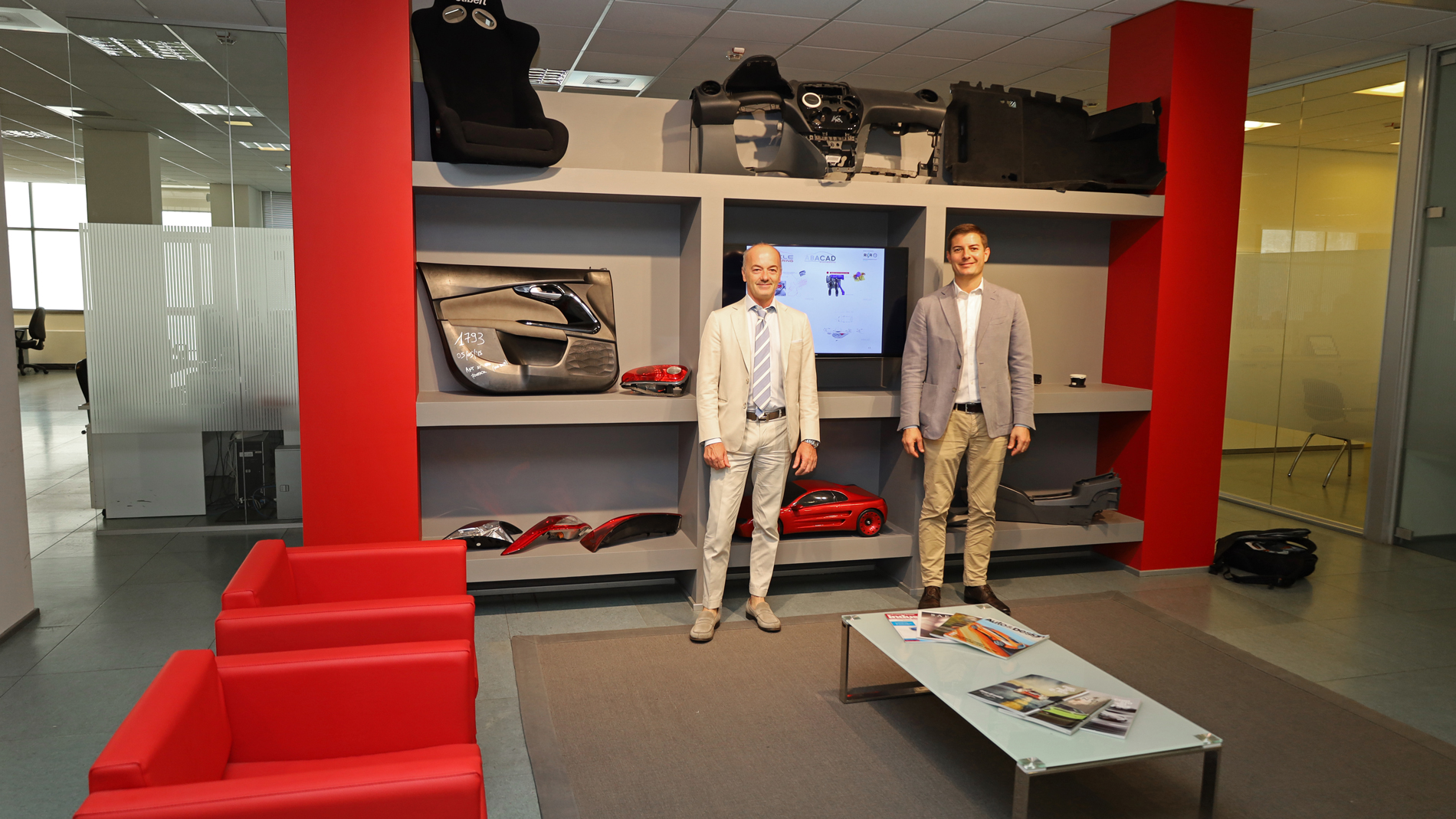 To survive in the competitive automotive market, Abacad also relies on its many years of experience. While other organizations brag about their young workforce, Piras proudly presents his company's average age: 38. "Youth is no substitute for years of knowledge in a complex work environment like construction and design," he declares. In addition to design experience, ABACAD has another advantage in the hourly rates that are paid to engineers and designers in Turin, which are lower than in Germany.
Industrial change
However, the days when the sheet metal presses in Mirafiori set the economic pace in Turin and the surrounding province of Piedmont are long gone. The Fiat plant has reduced its production by a factor of 10, and Lingotto (where the Fiat bosses Agnelli and Marchionne once had their offices) has now been transformed into a shopping center. Other car manufacturers have also scaled down their presences in Turin and its region.
Although the automotive industry is still Abacad´s most important business area, the company has already responded to these changes and broadened its focus. In recent years, its 96 permanent employees and 30 freelancers have developed designs for yachts and excavators and implemented extensive development projects for the rail industry. Abacad has even designed the ergonomics of a submarine, and its customers now include Hitachi, Alstom, and Tech Mahindra Rail, to name just a few
An initial pilot project
Among its other forays into new industries, the company aims to tap into additional revenue opportunities by opening up a new area of business in CAD design for additive manufacturing technologies. Crucial to this is its collaboration with Fraunhofer IAPT, which represents a combination of additive knowledge and conventional engineering expertise. One of the main objectives here is to help companies identify components for Additive Manufacturing and save on production costs. "We're focusing primarily on companies with a large product catalog," Piras explains. This is because they have to keep molds for spare parts on hand for years, which causes high costs.

A pilot project is currently underway with two companies that manufacture electronic components. If the quality and fire protection tests are passed and the results of a feasibility study indicate competitive production possibilities, an entire product catalog comprising more than a thousand parts will be analyzed for potential Additive Manufacturing.
"Not a technical box"
To identify parts that could be produced using AM, Fraunhofer IAPT uses software from 3D Spark, a spin-off of three of its former employees. "At the same time, we're monitoring the design process at Abacad as the AM 'mastermind', so to speak," Loock explains. Meanwhile, five engineers at Abacad are specializing in Additive Manufacturing. "Our strength is in integrating the parts into existing components or an existing environment, which is a perfect fit," Piras says. "After all, design and engineering isn't just about putting things in a technical box; more importantly, it's about finding solutions." Jochen Loock is also convinced that human design work is not about to be replaced completely despite the numerous software solutions available. "For one thing, you can't automate creativity. And secondly, the design process is too complex to get reliably good results with artificial intelligence."

Tags