by Thomas Masuch — 5 February 2021
When it comes to building rockets and satellites, Additive Manufacturing has become indispensable. No other field enables industrial 3D Printing to leverage its strengths in weight reduction and complex designs like the space industry does. That's why it's no wonder that both young and more established companies are relying more and more on AM. Indeed, the space sector has become a key market for additive service providers, machine manufacturers, and firms that offer material and software. Gaining a foothold isn't easy, though: This is an industry shaped to a certain extent by national interests, political circumstances, and closely guarded technological secrets. We thought that was reason enough to take a closer look at an exciting and booming field that nevertheless remains somewhat inscrutable. The first article of this two-part series is about Additive Manufacturing in rocket construction.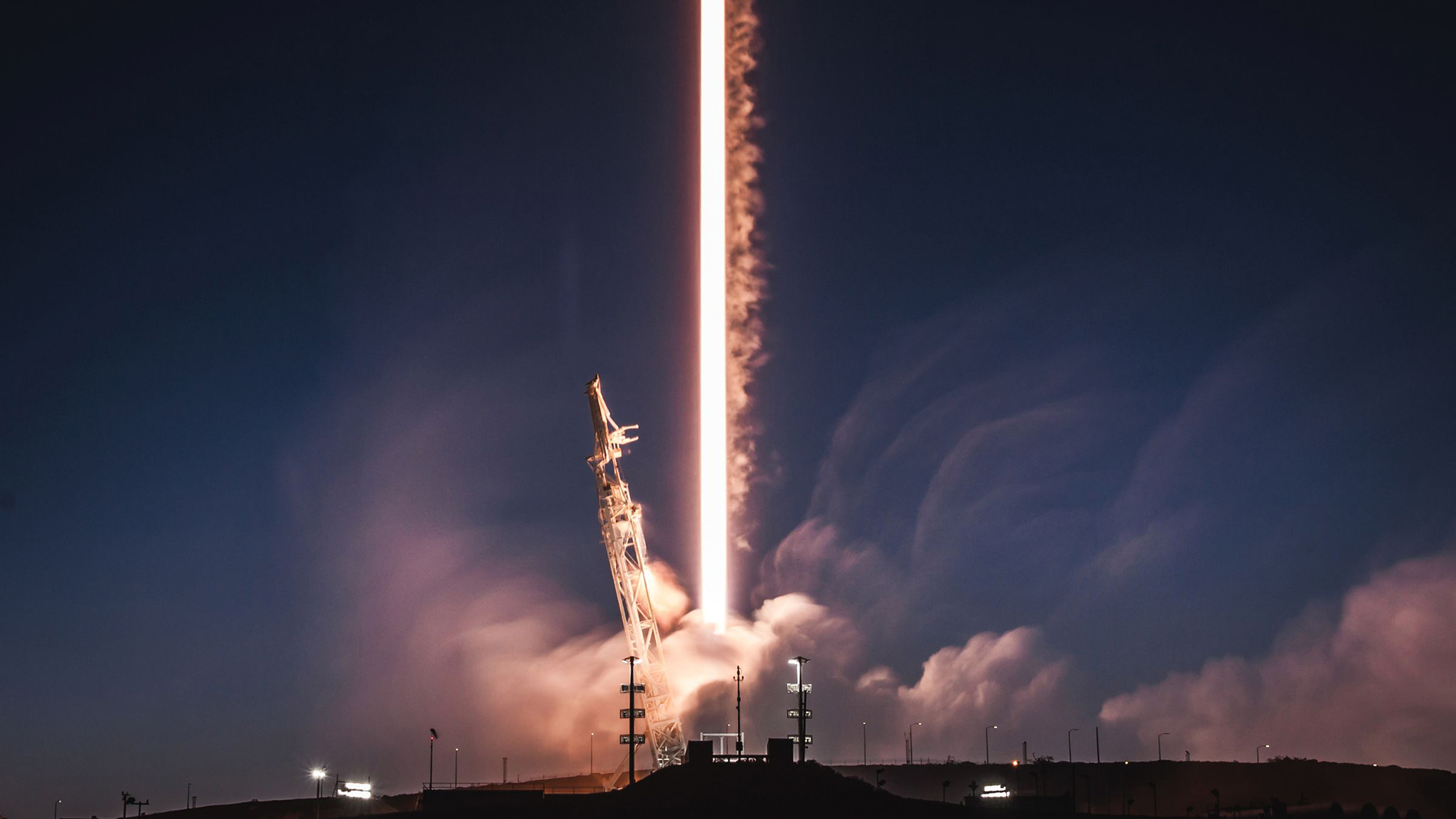 Among the industry's users of AM, Relativity Space has chosen the most resolute path: The young, Los Angeles-based company wants to build entire rockets using not much more than Stargate, a 3D printer of its own design. In its 35-meter-long Terran 1, it claims to be »building the world's first 3D-printed rocket – from raw material to flight in 60 days«. This has enabled Relativity Space, which was founded in 2015 by Tim Ellis and Jordan Noone and now employs 230 people, to take in around €550 million over several rounds of financing. The company's value is now estimated at just under €2 billion, making it second only to SpaceX (approx. €37 billion) in the private aerospace sector. Stargate, a wire-arc 3D printer that takes its name from the 1994 science fiction film, comprises machines that manufacture other machines. According to Relativity, it's the largest metal printer in the world. It has already been used to 3D-print a fuel tank measuring around 3.7 by 2.1 meters. Terran 1, meanwhile, is scheduled to launch for the first time in late 2021 and will eventually carry payloads of up to 1.25 tons into orbit.  
"The value of saving time in production is going to be one of the main factors pushing companies to choose 3D Printing."
Technology, however, isn't the only area where start-ups like Astra, Firefly Aerospace, Rocket Lab, Virgin Orbit, and others are ushering in a new age of what Relativity calls "software- driven manufacturing". These newcomers want to use the millions at their disposal to break free from well-worn ways of thinking, as well. At Relativity Space, this effort includes monthly "lunch-and-learn" meetings that have featured guest speakers like Rick Sternbach, who designed a Klingon battlecruiser for the Star Trek franchise; and Adam Mojo Lebowitz, visual effects supervisor for Battlestar Galactica.
That said, the industry's established rocket builders and suppliers have also gained new capabilities in 3D Printing – usually by creating an in-house AM center and entering into various technology partnerships. The main things being 3D-printed at the moment are individual components, especially those connected to the propulsion system and the combustion chamber. This is where industry experts say the greatest potential savings lie. It's also possible to significantly reduce production time and the number of components used. "If a company wants to remain competitive, AM is a must for producing propulsions," says Terry Wohlers, an expert in AM and president of Wohlers Associates. "The benefits of using AM for propulsion outweigh the costs. This is why we're seeing organizations such as Aerojet Rocketdyne, Airbus, Boeing, NASA, Raytheon, Safran, and SpaceX adopt AM." In addition to cost savings, 3D Printing offers another key benefit according to industry experts. "The value of saving time in production is going to be one of the main factors pushing companies to choose 3D Printing," says Eliana Fu, who worked as a senior engineer for Relativity Space for several years before joining Trumpf North America at the end of 2020.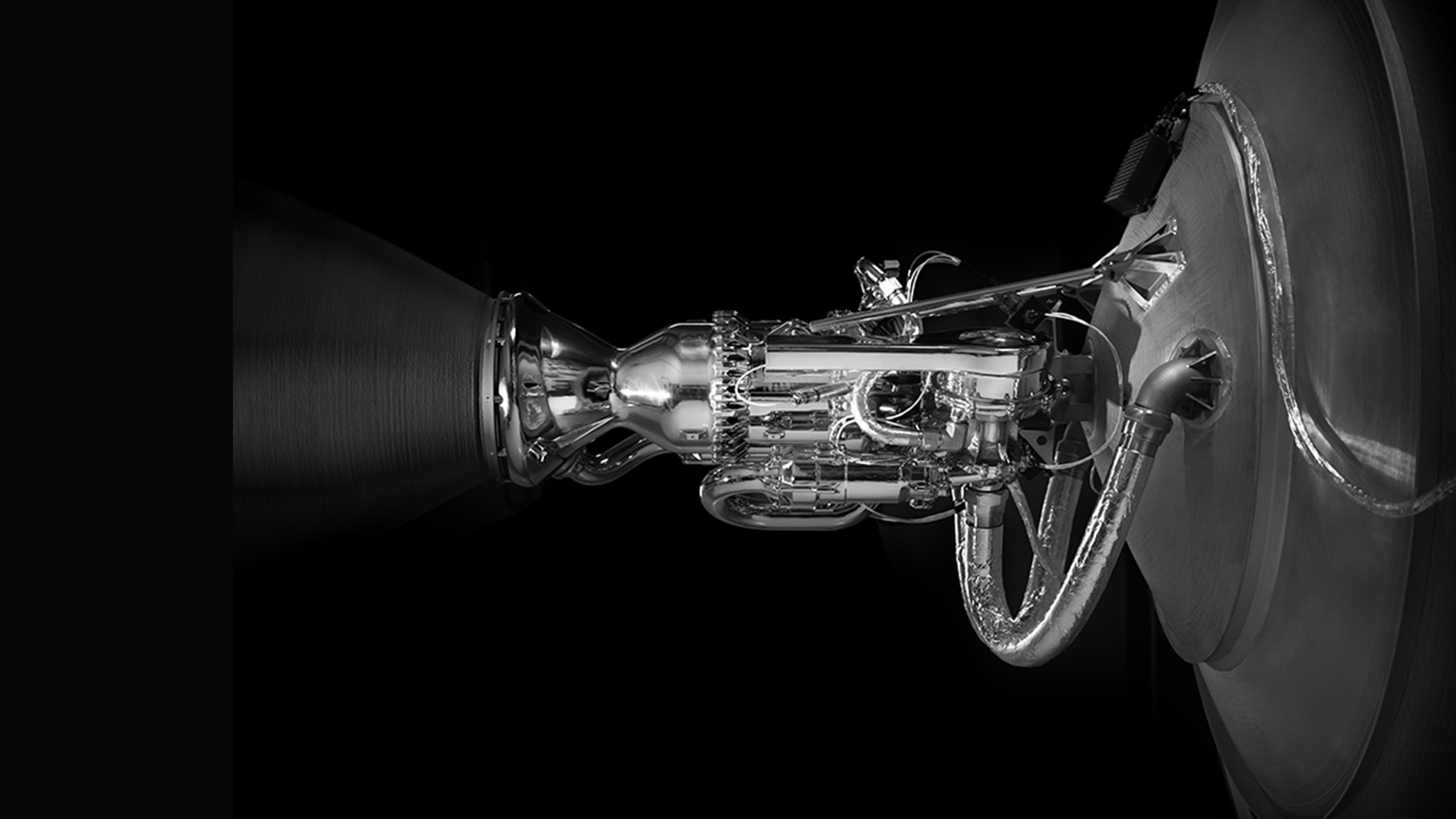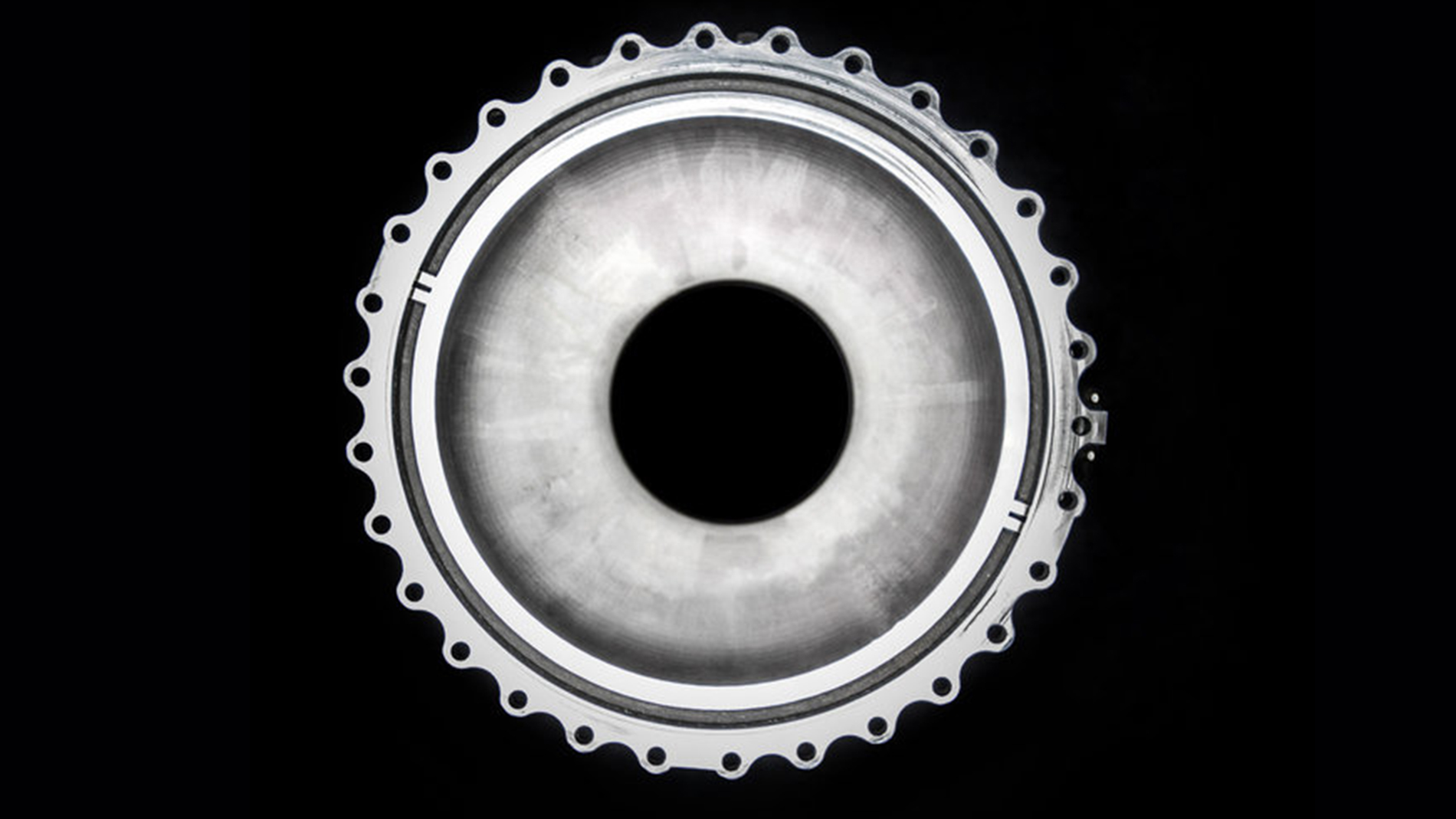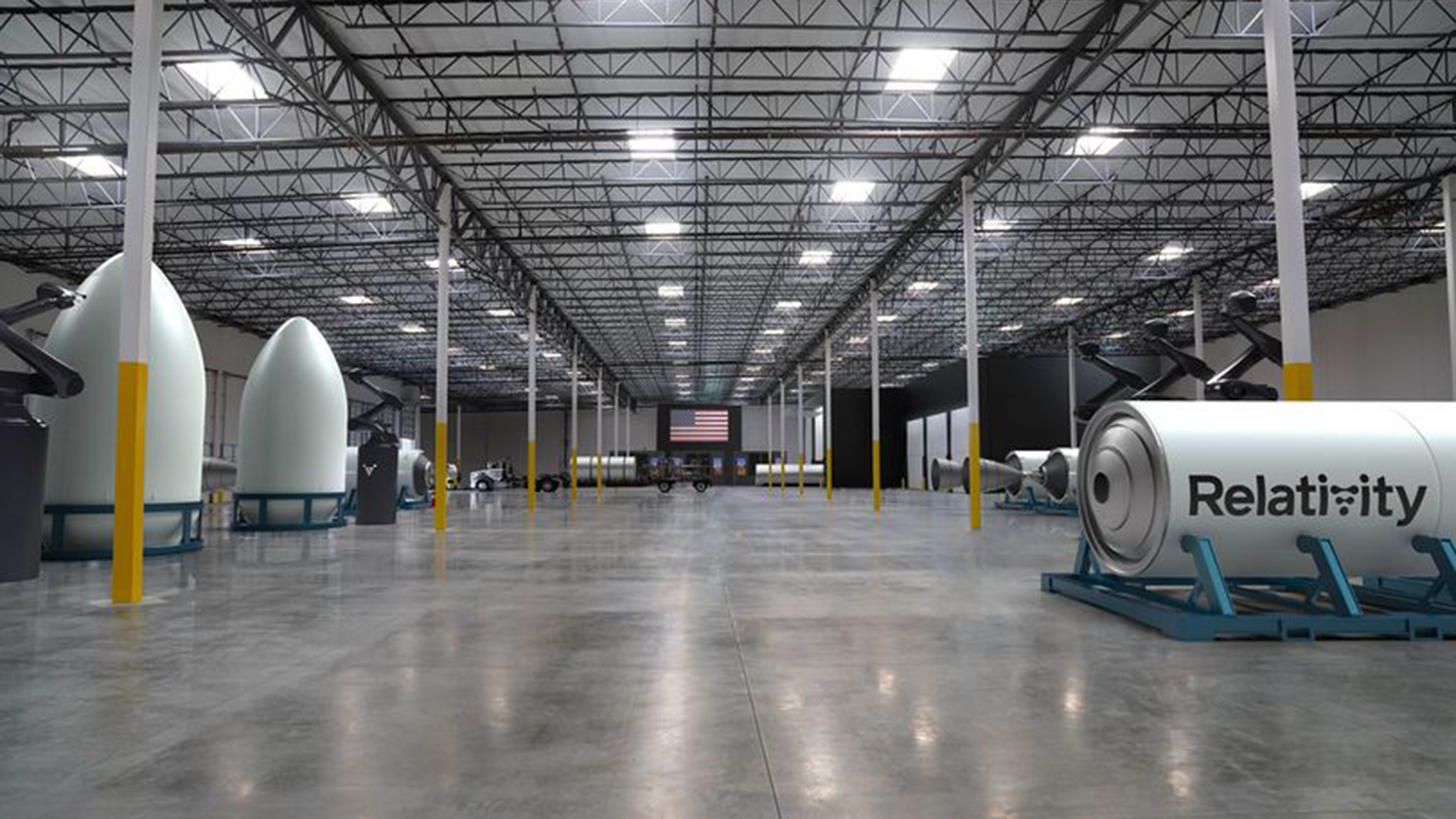 "COMPANIES DON'T SHARE THESE DETAILS"
SpaceX has played a leading role in incorporating 3D Printing into rocket construction for years. Back in January 2014, one of the U.S. company's Falcon 9 rockets lifted off with a 3D-printed oxidizer valve in one of its nine Merlin 1D engines. It now builds eight 3D-printed SuperDraco engines into its Dragon 2 spacecraft. According to SpaceX founder Elon Musk, the first SuperDracos were manufactured using Inconel and a 3D printer from EOS.
Not every firm in the industry is this forthcoming, however. Social media may be full of "successful" tests involving 3D-printed engines or other rocket components, but the number of 3D-printed parts that actually find their way into rockets (and how exactly they were made) is often anyone's guess. "It's difficult to know exact numbers because most companies aren't publishing or sharing these details," Wohlers explains. Just how tight-lipped the space industry can be became apparent in our research for this article, as well: Many of the inquiries we sent to rocket manufacturers and consulting firms elicited no response at all. In other cases, the right contacts were said to be unavailable due to COVID-19, or our questions related to areas that were subject to confidentiality. This was our experience in every relevant region, by the way – China, Europe, and the United States.
SpaceX, on the other hand, is a welcome exception in terms of how transparent it is about its activities. For example, you can calculate the cost of transporting your freight of choice and reserve space for it on an upcoming flight right there on the company's website. Launching an 830-kilogram satellite into low Earth orbit (LEO), for instance, will currently run you U.S.$4.63 million (which includes an adapter, a U.S.$430,000 separation system, fueling at the launchpad, and insurance¹). That corresponds to around U.S.$5,500 per kilo. Adjusted for inflation, SpaceX has thus reduced the cost of transporting freight into orbit by a factor of 10 in just 15 years. On a NASA space shuttle, it actually used to cost the equivalent of 30 times the current price to launch a kilogram of material into LEO.
A CHALLENGING AND DYNAMIC SECTOR
These lower transport costs are part of the reason why the space industry continues to grow increasingly dynamic. This is already evident in the number of rockets launched into orbit each year, which rose to 114 in 2020 (see graphic). Assuming the projects currently under development really do take off, this upward trajectory is likely to continue in the future. The ongoing decline in transport costs, the trends toward smaller rockets and satellites, and space tourism will also add to the sector's momentum.
Before that happens, however, several technological hurdles remain. The notion that not everything that passes its tests actually gets put into use is something Carl Fruth knows only too well. At Formnext 2019, he and FIT AG introduced the throngs of international experts in attendance to a 3D-printed fluid manifold for the Vulcain 2 engine, which is part of the new Ariane 6 rocket. Made of Inconel using wire-arc additive manufacturing (WAAM), this component was to increase the engine's performance while reducing the production costs involved. To fulfill the space industry's strict safety requirements, FIT AG – one of the world's largest AM service providers – had worked with ArianeGroup on developing a suitable system for quality assurance. "After all, when you have a new technology, you also need to adjust your testing methods," Fruth explained in a conversation with FON Mag. In the case of the fluid manifold, for example, five times the usual amount of material was applied by means of WAAM and then milled off the side of the manifold in order to have surfaces appropriate for ultrasonic inspection. Among other things, the elaborate testing process also eventually resulted in much higher component costs – around eight times higher than those accrued in additive production, in fact. "In that case, it turned out that AM wasn't that much cheaper on the whole. Plus, there was still the general risk associated with implementing a new technology, " Fruth recalls. "Ultimately, Ariane decided not to go the AM route."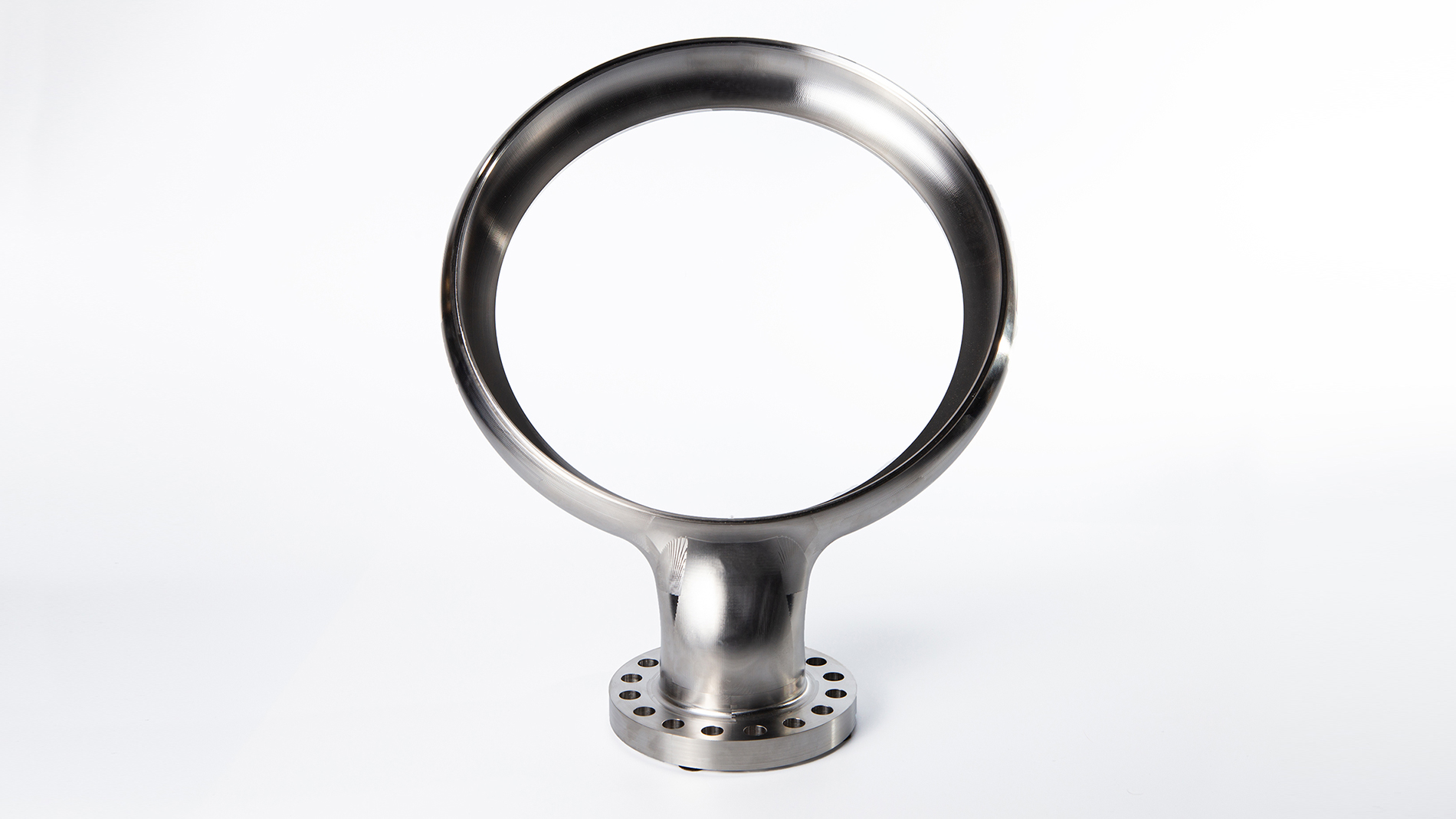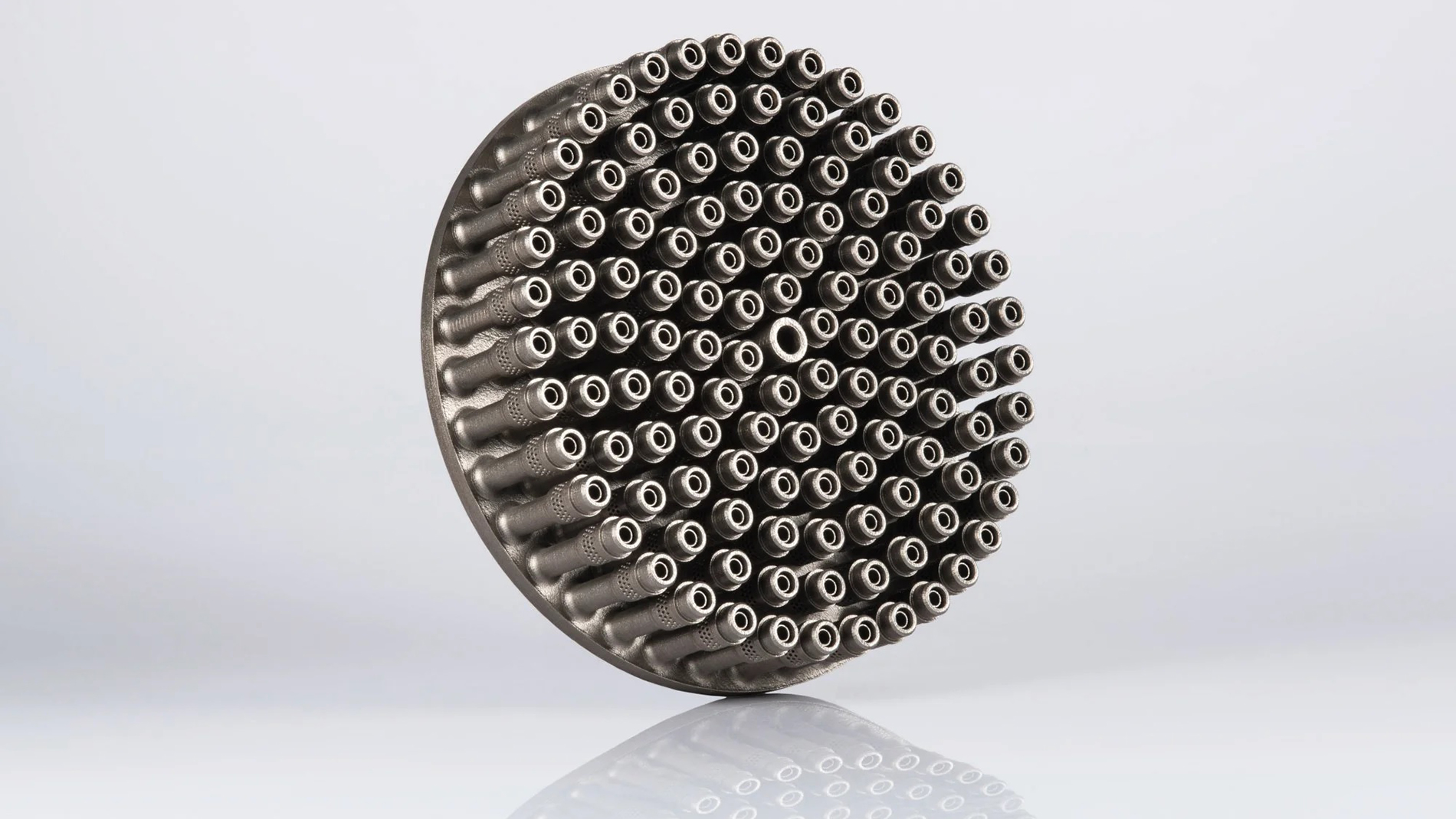 "HIGHLY COMPLEX SUBJECTS"
This example also demonstrates how lengthy and resource-intensive the process of developing improved components is in the space industry. "These are highly complex subjects where you can't come up with solutions in just a few months," Fruth explains. "As a service provider, you have to reconfigure your production, which then also needs to be certified for the customer in question. That's when you really find out what you're made of." Establishing a partnership is another thing Fruth describes more in terms of years rather than months. "In the first two years, you get to know each other and show what you're capable of in smaller projects," he says. "It's usually three or four years before you start taking on real, more lucrative orders." The considerable amount of time required for aerospace developments is also apparent in the case of the SuperDraco engines made by SpaceX – the industry's indisputed alpha, and not one that's known to dawdle. Although the development of these innovative engines was completed in 2012, they wouldn't embark on their first "real" mission until after a seven-year test phase.
Like other renowned rocket builders, SpaceX has its own in-house AM division. "Most companies in the space industry are using commercially available systems, although the software tools, DfAM, and materials can differ from one company to the next," Wohlers reveals. "What especially sets apart one company from the next is their experience and willingness to adopt entirely new ways of thinking about design and manufacturing."
This is where the strengths of external suppliers like FIT AG come into play. At its headquarters in Lupburg, Germany, this company has a wide array of different AM technologies at its disposal, including numerous methods of measurement. Meanwhile, Carl Fruth doesn't see his firm as an AM service provider alone. "We produce certified components, but AM is just one part of our highly complex process," he points out. "That means we don't compete so much with other AM service providers as we do with the established supply structures."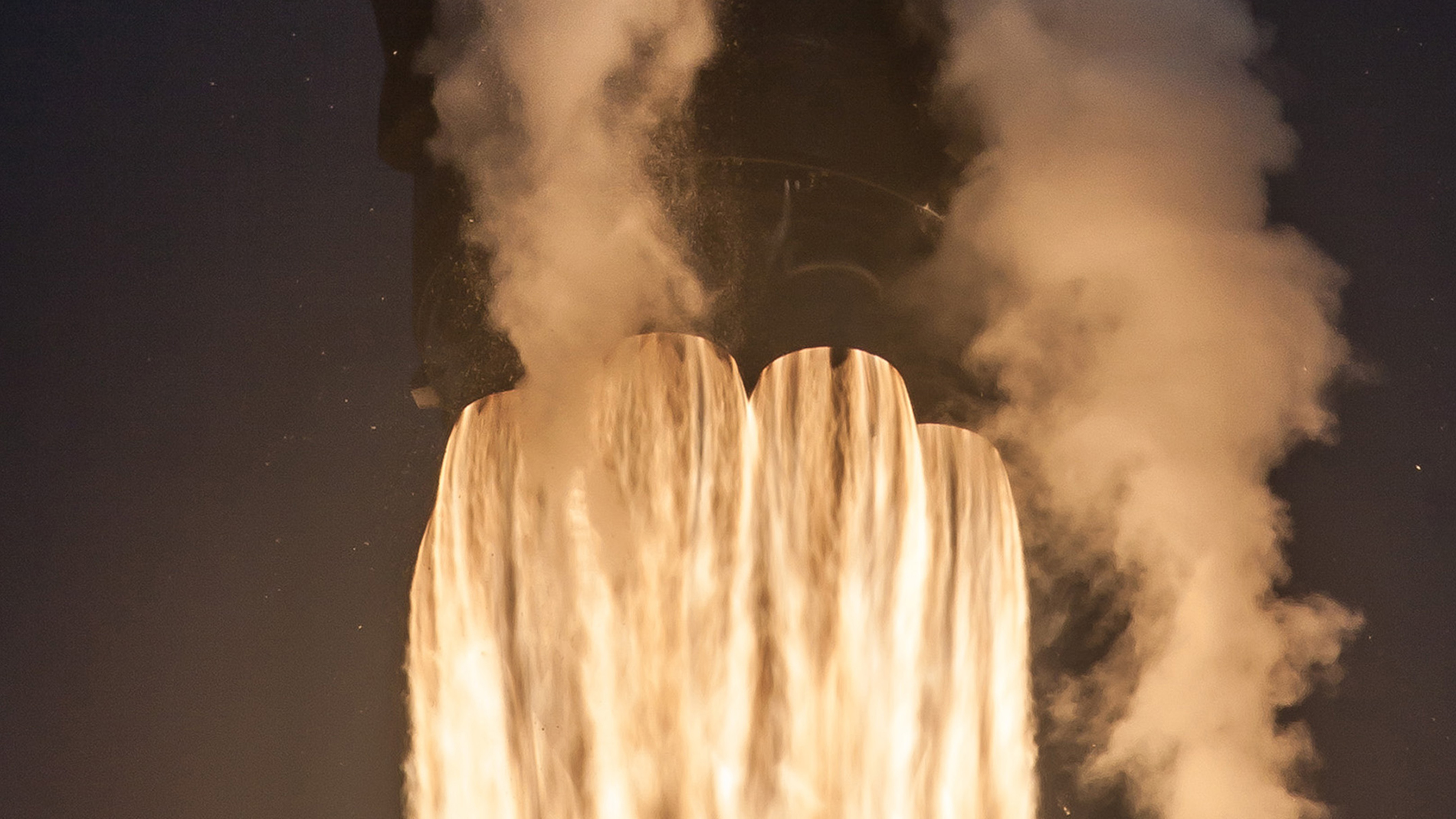 AM EXPECTED TO PUT EUROPE'S SPACE INDUSTRY BACK ON TRACK
Meanwhile, the space sector in Europe has been suffering a great deal from the fallout of COVID-19. While SpaceX launched at least one Falcon 9 into orbit every month in 2020, the maiden flight of the newly developed Ariane 6 has been delayed from the end of 2020 to late 2021 / early 2022. The effects the coronavirus has had on the region surrounding the Guiana Space Centre were cited as the official reason. The two failures that smaller Vega rockets have experienced in their last three launches in Kourou have not exactly improved the situation, either. After leading its industry for years, Europe's Arianespace SA (which sold payload space on the two rockets in question) is now under a great deal of pressure not to fall well behind SpaceX and competitors from China and Russia.
In addition to FIT AG's fluid manifold, ArianeGroup has initiated numerous other AM developments for Ariane 6 and future generations of its rockets – including an injection nozzle that was designed in cooperation with EOS. The group has some ambitious goals: Its upcoming Prometheus engine, for example, is expected to cost just €1 million thanks in part to 3D Printing, which would be 90 percent less expensive than the Vulcain 2 that propels the Ariane 5. To ensure that Prometheus sees use as planned in a reusable descendent of the Ariane 6 in around 10 years, the Council of Ministers of the European Space Agency (ESA) approved a project budget of €82 million at its meeting in the summer of 2020. The next generations of the Vega rocket are also to take to orbit with a 3D-printed thrust chamber assembly from the M10 engine starting in 2025.
Additive Manufacturing still has a long road ahead of it in the European space industry. On the other hand, 3D-printed cardan crosses have already been used in the Ariane 5 for some time. This component measures just three centimeters on each side and won't make the difference in competition with SpaceX, but ArianeGroup is "about to implement more individual parts" according to a statement from Steffen Beyer, who was speaking as the group's head of production technology (materials and processes) at an international conference of experts in the summer of 2019. Along with laser melting, Beyer cited direct energy deposition (DED), laser metal deposition (LMD) and cold spraying as manufacturing technologies of interest in the space sector. He also pointed out a number of challenges that still need to be overcome, however, including with regard to the purity of powder and its removal from cavities.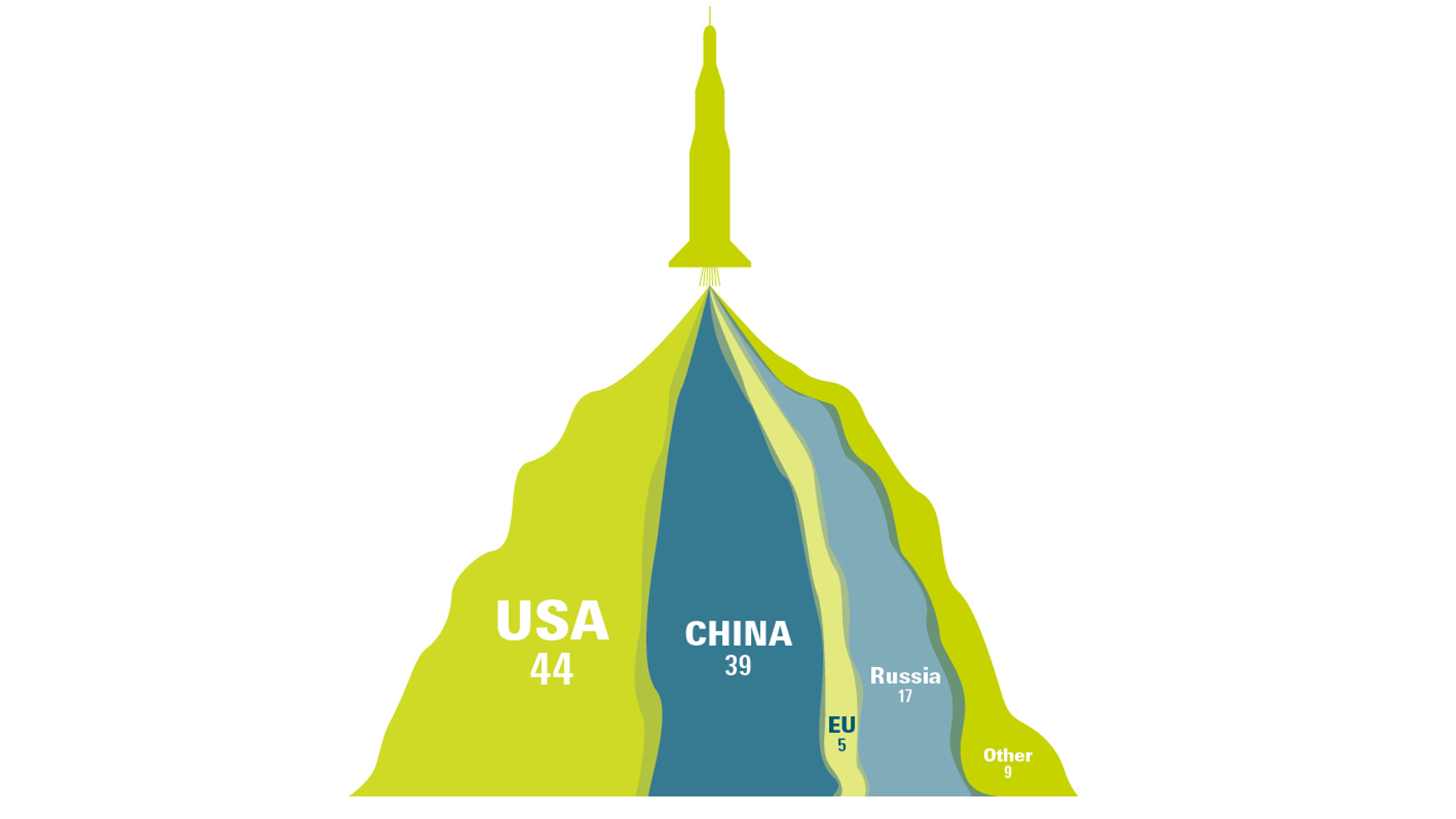 The problems Ariane and Vega have been contending with have taken a toll on European suppliers, as well. "For the foreseeable future, the unfortunate reality is that those of us in the European launch vehicle industry can only make extended plans based on the four or five launches organized by the institutional market each year," stated Hans Steininger in the summer of 2020 regarding the delayed debut of Ariane 6 and the reduced production volume it entailed. Steininger is the chairman of the board at MT Aerospace AG, one of the largest German suppliers to the aerospace industry. FIT AG's Carl Fruth, meanwhile, sees a further drawback in the sector's dependency on ESA programs. "There's no real competition, which means there's no impetus to make more of an effort to implement new technologies," he points out.
BUSINESS BOOMING IN THE U.S. AND CHINA
While those in the European space industry were fearing the loss of jobs and years of expertise due to the Ariane postponement in late 2020, both up-and-coming and more established companies elsewhere were stepping on the gas – especially in the U.S. and China.

Founded in Beijing by the 21-year-old Hu Zhenyi in 2014, Link Space has been attracting attention with its New Line 1, a reusable twostage rocket 24 meters in length. The country's aerospace industry achieved another milestone in July 2020, when Beijing Star-Glory Space Technology Co. Ltd. became the first private company to reach orbit and release its "Double Curve One Remote Launch Vehicle" (also known as SQX-1 Y1). Following a round of financing that brought in a total of ¥1.193 billion (around €150 million) in August 2020, the company hopes to advance its development of a reusable engine and its Twin Curve series of rockets.

Overall, China has long since joined the ranks of the established spacefaring nations: In 2020, it surpassed Russia and nearly pulled even with the United States in completing approximately 39 launches (see graphic). Since the Middle Kingdom began allowing private firms to participate in 2014, its domestic space sector has been booming. The number of companies involved has risen from 30 in 2018 to more than a hundred. "3D printing technology has become the backbone of rocket manufacturing in the process," reports Kitty Wang, who has been keeping a close eye on China's AM industry for years through her platform, 3D Science Valley.

Tags