Text: Thomas Masuch, 8 September 2023
Ulf Qviberg's way to the office takes him through the Swedish archipelago with its thousands of small islands to the marina in Västervik. Here he moors his boat and then walks past the campsite to the nearby industrial area of the small town in eastern Sweden. In the small resort town, also known as the Pearl of the East Coast, the engineer has built up a company that manufactures equipment for post-processing 3D-printed components. He has worked in the AM industry for 12 years.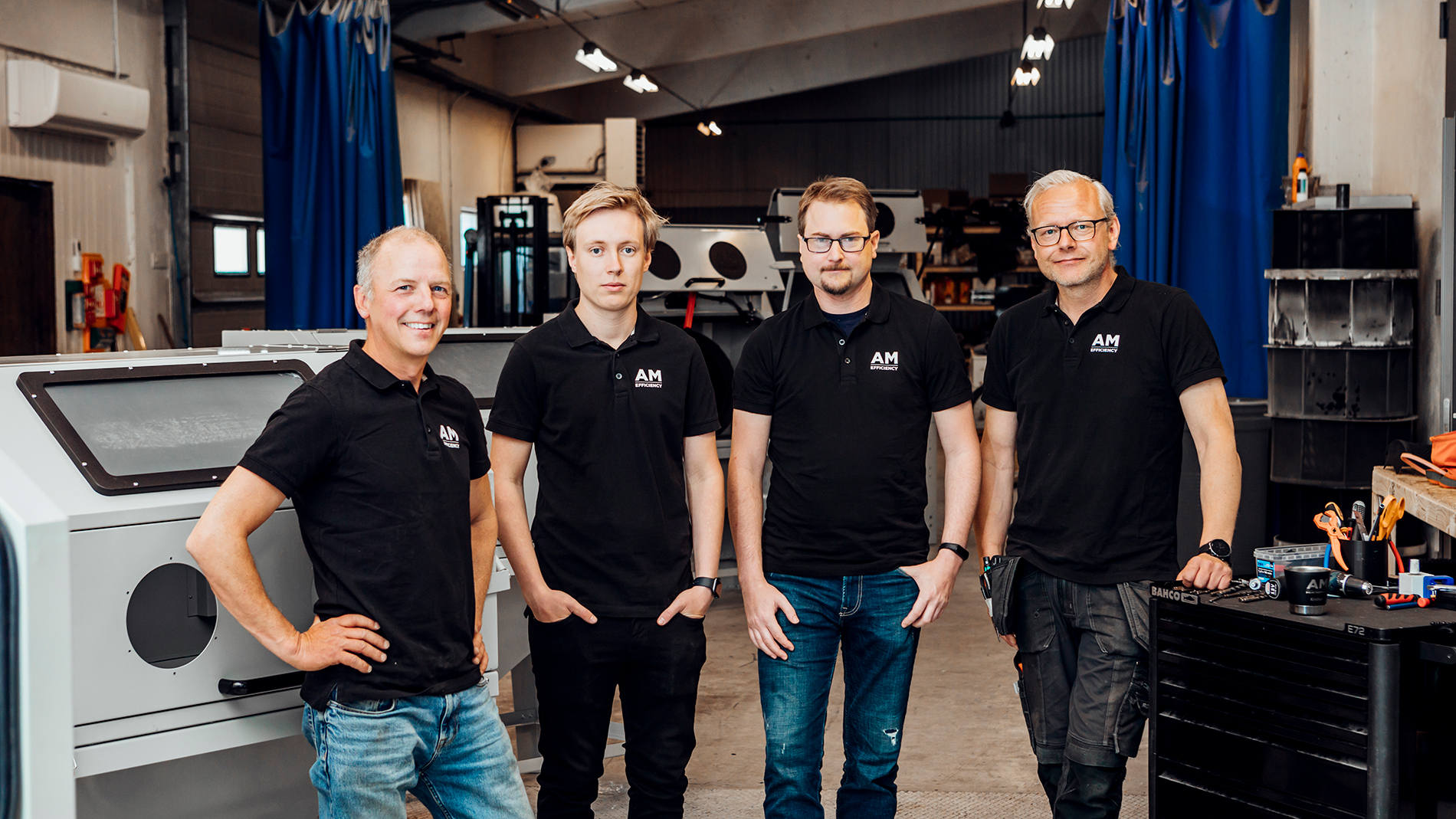 Just a few years ago, Qviberg had been selling machines from other manufacturers: For years, he was a reseller of SLS machines in Sweden for 3D Systems, Prodways, HP and Sinterit, among others. Three years ago, however, the entrepreneur repositioned himself:  He founded AM Efficiency and focused on post-processing of SLS polymer components – and developed his own system for this purpose. 
Hammered into the surface

On the technology side, AM Efficiency combines surface smoothing and conventional powder removal in its machines. Coloring in a dark gray is also possible for some types of plastic. To do so, the company uses a process that does not use chemical liquids at all: "The color pigments are hammered into the surface with a sandblaster," explains Qviberg.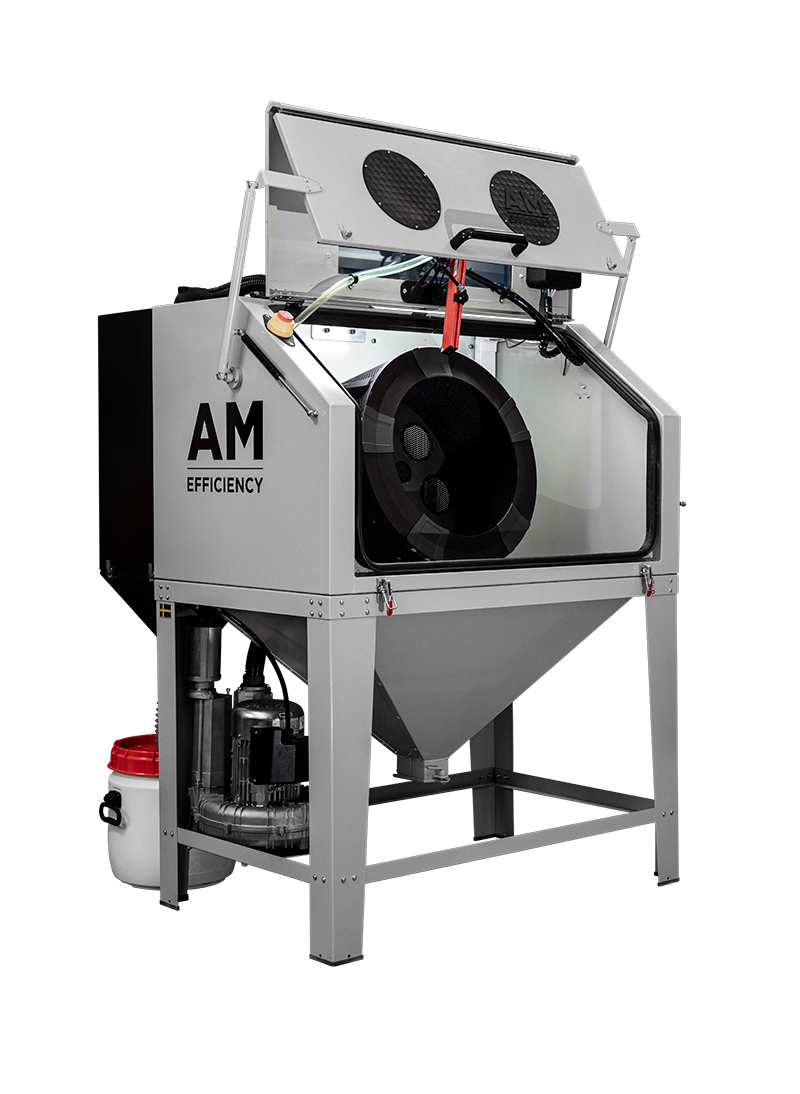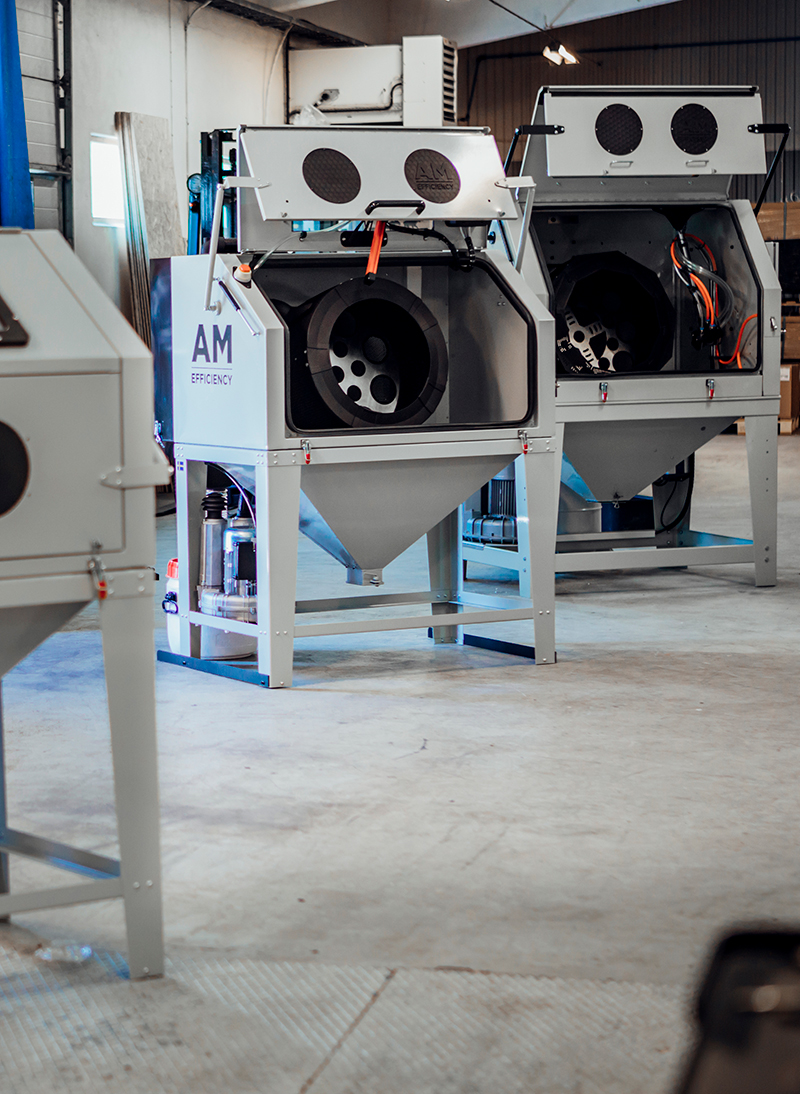 Along with the usual powder-removal features, AM Efficiency integrates surface smoothing into its systems. Image: AM Efficiency
To succeed in the already competitive AM market, the avid water sports enthusiast's top priority is to offer an attractive price-performance ratio, helped by the company's picturesque location on the Baltic Sea, where it has 2,000 square meters of manufacturing space at a fairly reasonable price. As Qviberg explains: "Other suppliers sometimes overcharge for their post-processing technology, which does not help the further development of the industry. We want to be much cheaper on price, and at the same time we try to build good machines." And AM Efficiency has already delivered several dozens of these – with a target of more than 100 by the end of 2023.
More and more end-use parts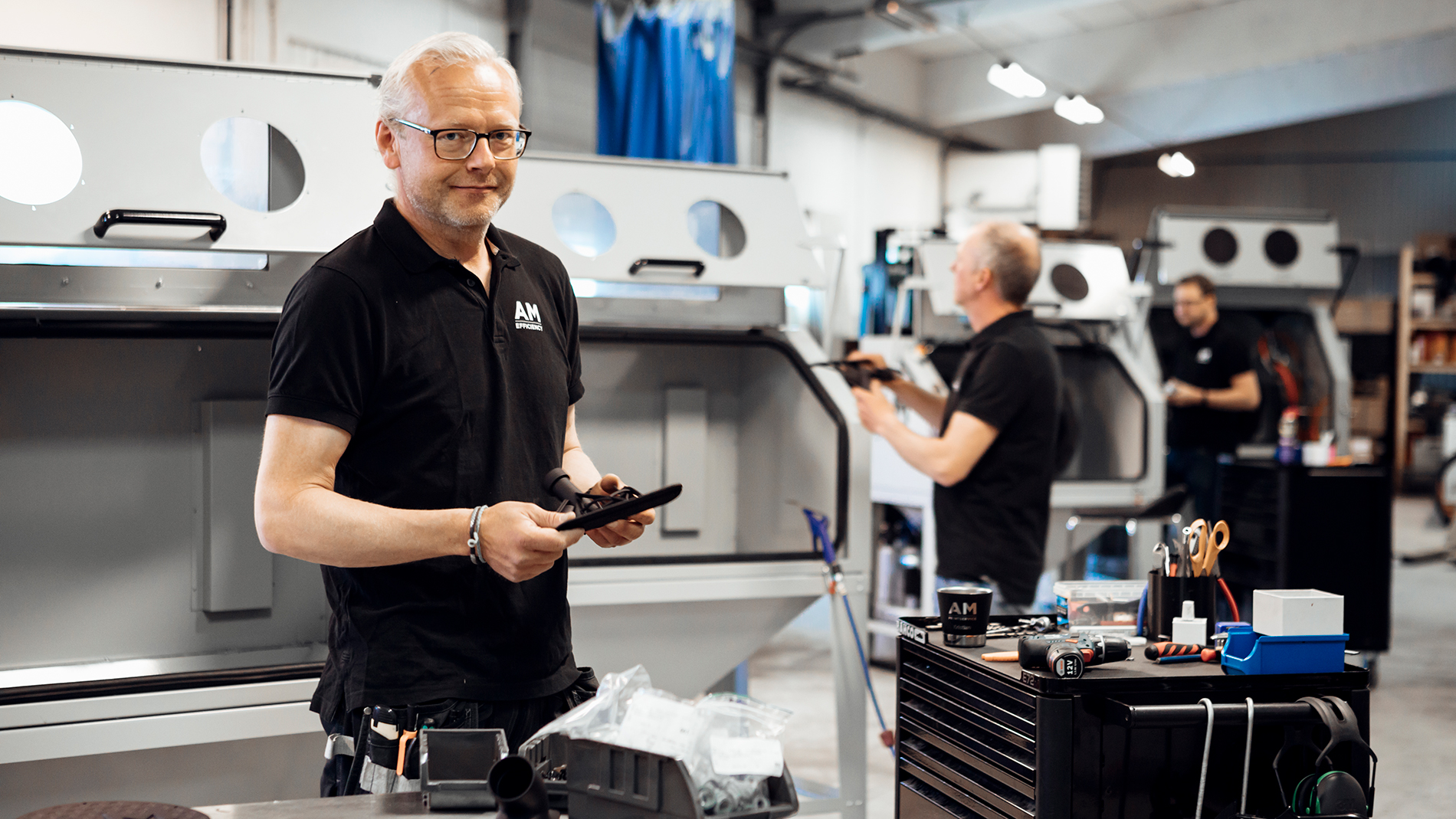 Although all this may sound ambitious, Qviberg is confident it can be achieved by his very efficient six-person team. Sales and service are handled by partners in numerous European countries. The leap across the Atlantic to the USA is already being planned. Qviberg sees clear potential in the increasing demand for industrial solutions. "At present, around 50 percent prototypes are produced on our lines, and 50 percent end-use parts – the latter with an upward trend. And the finished parts area requires an industrial solution in post-processing, as this is the only way to offer more consistent quality."
Qviberg founded and built up AM Efficiency using his own resources without relying on external financiers or venture capital. "It certainly also helped me that I had already established companies in other industries." That is because at the end of the day, in addition to qualified employees, one thing counts most for the successful founder: contacts to customers, partners, suppliers. "Formnext has also helped me a lot in this. Simply the best way to find new customers. Without it, we would not be where we are now," Qviberg enthuses. "Especially for us in Sweden, where the distances are quite long – we drive four hours to the nearest airport – it's extremely important to meet partners and customers efficiently." And with this network, one can also build a business where others go on vacation.
FURTHER INFORMATION:
Tags