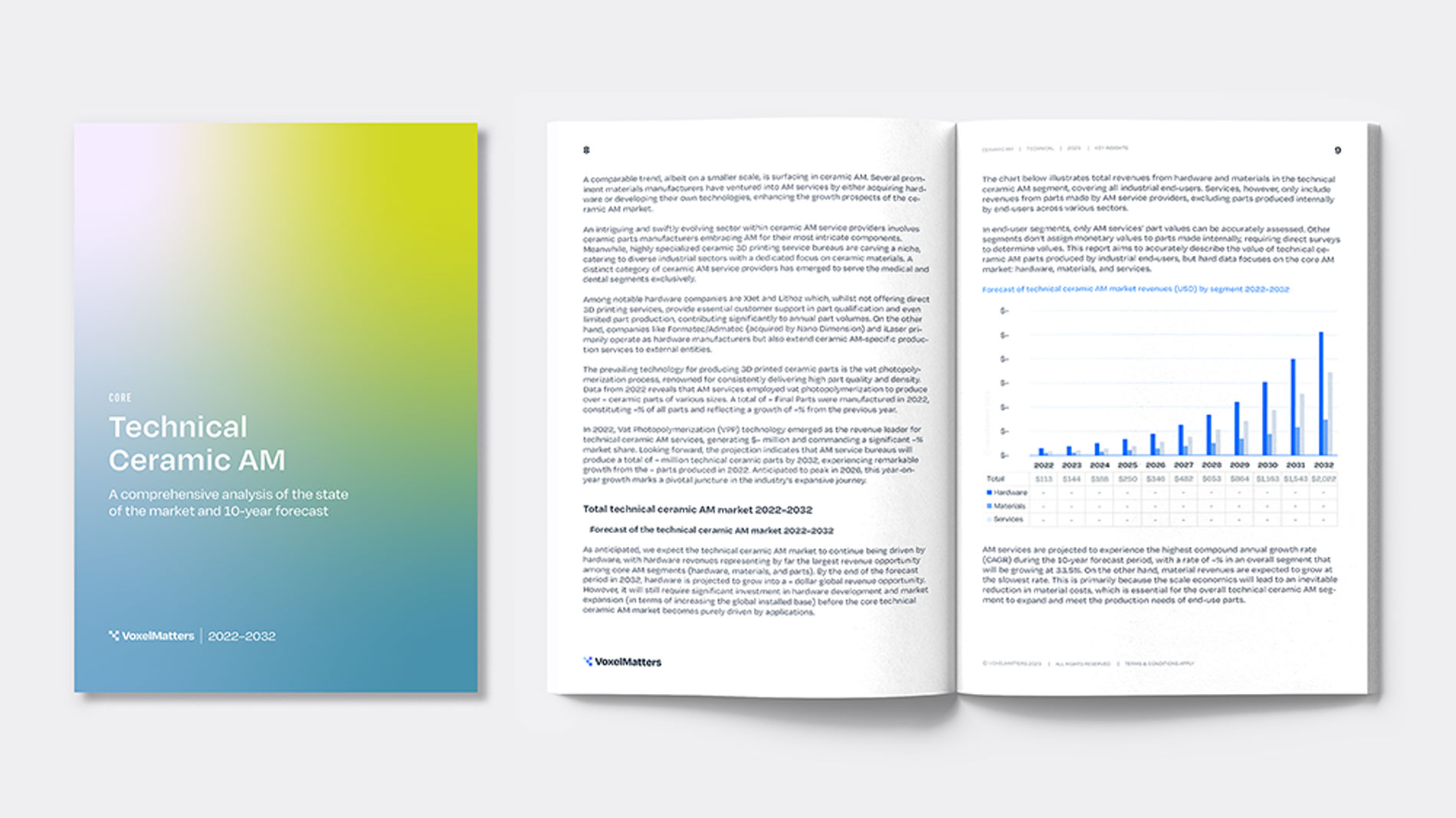 Technical Ceramics, the Materials of the Future
Technical ceramics are a key family of materials for humanity's future. They are used in some of the most advanced applications in fields ranging from healthcare (including dental and medical implants) to aerospace, energy, and industrial machinery.
Engineers say they resort to technical ceramics when they've exhausted all other possibilities. Why? Because some of the most advanced ceramics can be nearly as hard as diamonds and are extremely difficult to process using traditional manufacturing methods. At the same time, they can offer superior performance compared to metal, polymer, or composite when it comes to properties such as temperature or chemical resistance and strength-to-weight ratio.
Ceramic additive manufacturing is one of the very first segments to present a real industrial revenue opportunity, and it is also a driver for binder jetting AM technologies entering the market today. However, the number of clearly identified viable applications for 3D printed technical ceramic final parts remains limited. This limitation is primarily due to a lack of awareness among the largest operators in the ceramics market and the ongoing challenge of recognizing and identifying value-added AM applications for ceramics.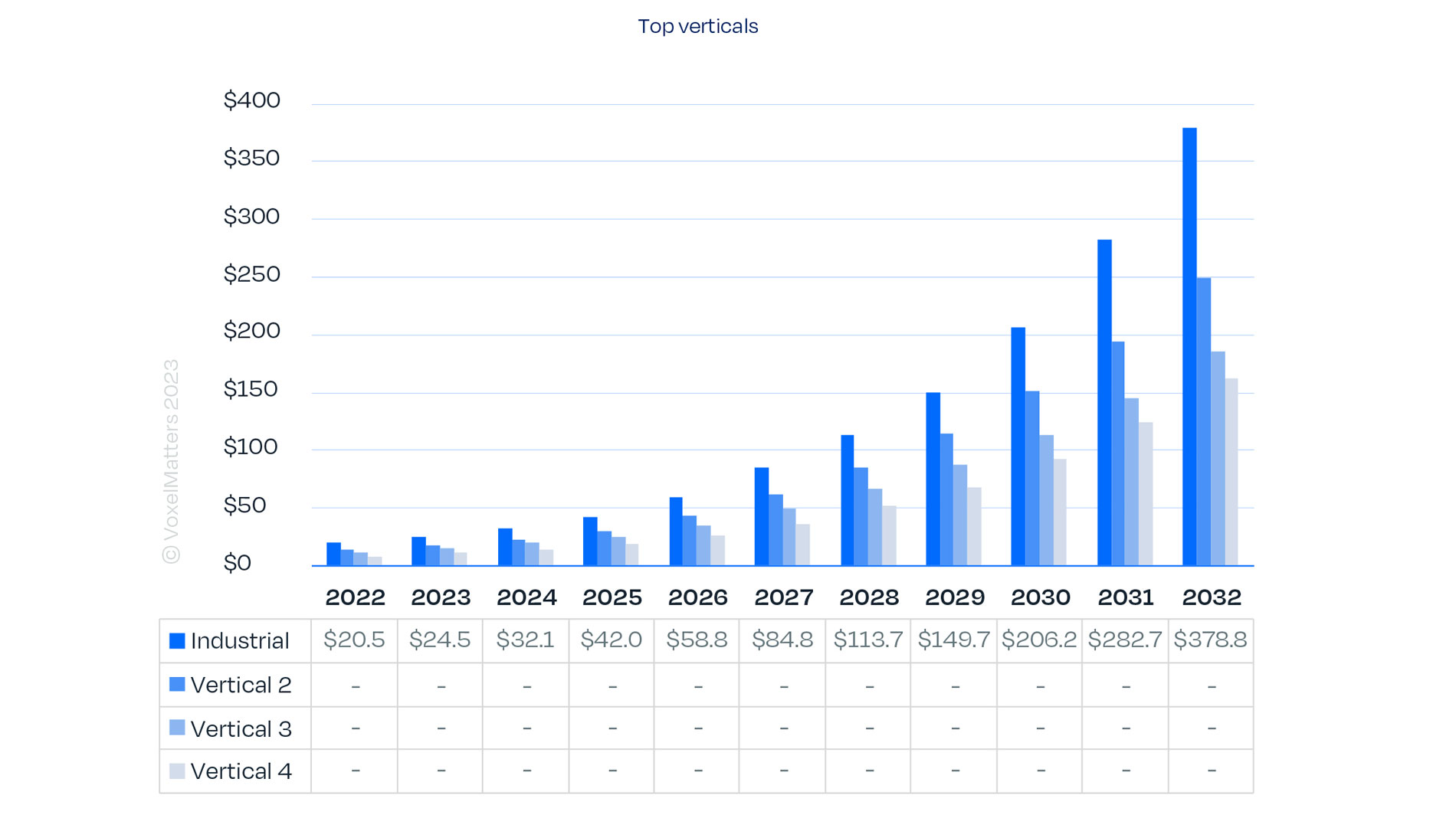 While it remains a niche market, interest in ceramic AM continues to grow. Some of the leading operators in technical ceramics—large companies such as Kyocera, Bosch, Alumina Systems, Zipro, AGC, Imerys, and CeramTec— have now joined other ceramic AM specialists in offering ceramic AM materials or 3D printing services. At the same time, the market leading hardware companies, like Lithoz, 3DCeram, ExOne (Desktop Metal), Admatec (Nano Dimension) voxeljet, XJet, iLaser and others, continue to push the limits of technology to address more ceramic market needs.
By the end of the forecast period in 2032, hardware is projected to grow into a billion dollar global revenue opportunity. However, it will still require significant investment in hardware development and market expansion (in terms of increasing the global installed base) before the core technical ceramic AM market becomes purely driven by applications.
Applications of technical ceramics AM
Starting with the industrial segment, 3D printed ceramics made with SLA processes offer a wide range of existing and potential applications. One notable advantage is the chemically inert nature of technical ceramic materials, making 3D printed ceramic parts ideal for components like filters that come into contact with chemical fluids or gases. Additionally, this material group exhibits excellent corrosion resistance, creating opportunities for parts like tools and gaskets, as well as high temperature resistance, which opens doors to applications in heating components, industrial nozzles, and injectors. By leveraging AM's design freedom, technical 3D printed ceramics made with SLA can be used for heat exchange applications, enabling the production of complex inner channels and a variety of sizes and dimensions. Another critical material property relevant to industrial applications is electrical insulation. Ceramic SLA is well-suited for producing various parts, including antennas, housings for electrical devices, and induction coils. Ceramic DLP technology is also used primarily in industrial settings for complex heat management applications, including such as microreactors and heat exchangers.
Moreover, industrial applications of technical ceramic AM are also possible through binder jetting technology. Currently, ExOne leads in direct binder jetting of technical ceramics, offering support for multiple materials. Aside from alumina and zirconia, the highest potential for commercial applications in technical ceramic binder jetting lies in silicon carbide, an ultra-strong material that proves challenging to process using stereolithography. Nevertheless, this technology can produce large parts suitable for various industrial segments, including high-temperature-resistant applications and tools like molds. Boron carbide, another exceptionally strong material used in defense and nuclear energy applications, has also undergone extensive exploration by ExOne and its partners.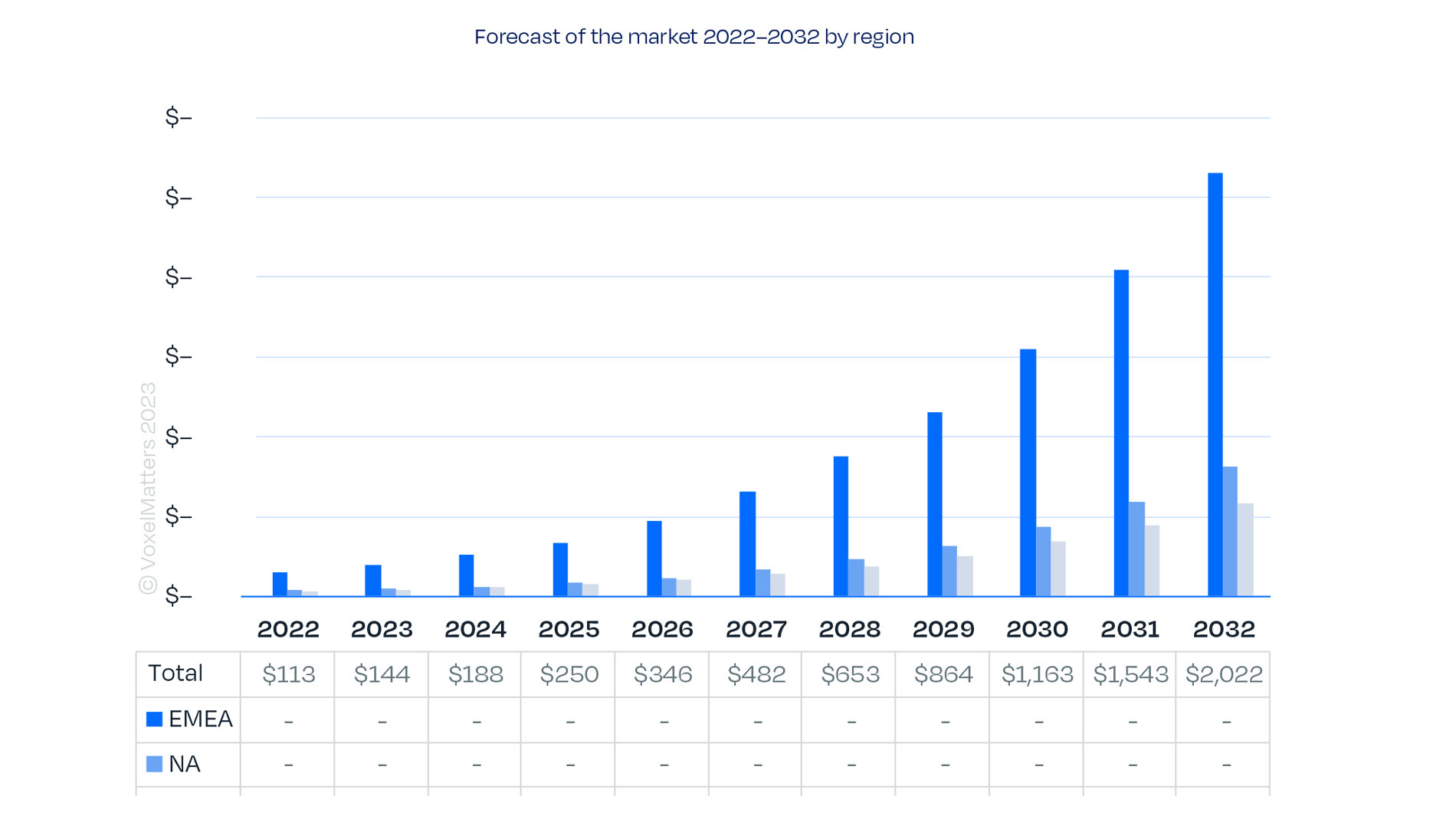 Turning to the medical and biomedical industries, SLA 3D printed ceramics are in high demand due to their biocompatible and antibacterial properties, as well as their strength and durability. Specifically, technical 3D printed ceramics are being utilized to produce orthopedic implants and bone substitutes. Ceramic SLA processes can be employed to create CMF, with optimized porosity. This not only enhances the strength of implants but also improves their potential for osteointegration.
The dental field is another area within the medical sphere that is now starting to adopt technical ceramic AM production methods. Dental AM adopters can now choose from over 10 different ceramic materials, including established ones like alumina and zirconia, which can be processed to produce high-precision restorations and implants. Additionally, glass-ceramic materials like lithium disilicate are available. Other key materials include hydroxyapatite (HAP), tricalcium phosphate (TCP), and alumina-toughened zirconia (ATZ).
A key area for future development is the aerospace industry, which constantly seeks to optimize the performance of equipment, such as satellite parts, measurement tools, RF filters, antennas, optical instrumentation, and propulsion systems, by harnessing the properties of technical ceramics, including strength, chemical resistance, corrosion resistance, extreme temperature resistance, electrical isolation, and lightweight characteristics. Technical ceramics prove to be ideal materials for the toughest aerospace challenges. Another promising application for technical ceramics in aerospace is the production of ceramic casting cores. Foundry cores, used in the production of turbine blades and components for the energy and aerospace industries, benefit significantly from the flexibility and design freedom offered by 3D printing. Materials well-suited for foundry core production include alumina (ideal for nickel, cobalt, steel, and titanium alloys), fused silica (suited for nickel and aluminum), alumina silica (perfect for equiax casting), and Silicore (suitable for all alloys except cobalt). Ceramic materials can also be customized to meet specific applications and customer requirements.
Finally, in the energy segment, ceramic DLP technology has found industrial applications in producing batteries and power cells, while the materials' chemical resistance makes them relevant in maritime industrial segments.
Trends in ceramic AM hardware, materials and services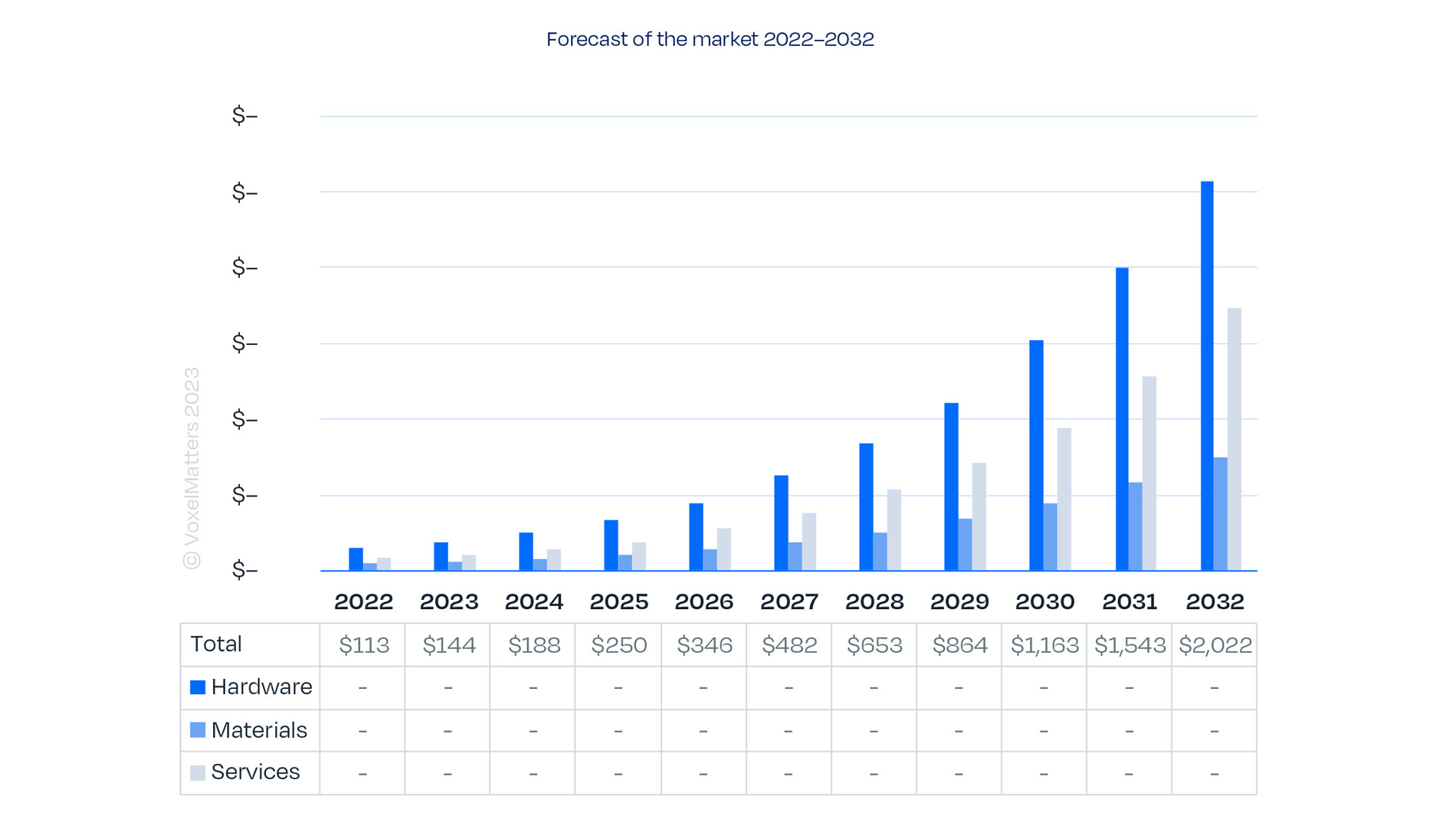 All ceramic additive manufacturing (AM) hardware technologies are based on processes that bind ceramic particles to shape three-dimensional objects before sintering them in a furnace as a post-processing step. As such they are considered production-ready processes. Therefore, ceramic AM was originally developed and continues to evolve as a production method that can also be used for prototyping, rather than a prototyping method that is evolving into production, as is the case with many polymer and metal AM technologies.
In technical ceramics, a diverse array of material categories require consideration, with oxide ceramics holding particular significance. Within additive manufacturing, primary emphasis is placed on alumina (aluminum oxide) and zirconia (zirconium oxide) among these oxide ceramics. These materials, commonly available in slurry forms tailored for stereolithographic processes, dominate the market. Additionally, silicate ceramics like silicon oxide can also be included within this category.
The revenue potential for ceramic AM materials predominantly lies within the slurry ceramics segment, with Lithoz and 3DCeram emerging as dominant players in revenue generation from material sales. Alumina maintains its prominence as the most utilized technical ceramic material in additive manufacturing.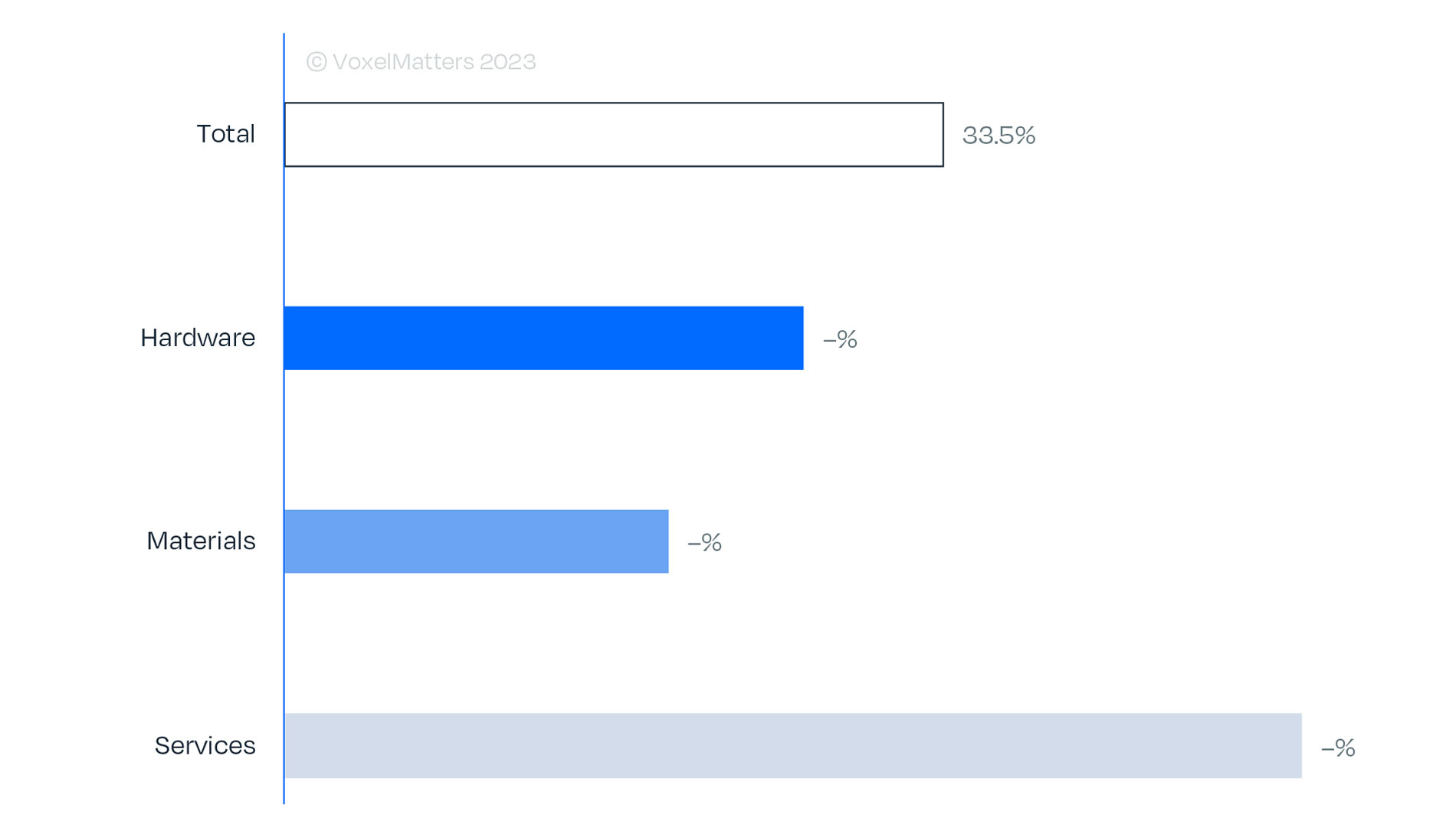 AM service providers play a pivotal role in propelling broader industrial adoption, and
this significance holds particularly true within the intricate space of ceramic AM. While technology-agnostic providers are commonplace in polymer and metal AM, the ceramic segment lacks such diversity. Leading AM service providers for technical ceramic parts, including Formatec (now part of Nano Dimension), XJet, and ExOne (now part of Desktop Metal), stand out not only as hardware manufacturers but also as facilitators of AM services through their proprietary technologies and dedicated facilities.
An intriguing and swiftly evolving sector within ceramic AM service providers involves ceramic parts manufacturers embracing AM for their most intricate components. Meanwhile, highly specialized ceramic 3D printing service bureaus are carving a niche, catering to diverse industrial sectors with a dedicated focus on ceramic materials. A distinct category of ceramic AM service providers has emerged to serve the medical and dental segments exclusively.
Click here to learn more and read the full report.
Tags
Materials
Additive Manufacturing