9 Septemper 2022
In 2016, the French industrial groups Michelin and Fives launched the AM company AddUp. Through organic growth and several acquisitions, this manufacturer of metal 3D printers has become one of the most important additive companies in France and is now looking to capture additional market share around the world.
Black sets the tone in Clermont-Ferrand in the geographic center of France. The heart of this city of around 400,000 inhabitants is dominated by a cathedral made of black volcanic stone, and just one kilometer away, millions of black tires are designed and tested every year in the workshops of the Michelin Group. The fact that the AM company AddUp has its headquarters just a few kilometers north of Clermont-Ferrand in Cébazat is no coincidence, as the industrial giant Michelin was one of the two founding fathers of the up-and-coming manufacturer of industrial metal 3D printers.
Founded in 2016, AddUp is now one of the largest AM companies in France, with more than 300 employees worldwide and four major sites in Europe and the USA, as well as a few additional offices. The young company isn't content to rest on its laurels, however, and plans to continue its ambitious development in the coming years. In doing so, it will have strong support from Michelin and its other owner, Fives. "Our shareholders expect us to continue to grow significantly, and have also invested considerably in us to make it happen," says Franck Moreau, CEO of AddUp.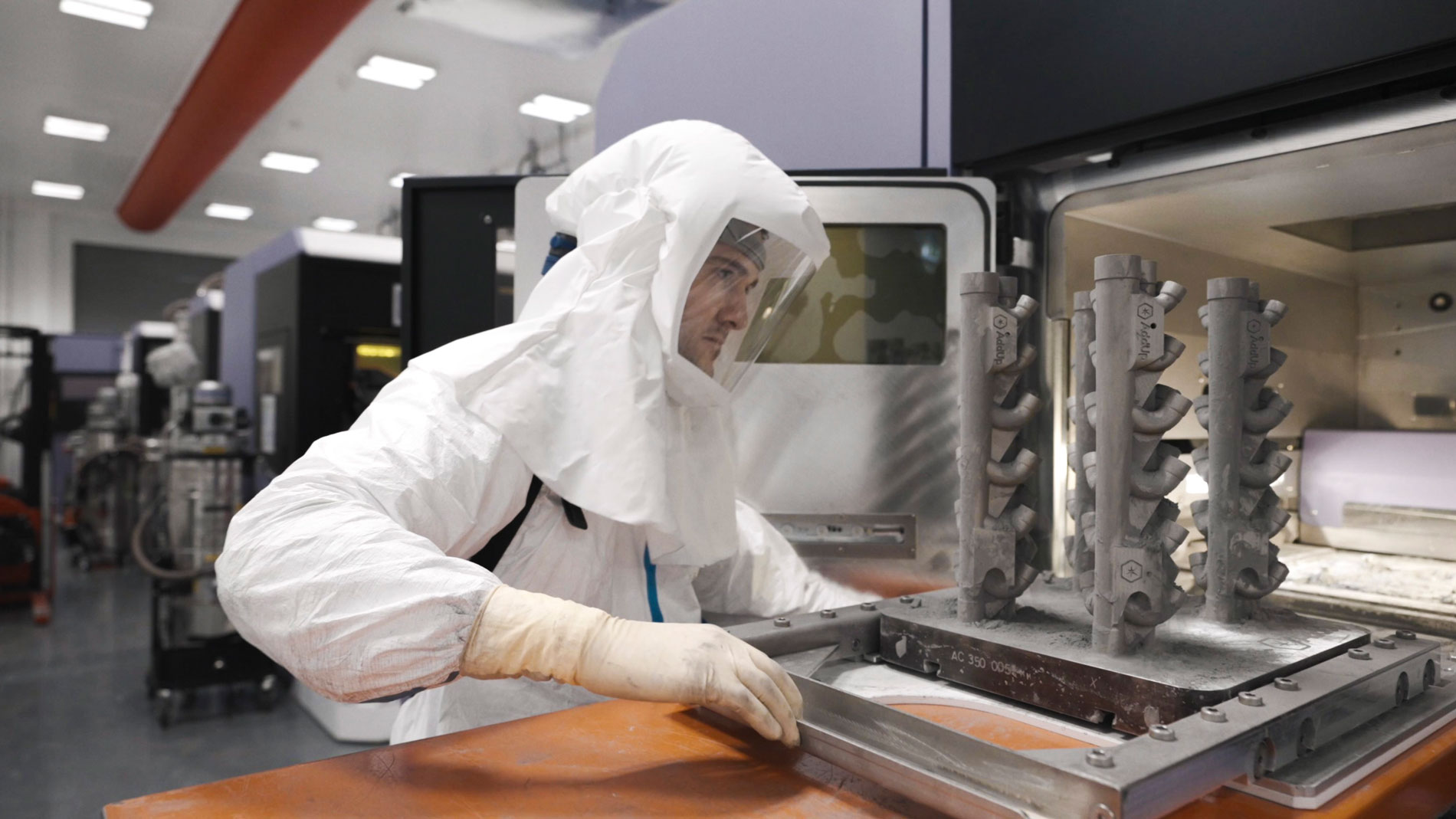 The growth that AddUp has shown in recent years has been based on its own organic development and its acquisition of various companies. In 2018, for example, it purchased the French service provider Poly-Shape, which employs around 50 people and has a production site in Salon-de-Provence. Picking up the conventional machining company Serm-Meca that same year enabled AddUp to add industrial finishing solutions to its portfolio. And the acquisition of Beam, a Strasbourg-based manufacturer of direct energy deposition (DED) machines, was a strategic means of introducing this new technology to the market.
Machine OEM and service provider in one
AddUp's corporate headquarters are located in an industrial area of Cébazat on a well-secured Michelin site. In addition to administration and marketing, various departments are located here, including research and development. 3D printing equipment is delivered and electronically checked in the production hall, all of which is designed to meet the needs of AM machine production. Currently, AddUp's Saint-Céré site (near Toulouse) assembles all the components of its machines. A few rooms away, tests with powder are carried out before the machines are prepared for shipping.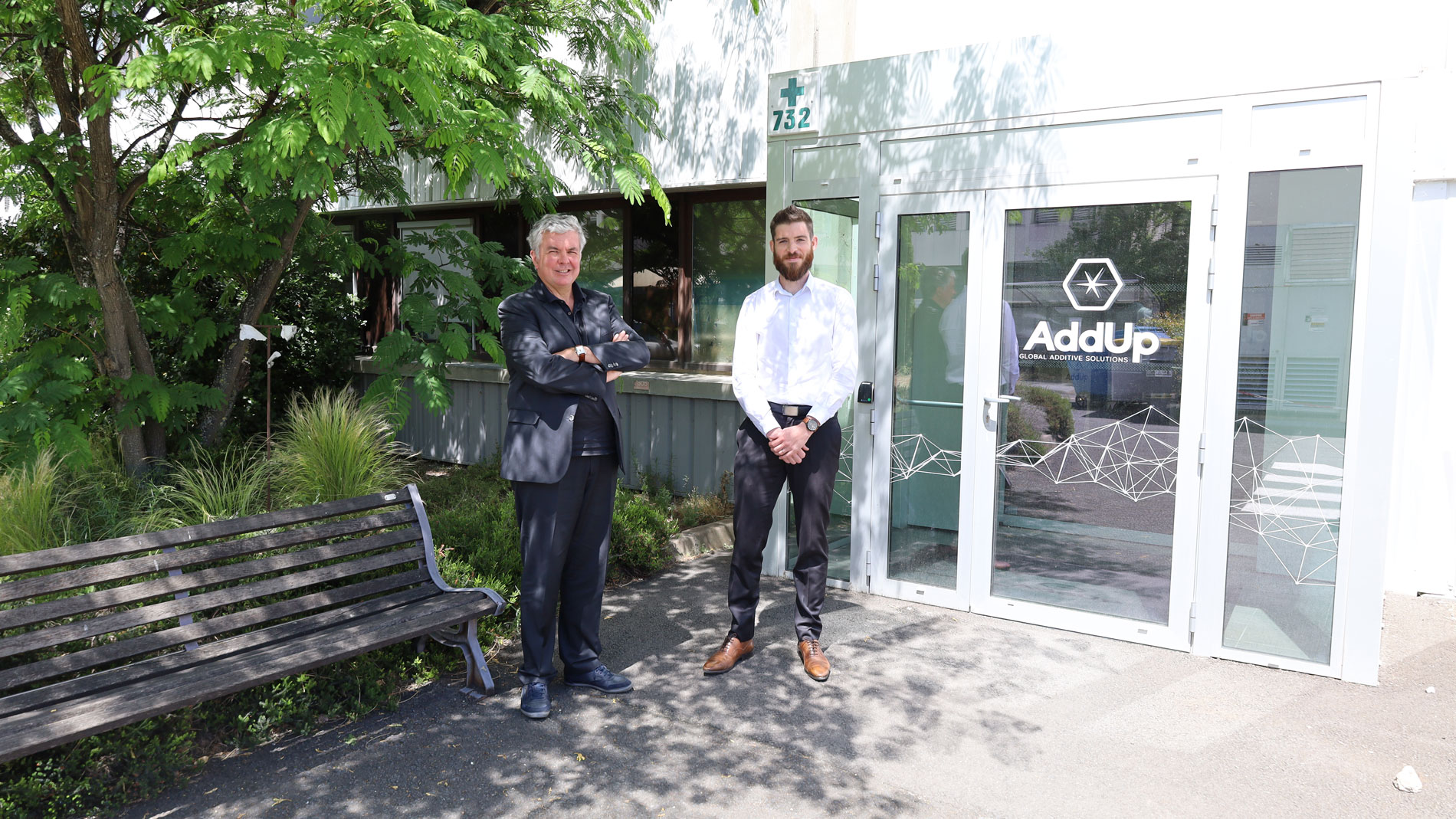 Behind heavy doors that only open to a few authorized people, AddUp also operates a fleet of its own machines to produce additive metal parts on behalf of customers. Of these machines, 35 run at its Cébazat site, and 10 more are in operation at sites in Salon-de-Provence and in the USA. In another area of the hall, there is also capacity for post-processing – including saws to separate build jobs from the build plate and ovens for heat treatment.
"With our large machine park, we're not only one of the largest service providers worldwide, but also one of the few manufacturers of AM metal equipment that also officially acts as a service provider on the market," says Mathieu Roche, marketing and technology manager at AddUp.
Part production an important sales pillar
Producing parts on its own machines benefits AddUp in three ways: First, it creates confidence in the company's technology, and sooner or later, that also supports sales. "After all, customers won't buy machines if you can't supply them with the parts," explains Moreau.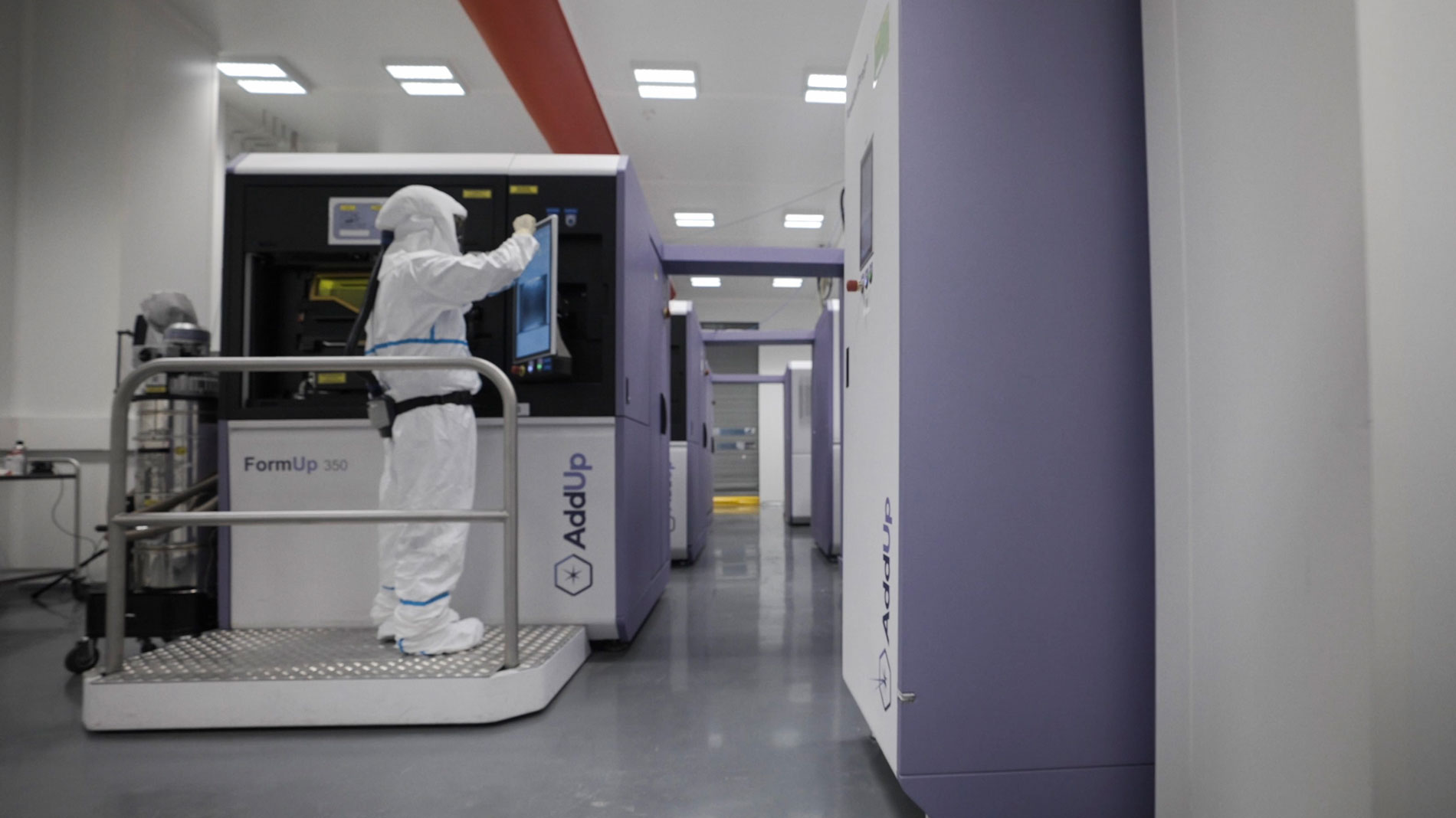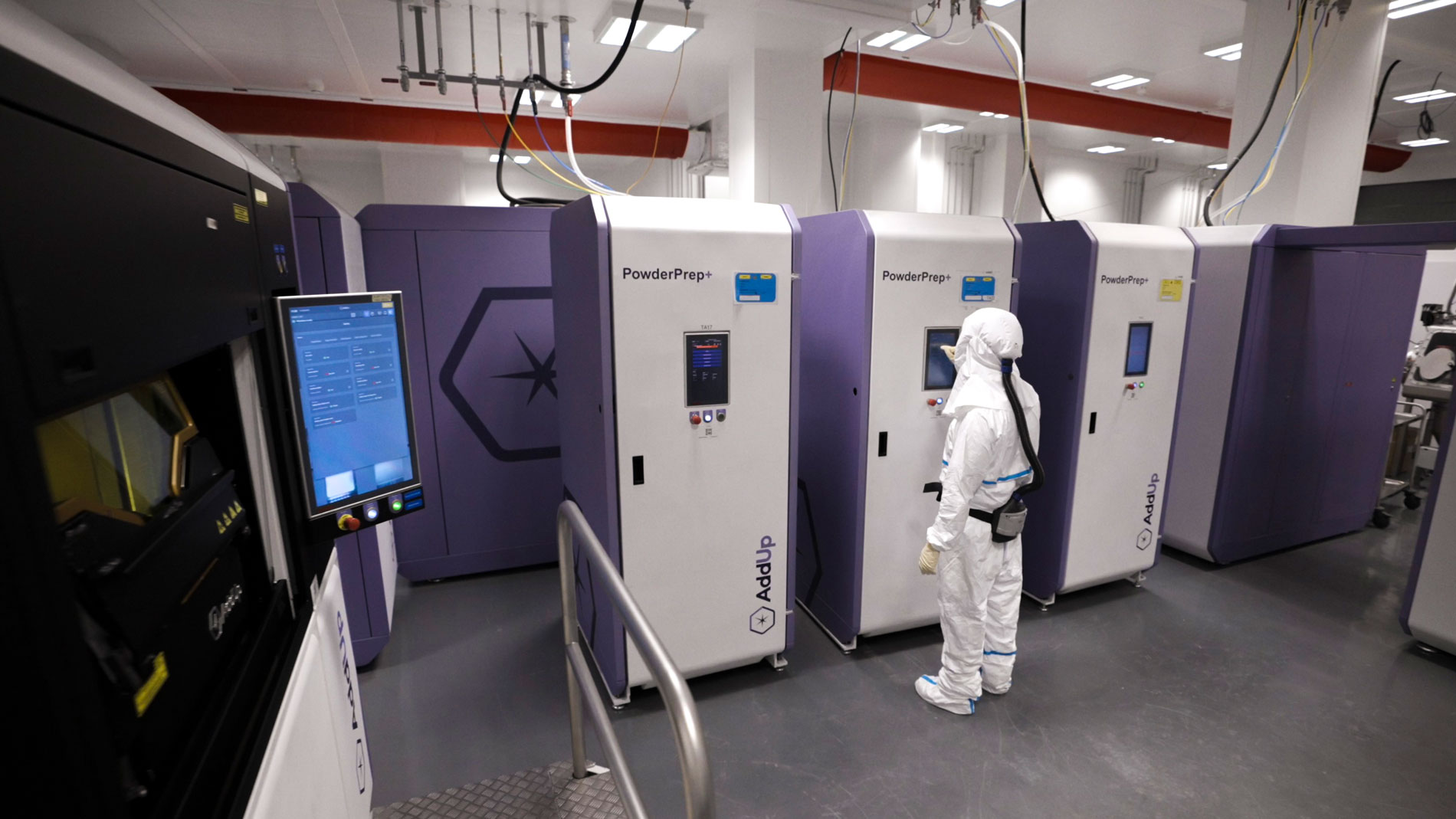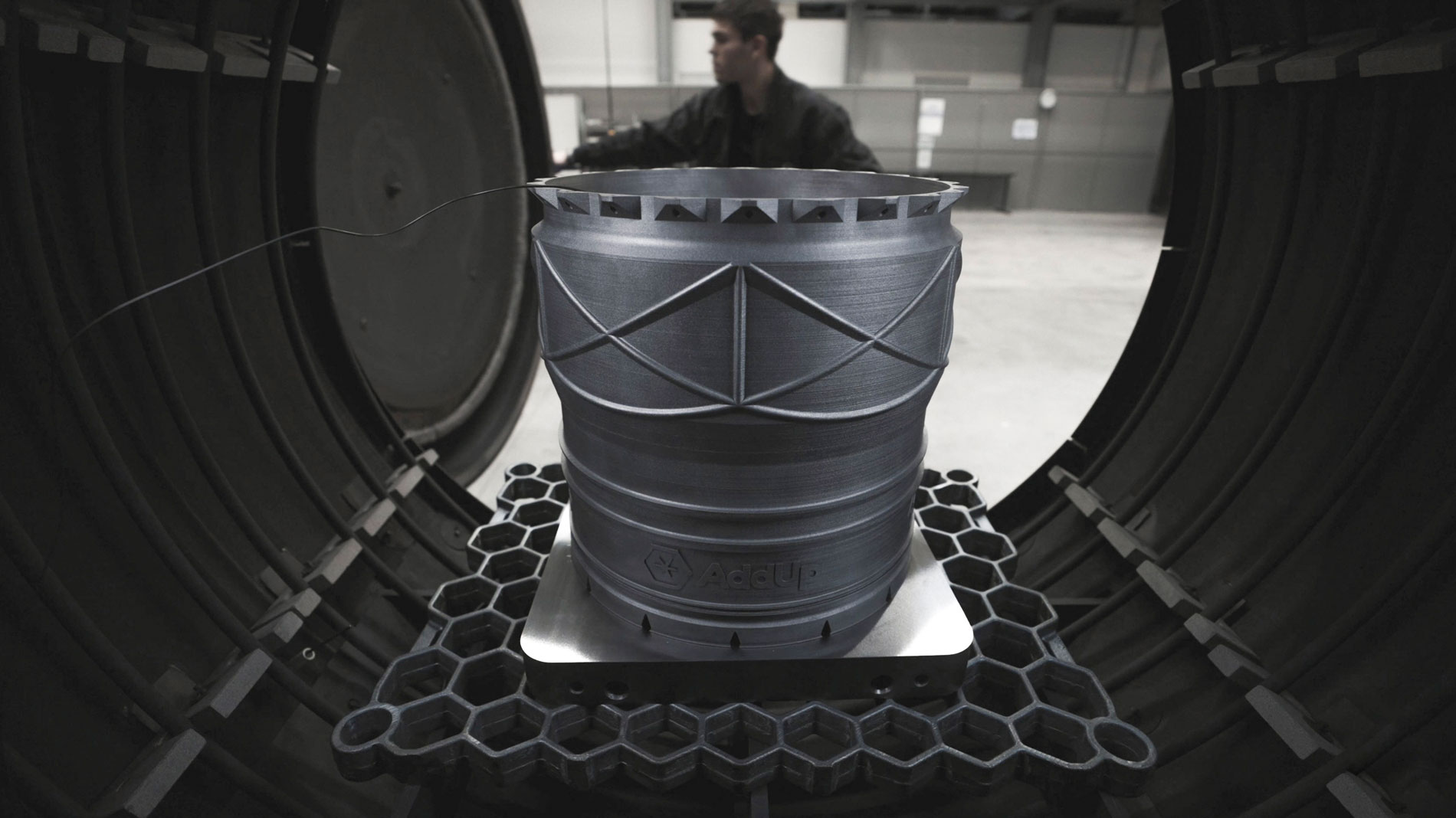 AddUp isn't "just" a manufacturer; its 45 production machines make it one of the world's largest AM service providers, as well. Bilder: AddUp
In addition, the service provider business has developed into an important component of the company's revenue, having accounted for around half of AddUp's total sales in recent years. For 2022, Moreau expects more very stable figures in the production of AM parts, including a volume of around €10 million. At the same time, machine sales have picked up even more strongly; AddUp is predicting that it will contribute another €20 million to its total sales.
"Another important advantage for us comes from the fact that we as a company understand the technology and applications even better and gain more experience, which ultimately flows into the development of new machine generations later on," explains Moreau in an interview with Formnext Magazine.
In its activities as a service provider, AddUp almost exclusively uses the powder bed fusion (PBF) process – and thus the FormUp 350 machine, which is currently AddUp's only PBF model. "The percentage here is 99 percent," reports Mathieu Roche. "In contrast, DED technology doesn't currently play such a strong role for us as a service provider." This may be due in part to the fact that this even younger technology is often used for component repair. Plus, companies are more likely to buy DED machines and integrate them into production to develop their own processes. In machine sales, on the other hand, AddUp can benefit strongly from DED technology, which it says is more on a level similar to PBF.
Several million parts for vulcanization molds
In addition to the 45 production machines running in its own factory halls, AddUp has sold around 60 machines worldwide. One of its most important customers in recent years has been the Michelin Group, which has been involved in additive manufacturing since the early 2000s and has produced parts for tire vulcanization molds on AM systems. Having produced several million AM parts, Michelin is probably one of the largest additive users worldwide. One of the latest developments in tires was also created with the help of 3D printing. "The current Premier (US) and CrossClimate (EU) tires have been decisively improved with additive mold inserts," explains Mathieu Roche. "They are designed in such a way that when a tread wears out, a new one practically forms underneath."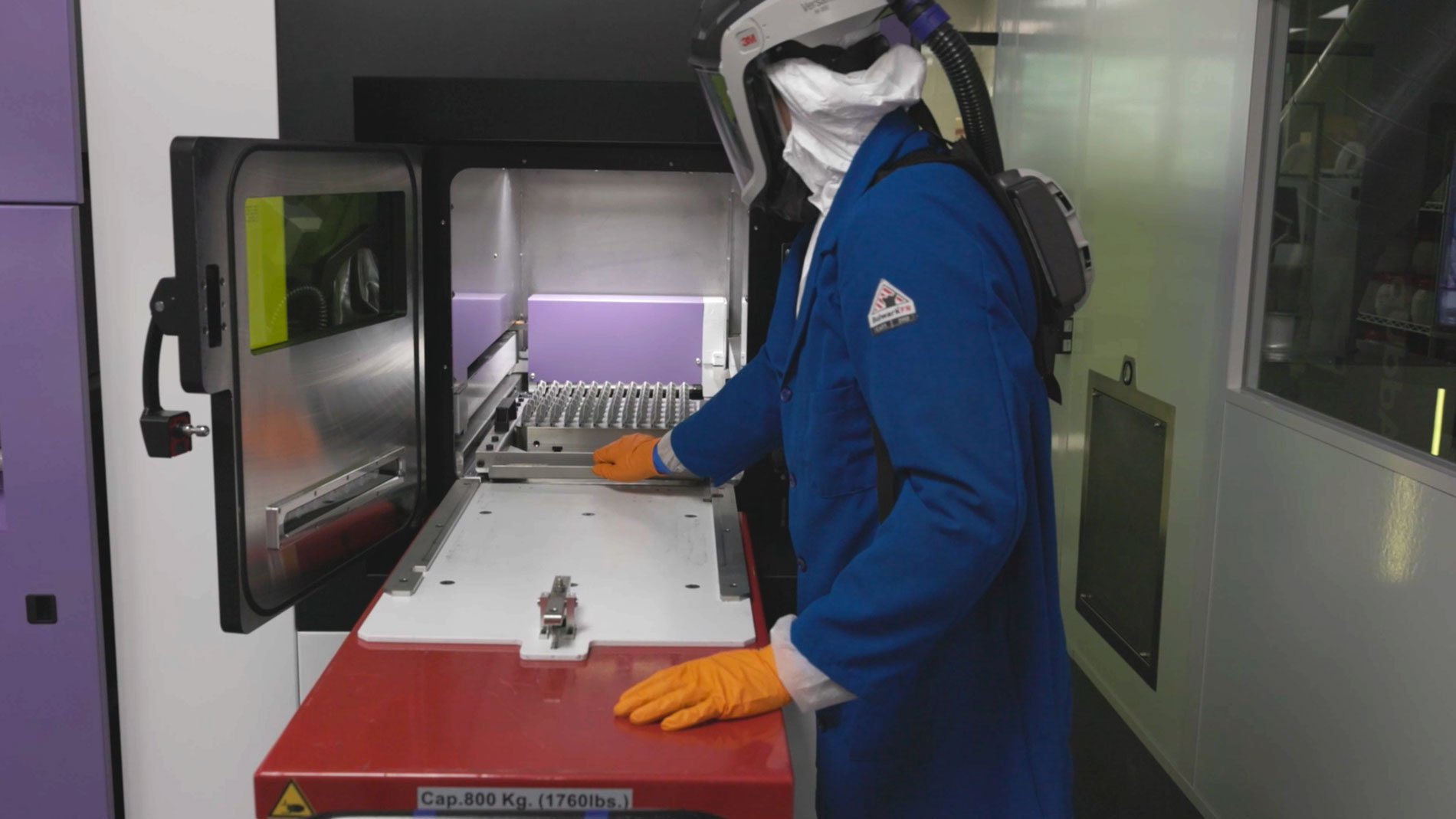 Another prominent customer is the aircraft manufacturer Dassault Aviation, which already has two FormUp 350 machines in operation. AddUp is also building an automated production line for the company that is scheduled to be finished by 2024. "At the same time, Dassault wants to respond very flexibly to demand and is needing more and more additive parts, so it's also ordering more and more parts from us, which we then produce in Cébazat," Roche is pleased to report.
Software and hardware development to drive further growth
With its PBF machines, AddUp is laser-focused on series production and has optimized the entire FormUp 350 system in this direction. This includes a powder recycling system that is a standard component of every machine. AddUp also aims to gain additional market share with strong software that is being developed further by several dozen software engineers. Among other things, this software makes it possible to monitor key process values during builds. It not only includes macro sensors (e.g. for oxygen, temperature, and humidity percentages), but also covers torque for many components, along with events, gas consumption, and much more for a total of over 80 variables. AddUp also offers advanced melt pool monitoring that is capable of generating digital twins of produced parts in real time. By using multiple sensors that collect data at high frequencies, the system can detect power drifts and unexpected melting variations. "This monitoring is crucial for many AM users, including those in the aerospace and medical sectors, where non-destructive evaluation (NDE) represents up to 50% of the cost of parts," says Mathieu Roche. AddUp has also developed a recoating solution that photographs each individual layer and repairs powder anomalies when necessary.
Meanwhile, AddUp has some development work ahead of it in the DED sector, as well: The company is constantly improving the different versions of its Modulo machines, and according to Franck Moreau, it will also soon bring a larger DED machine to market. AddUp's CEO, who headed the aerospace division at Michelin before taking up his current post two years ago, says that these steps are meant to help the company achieve market leadership by 2030. This would also be in the national interest of France, which Moreau says would then be able to strengthen the country's industry and supply chains further.
In its growth strategy in the highly competitive PBF market, AddUp is focusing primarily on Central Europe and the USA, where it also wants to gain an edge as a "very open and transparent company," as Moreau explains. He adds that this applies to both the machinery's open platform and the open-source materials used. "At the same time, we are, of course, adapting our strategy to succeed in other countries." While AddUp counts large industrial groups such as Michelin, Airbus, Dassault, and Safran among its customers in France, the company wants to focus more on SMEs in Germany, for example, and has entered into partnerships with the likes of Fraunhofer ILT in Aachen for this purpose.
FURTHER INFORMATION:
AM TECHNOLOGY:
Additive Manufacturing for metals - power bed fusion
Additive Manufacturing for metals - direct energy deposition
A structured overview of the complex and multi-layered world of additive manufacturing, the process chain and areas of application is provided by our AM Field Guide.
Tags