10 September 2022, by Thomas Masuch
In the southwest corner of France, Lynxter is an emerging 3D printer manufacturer that is about to take the next big leap.
Only about five kilometers from swanky Biarritz, where the Atlantic crashes against the rocks of the city, tourists walk in the footsteps of Ernest Hemingway, and sun-tanned surfers bob in the water waiting for the next perfect wave, Thomas Batigne stands in front of the Lynxter factory gate and points to a fallow area on the other side of the road. The 27-year-old entrepreneur has a lot of plans for the plot: "We've already secured the 3,500-square-meter property; we want to build a new company headquarters there with space for up to 100 employees."
In the French part of the Basque Country, a region known throughout Europe for its wide beaches, high waves, and half-timbered houses painted red and white, Lynxter's founder and CEO has joined his friends and co-founders Julien Duhalde and Karim Sinno in building a company that now has 30 employees and continues to grow rapidly. At the center of its development is the S600D, a modular 3D printer whose strength lies primarily in its flexibility according to Batigne. It can also be used, for example, to print industrial-quality silicone on a large scale. "In this area of materials, we're the company that has sold the most machines worldwide," Batigne states.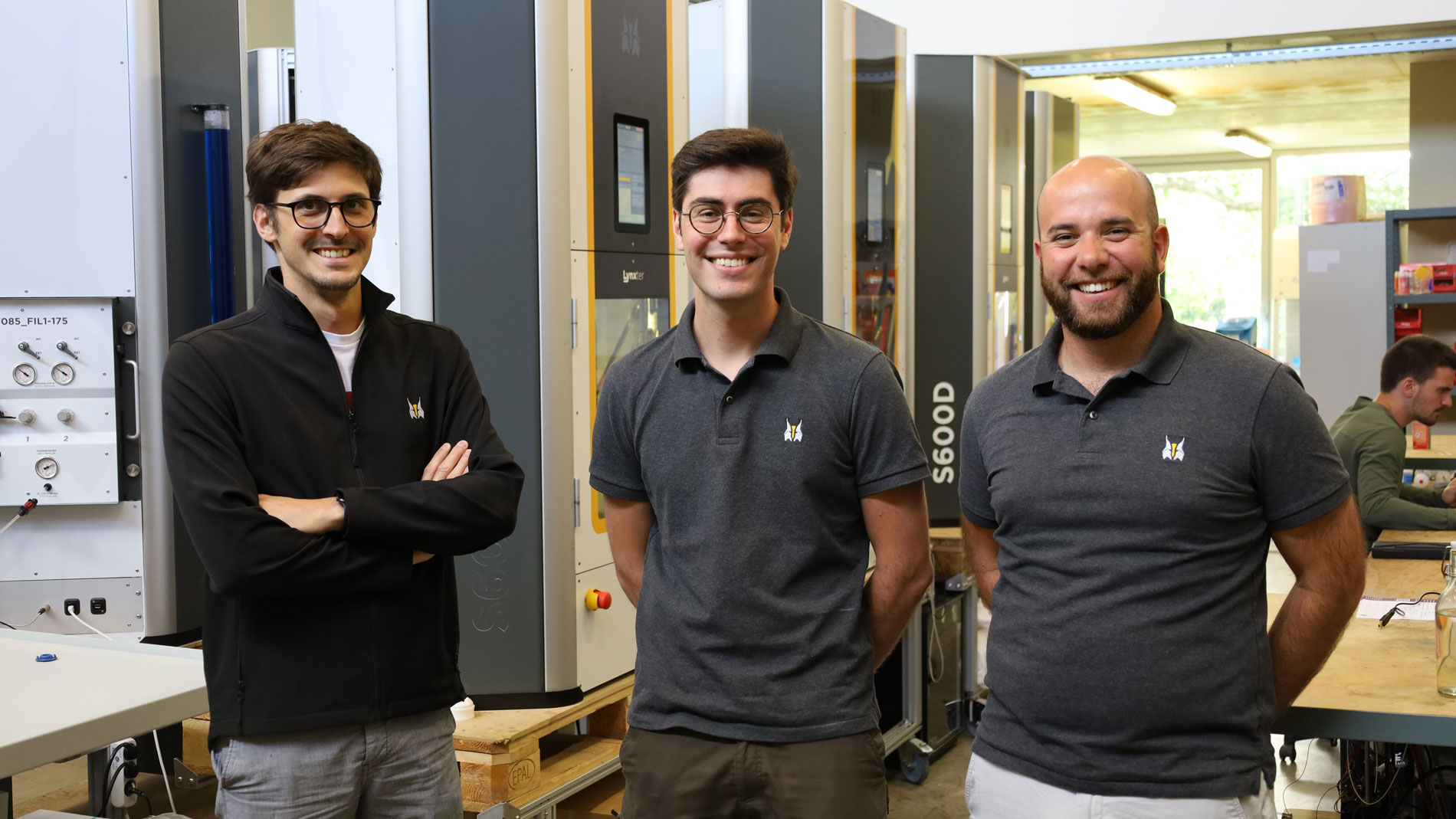 In the hall behind him, around a dozen S600D units operate in two rows. Inside each printer, nozzles attached to three columns deposit silicones, ceramics or other plastics (thermoplastics) on the print bed and form various test bodies. These are intended to convince potential customers of the printer's performance. At the same time, Lynxter is also testing new ideas and applications. "We sell printers first and foremost, but we also need to provide customers with ideas for new applications so that the market continues to grow," Batigne says.
Lynxter's development is going so well that space in its previous premises, which are located in a modern industrial area on the outskirts of Bayonne, has become quite tight. The company is thus set for another major leap.
First printer delivered to Airbus
Around seven years ago, there was little sign of such ambitious developments taking place. Batigne, Duhalde, and Sinno knew each other from the ENIT engineering school in Tarbes. Batigne had already started his own business developing 3D printers, but then "we had the idea to start a company because there were no open industrial 3D printers at the time," the CEO recalls. Coincidentally, a start-up competition was taking place in the region and the three entered "just for fun". They ended up winning first prize and being discovered by Airbus. "The company approached us and said if we could deliver our printer – which existed only as a model at the time – within six months, they would buy it," Batigne says. From then on, the three friends worked day and night on the printer and delivered it on time. That was in September 2016.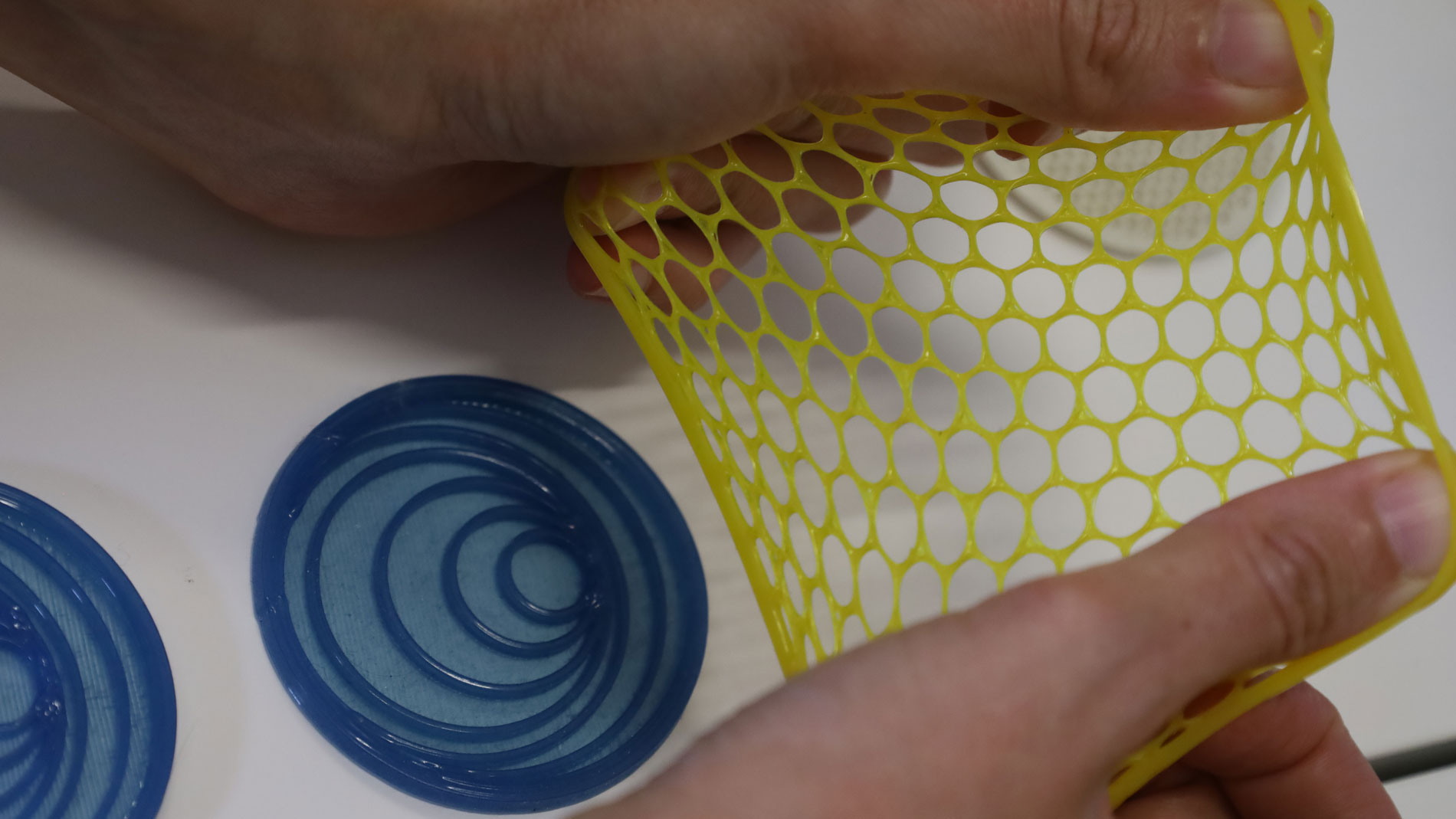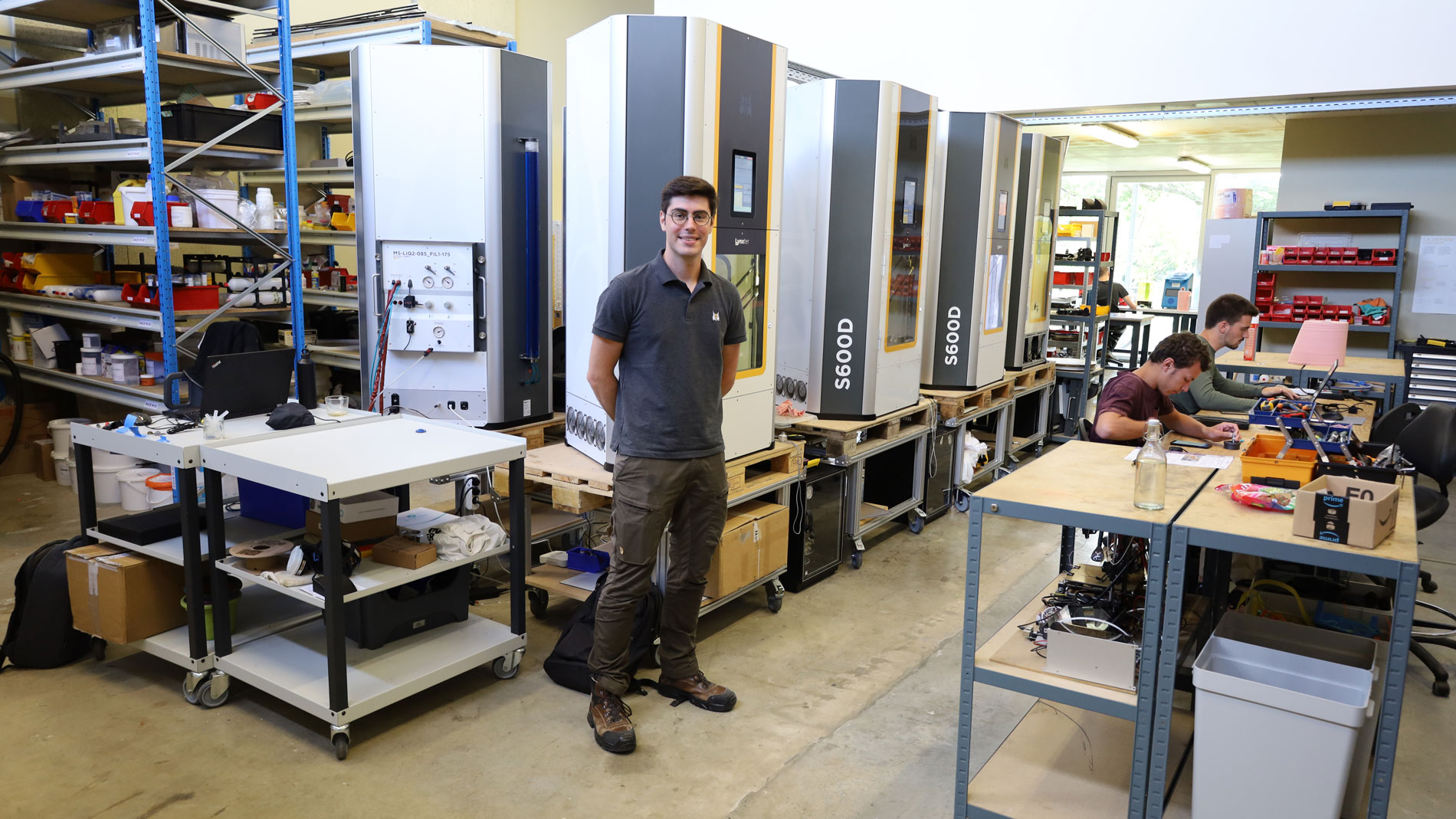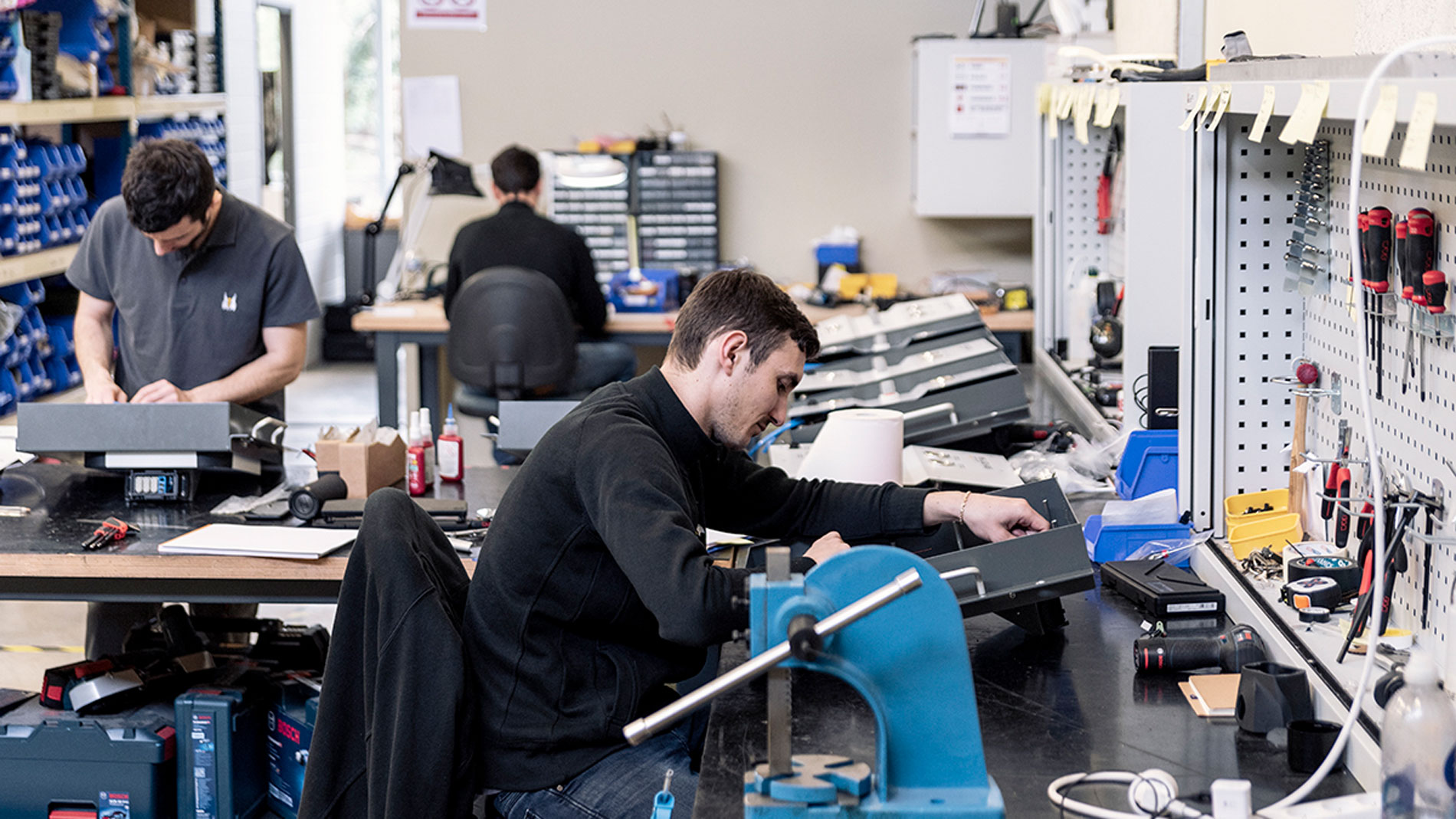 After this exciting start, the company's further development was quite unspectacular for a start-up – especially because the three founders initially refused to take on investors. "We didn't want to be eaten by a big player and preferred to do everything ourselves. We wrote the programs, assembled and installed the printers on-site with customers, and took the calls when customers had questions," Batigne continues. At the same time, they also continued to develop the printer and in 2018 introduced Liquid Dispensing Technology – their solution for printing silicone.  
Investors after all
In the meantime, the three friends came to the realization that external investors would, in fact, be a better way to continue growing. In 2019, the company thus received an influx of €1.5 million. "This allowed us to hire more staff, work with sales partners, drive our growth in France, and take on a more professional structure," Batigne explains. The S600D is now distributed by the online store IGo3D, for example, and initial pilot projects with distribution partners have already been launched in the United States.
To further its international growth, Lynxter – whose name was inspired by the Sphinx that guards the Egyptian temple of Giza – is currently preparing another investment round. It hopes that this will enable it to replicate its success in France in other markets. While Batigne did not want to reveal the details in a personal conversation in July 2022, he did say that it "will probably be one of the largest investment rounds in the French AM industry."
The fact that Lynxter is now so successful in financing is also due to Batigne keeping his eyes open and maintaining contacts in the field worldwide. "In France, the financing options are far less developed than in Germany or the UK, for example – not to mention in the USA," he points out. "That's why we'll also be talking to investors from the UK and the US in further rounds. They're much more willing to take risks, and to invest larger sums."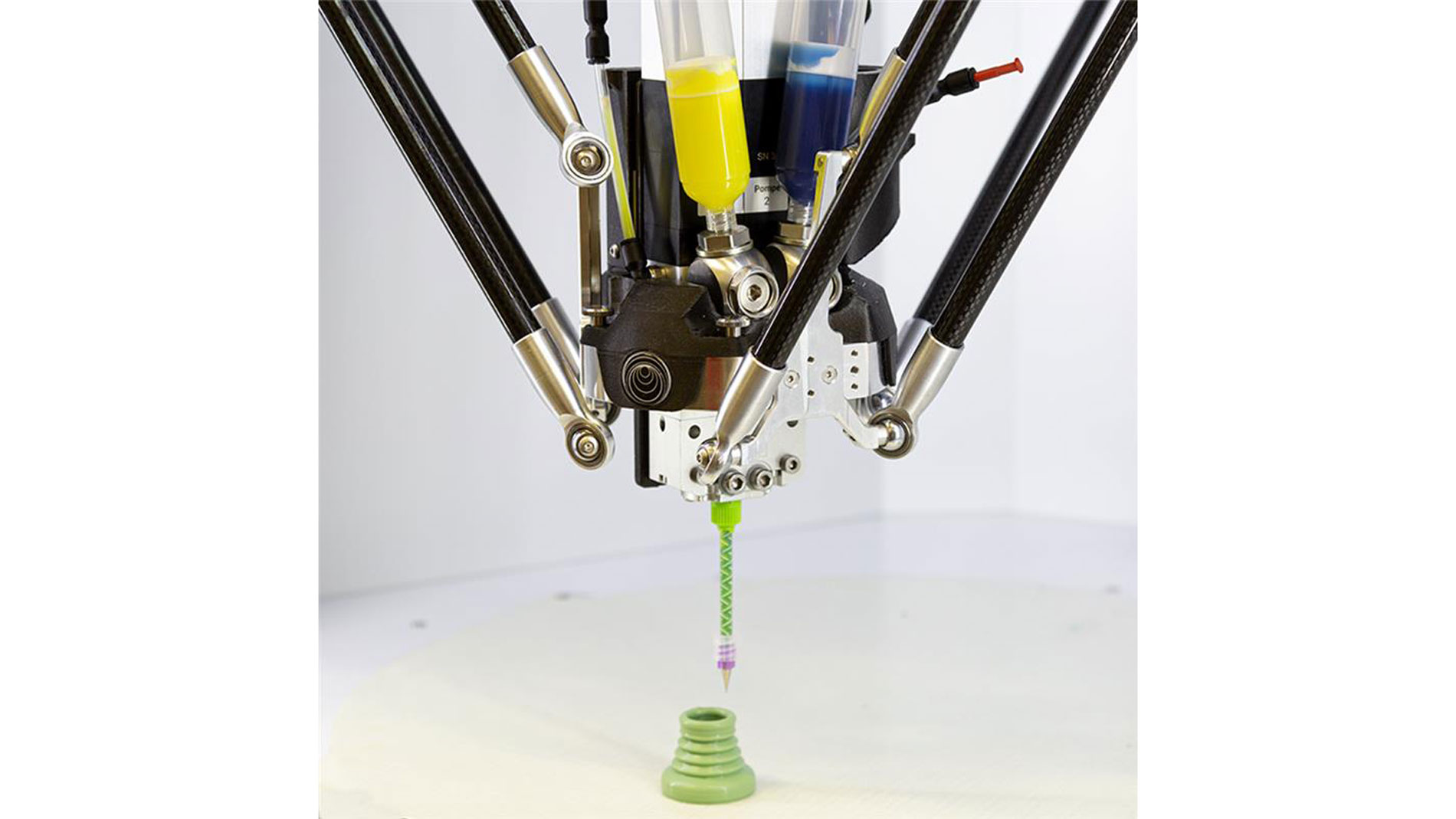 "Maintaining a human touch in the company"
Lynxter's growth has, however, come with a whole new set of challenges. "In our industry, there are very few people with experience, so we've had to train our employees from scratch and pass on everything we know," says Batigne. In the process, the CEO – who previously served as a software developer, process R&D engineer, and service worker all at once – has become strictly a manager. "We have a different structure now, with specialists and people responsible for sales and finance. Nevertheless, we want to maintain our human touch in the company, and that's probably one of our biggest challenges for the future," says Batigne, who is occasionally drawn to the workshop in the summer, when most employees are on vacation. Here, the 27-year-old once again tinkers with the technology and software himself, just like in the old days.
The number of Lynxter printers that are already up and running on the market is not something the company wants to disclose officially, but it is "very well represented in France," as Batigne puts it. Among other large groups, Airbus, Schneider Elektrik, Sanofi, and Total have acquired an S600D – the company's only model to date, which has been updated several times – and also use it in production. According to Batigne, numerous research institutes (including CNRS and ESILV) and well-known French service providers such as Erpro Group or Third also have the S600D in use.
Excellent material compatibility
According to Lynxter, the secret of the S600D's success is its versatility and the wide range of materials it can process: silicones, polyurethanes, various pastes (metals and ceramics), and thermoplastic filaments, among others. It sells a range of specially certified materials that the printer can handle. At the same time, the company supplies a development kit to that enables clients to come up with their own custom modules, materials, and software.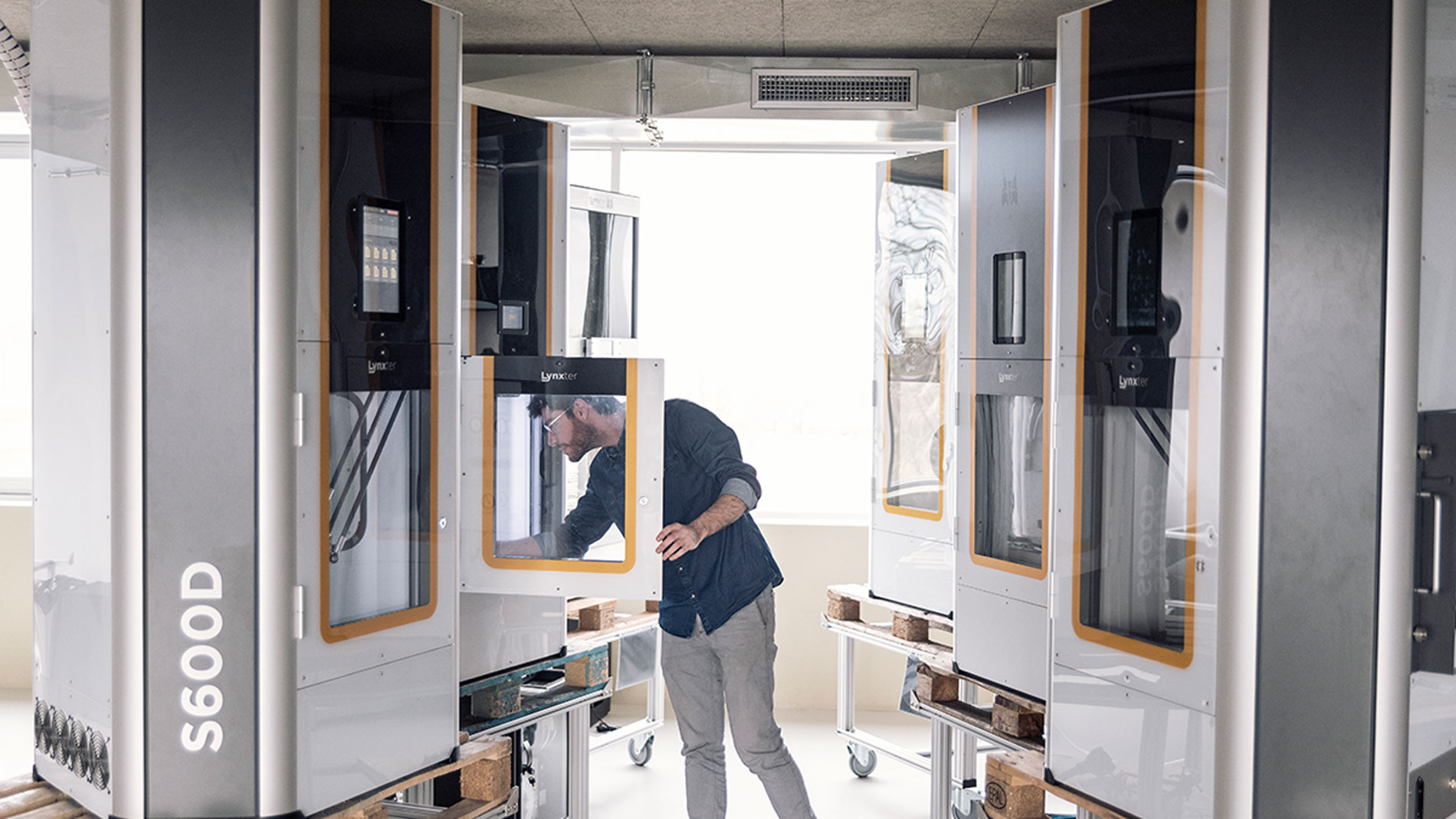 Thanks to the wide variety of printable materials, Lynxter has an immense potential market in which it has focused on a number of key areas, including tooling and prototyping, medical applications (Lynxter offers a silicone certified in line with ISO 10993-5 for skin contact), and research and development. The latter area is of particular importance to Batigne, as "research institutes manage to bring to light the often greater-than-expected potential of printers."
A good environment for growth in the AM sector
With its strategy to date, Lynxter has been able to "consistently achieve triple-digit growth – 106% on average in the last six years," Batigne explains proudly. "And that's despite the fact that the French industry has tended to shrink in recent years. In this respect, conditions in the AM industry in France are not bad." In addition, he says, a lot of innovation is taking place due to the numerous training opportunities and research facilities in the field. There's also the "Choose France" campaign, which is aimed at foreign investors and meant to further strengthen the domestic economy. "I therefore assume that the next few years will actually be very promising for us as well," Batigne says.
Just how strongly the AM industry is developing, even in the far southwest of France, can also be seen when looking across the land reserved by Lynxter in the Bayonne industrial park. To the right of it, the technology institute ESTIA has built two huge halls for the Addimadour and Compositadour research platforms. "Here, something like an AM cluster has emerged more or less by chance, which helps us a lot," Batigne explains. "We can tackle projects together, and it's also easier to get funding support for joint development projects. And we just speak the same language."
When it comes to finding additional staff to fuel its further growth, Lynxter has more than an exciting company history and the charm of being part of building something special to win potential employees over. "We actually have some colleagues who come to us from the north of France or other regions because we can offer a very good work-life balance and a very attractive environment here," says Thomas Batigne. "Most of our team likes to go surfing; we often do that together, and sometimes we go hiking in the mountains."
FURTHER INFORMATION:
Tags
Additive Manufacturing
Medical technology