Text: Thomas Masuch, 3 September 2023
Mainz-based casting manufacturer, Römheld & Moelle, has branched out into a new product area, printed casting, and sees great business potential in casting using 3D-printed molds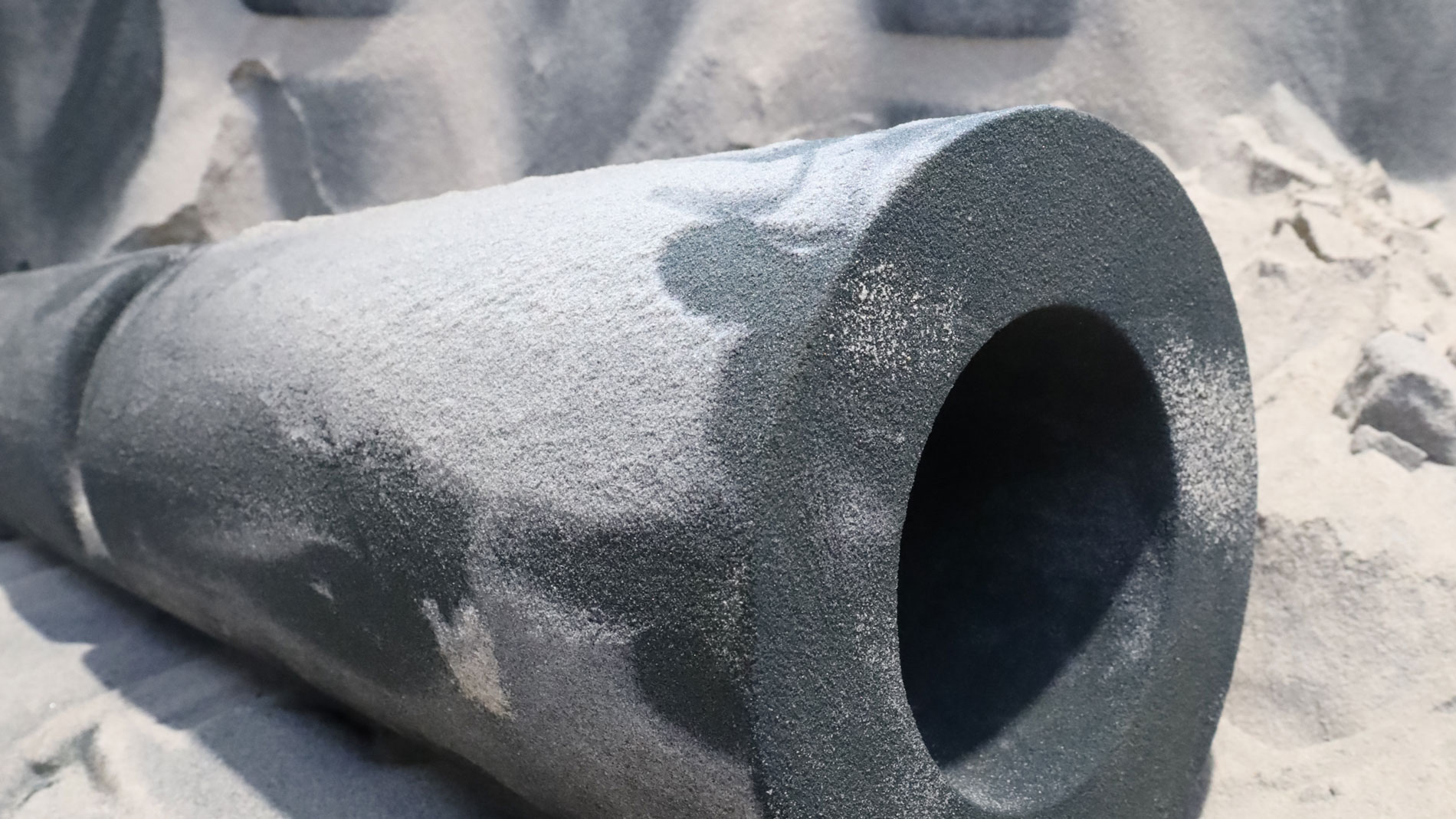 Only two doors separate the two worlds. Where a moment ago, we were looking at the touchscreen of the new sand 3D printer in a well-lit building, we are now moving through large, old-time factory halls, their walls and floors covered in a thin layer of gray dust. Lines of steel racks, or mold boxes as they are called, the size of railroad cars span the floor, and now and then rays of sunlight penetrate the hall roof, spotlighting specific areas. At one station, a large, bearded man with tattooed arms stands and fills a molding box with gray-black sand.
Concealed inside the gigantic sand-filled box are delicate 3D-printed sand molds, into which liquid metal will later be poured during the night shift. In other mold boxes, styrofoam molds lie encased in dark sand. Later, liquid iron will also be poured into these, replacing the styrofoam, which gasifies at the high temperatures.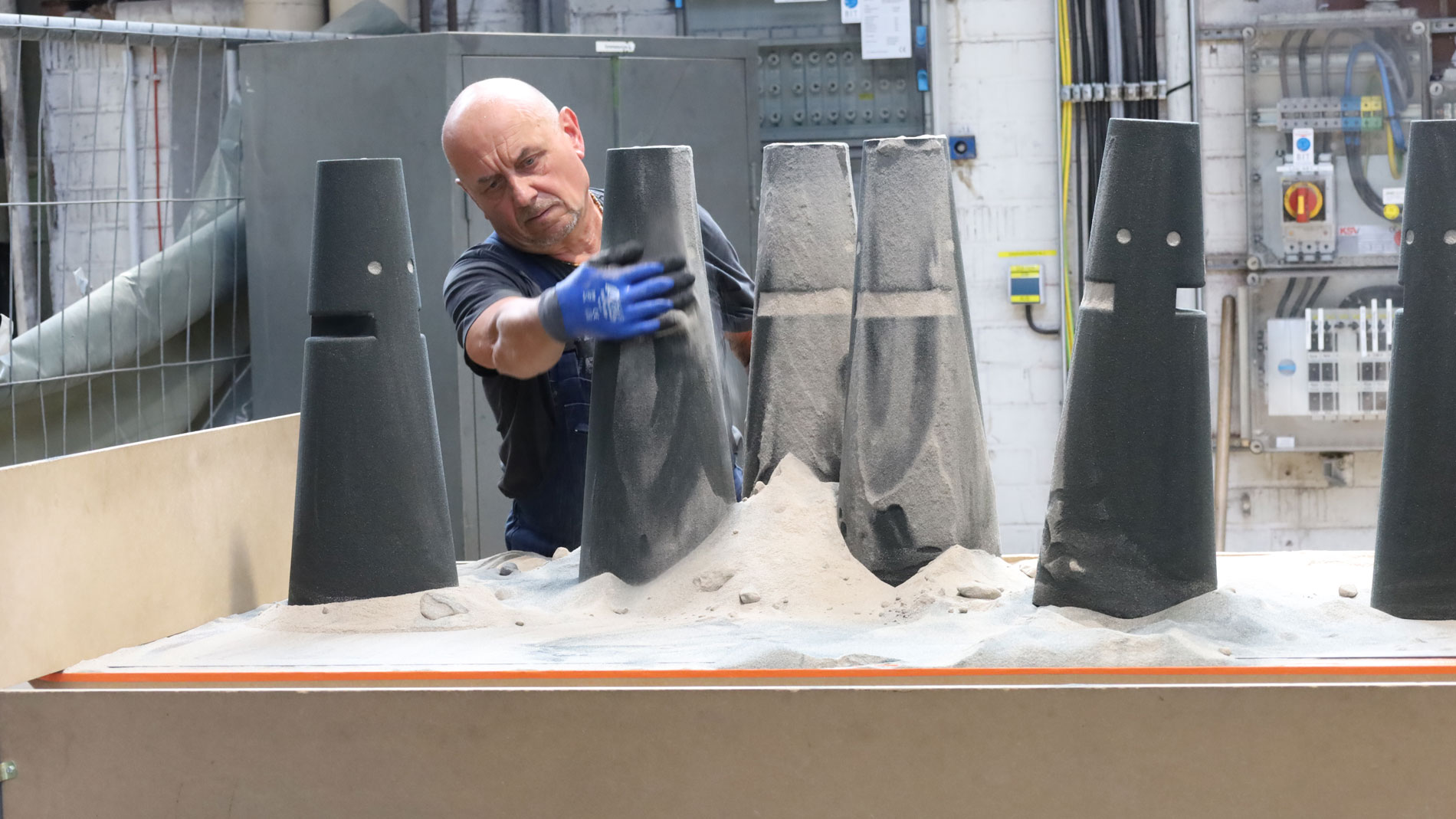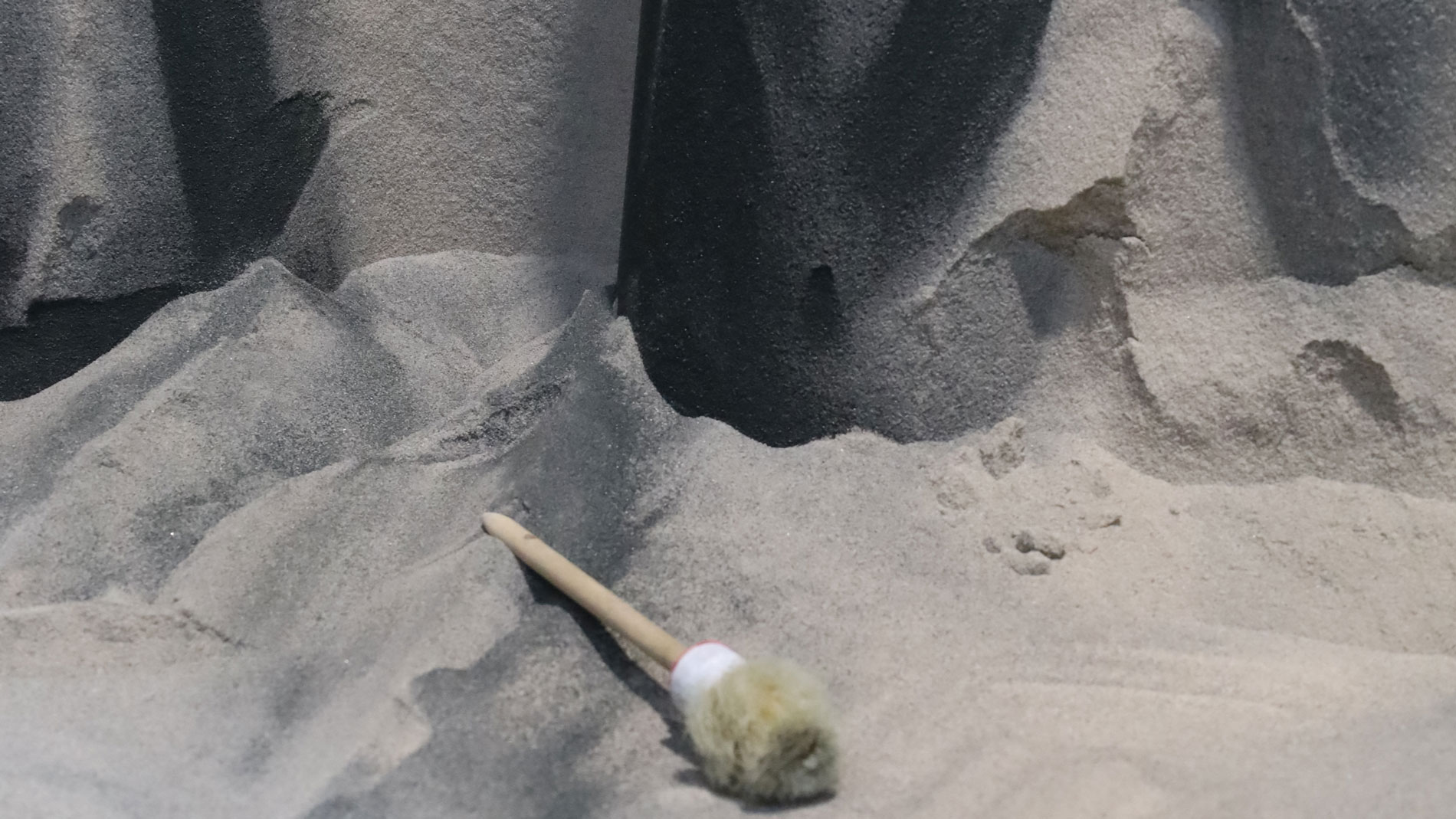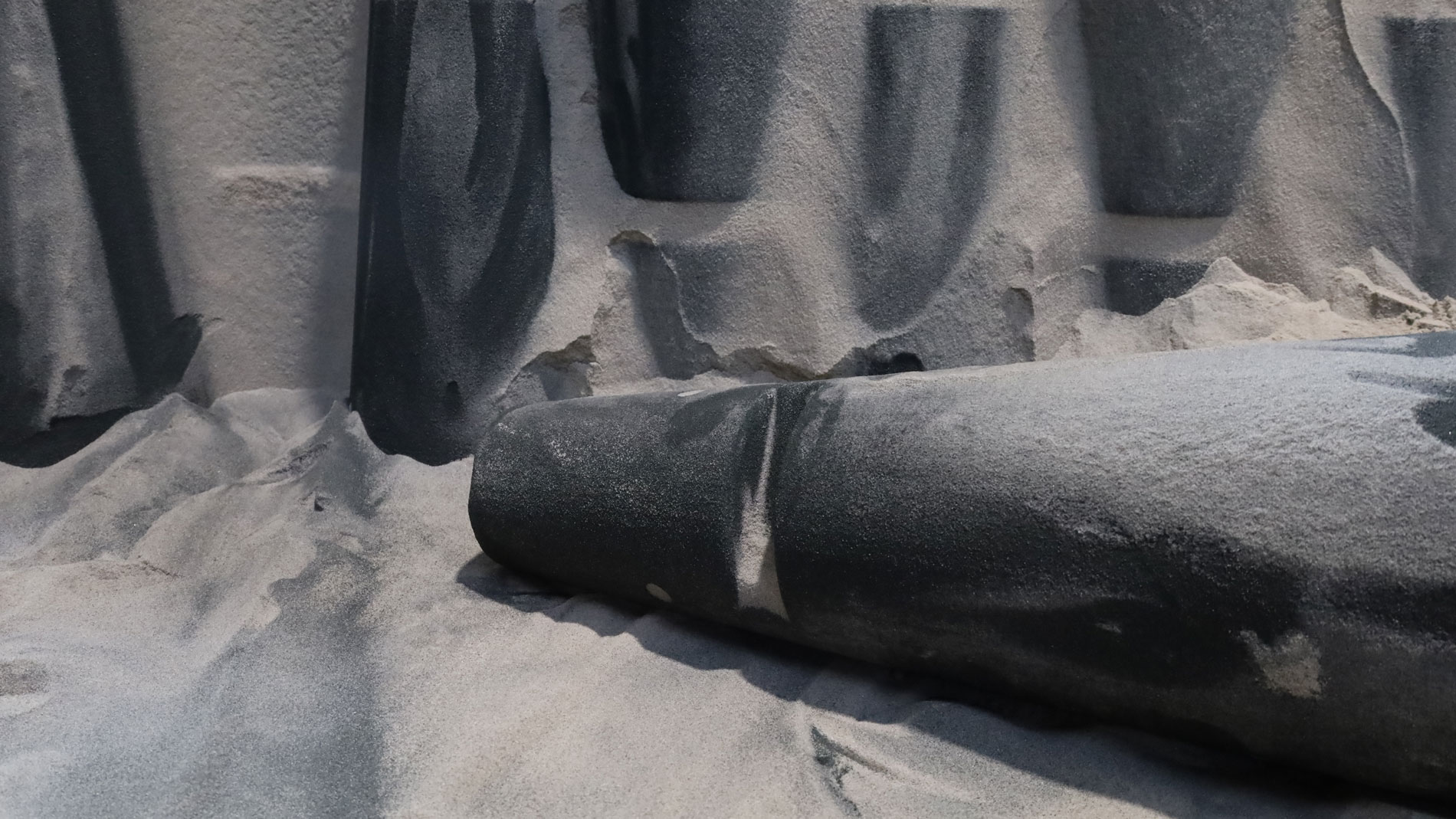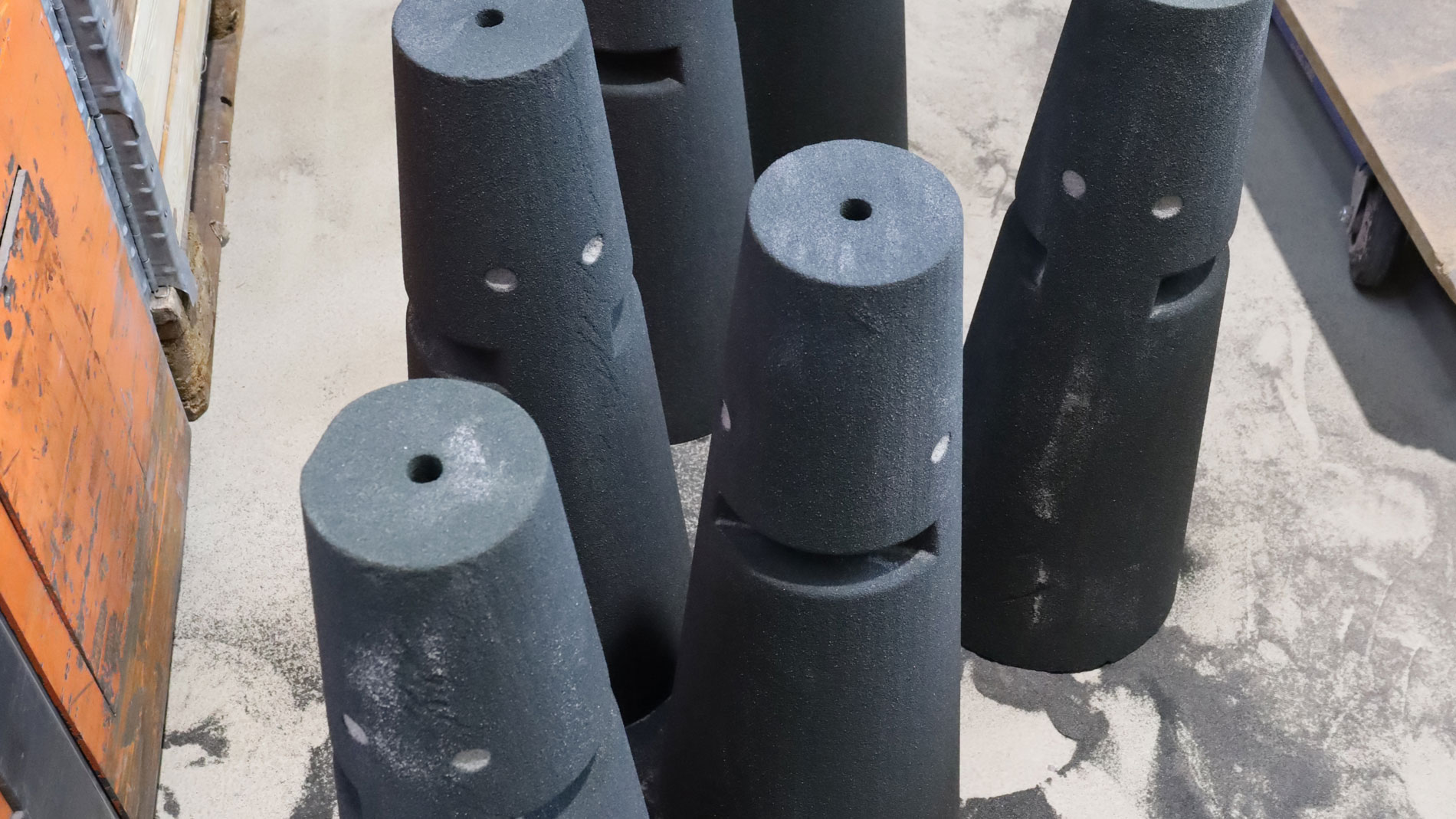 Images: Thomas Masuch
Plenty of orders from day one
Casting manufacturer Römheld & Moelle in Mainz has been casting metal since 1859. The technology, which has been used since ancient times, remains largely unchanged: Metal alloys (iron plus carbon and various other metals such as manganese, copper or nickel) are cast in molds made of sand at temperatures of up to 1,400 °C. In this traditional industry, CEO Rudi Riedel started a small revolution last year with the 3D printing of sand molds.
This technology is, in fact, one of the oldest additive processes (the first 3D printers of sand molds came onto the market around 20 years ago), but "until now, additive sand printing has only been used to produce the mold cores, and not complete molds," explains Riedel, who has headed the Mainz Zollhafen-based company since 2020. "We, on the other hand, decided from the beginning to print the complete mold." About a year ago, the company purchased its first system from ExOne, "and received plenty of orders from day one." Machine capacity utilization was so high that Riedel ditched his prepared advertising campaign and instead ordered a second machine directly from ExOne at Formnext three weeks later. "And we are already working at close to capacity again," Riedel is pleased to say.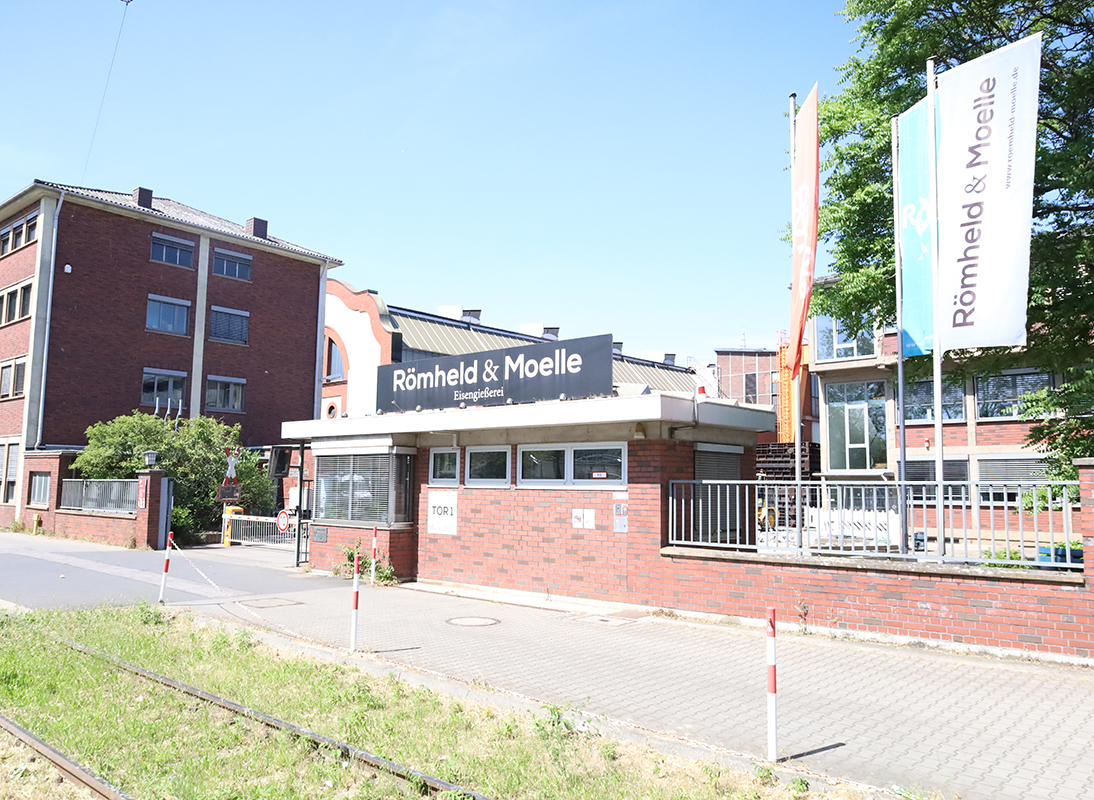 Traditional company in Mainz: Römheld & Moelle. Image: Thomas Masuch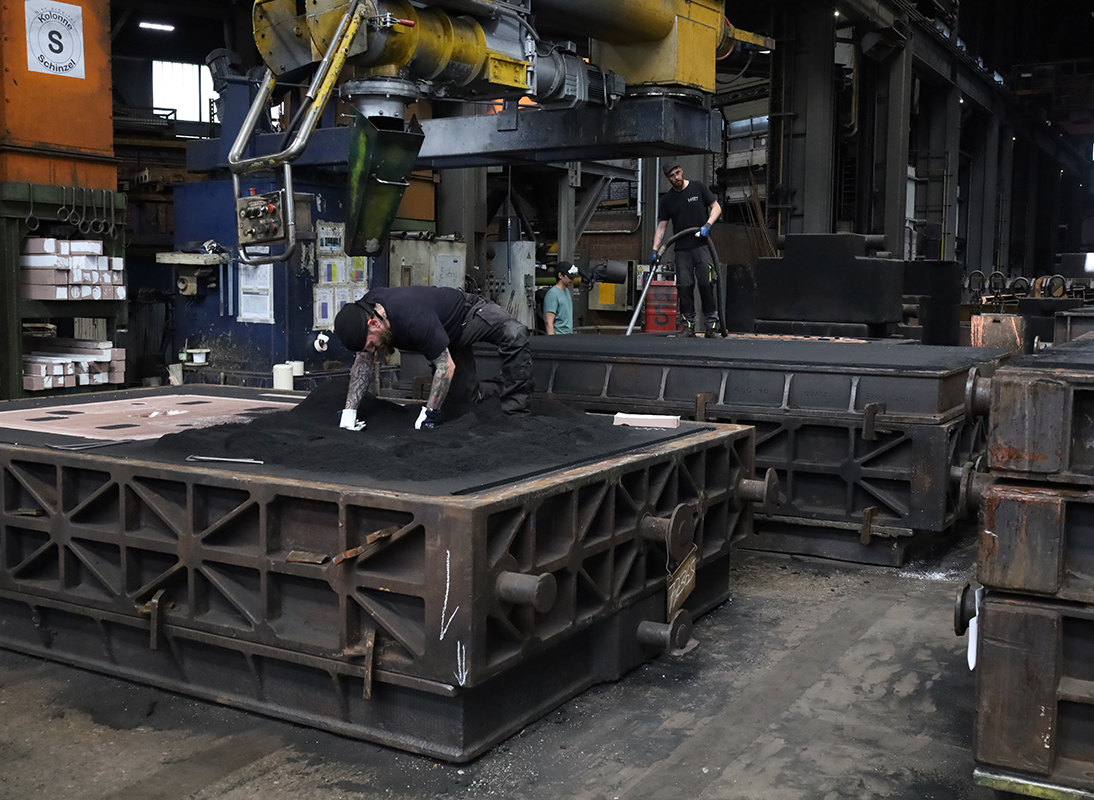 Hard work: The mold boxes are filled with sand. Images: Thomas Masuch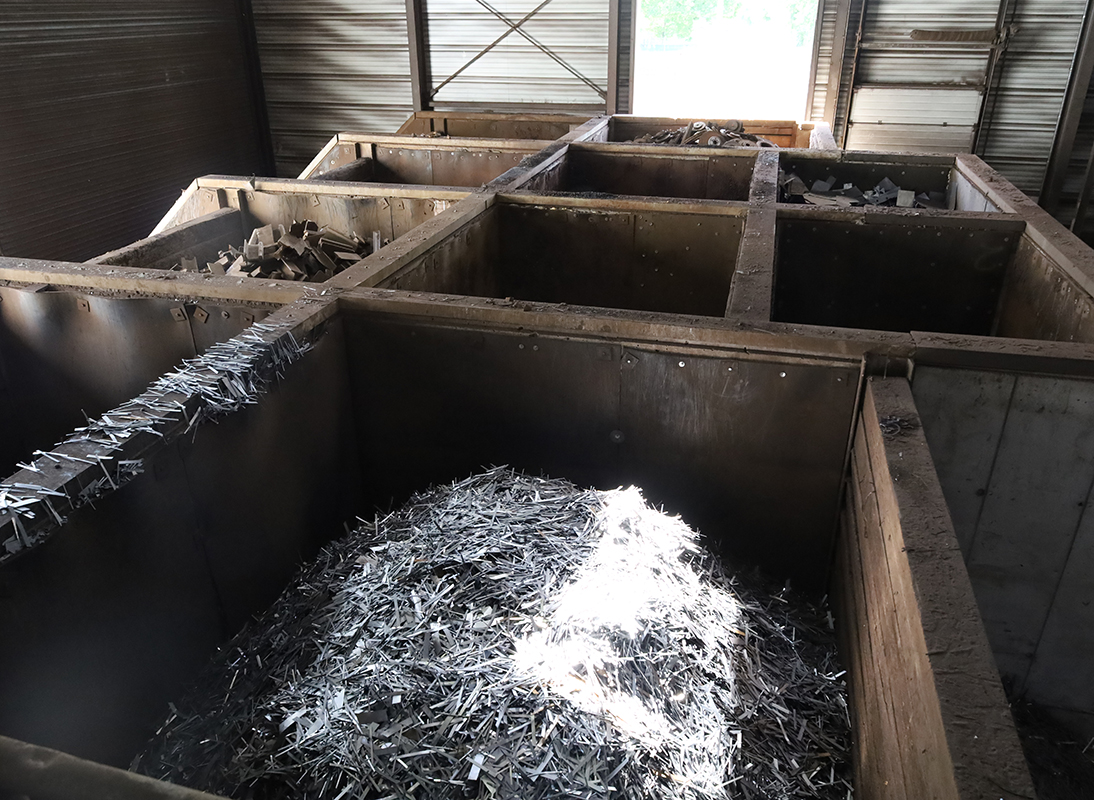 The raw materials required by the furnace are stored in ten silos. Image: Thomas Masuch
The power consumption of a small town
We climb a narrow ladder up to the foundry's control center: The induction furnace, in which up to 40 tons of cast iron are heated overnight to temperatures of up to 1,450 °C, is controlled from a small booth. The molten cast iron flows one floor down into heavy vessels, which are then transported through the hall on a crane, from where they pour the glowing hot molten metal into the prepared molds.
The reason Röhmheld & Moelle only casts at night is partly due to the lower price of electricity at this hour. "Also, at certain times of the year, we simply wouldn't be able to draw enough power during the day," explains plant manager Christian Elspaß. The induction furnace has a power consumption of 9 MW, which is about as much energy as a small town of 8,000 inhabitants. "We are energy efficient, nevertheless, especially compared to coal or gas-fired furnaces." In addition, according to CEO Riedel, 100 percent of the electricity comes from hydropower.
The raw materials required by the furnace are stored in ten silos, which contain meter-high piles of shiny metal strips, crushed panels or brake discs. A magnet is used to load the correct mixture into the furnace automatically. "We are one of the most modern foundries in Europe," explains Elspaß.

Digitalization and transparency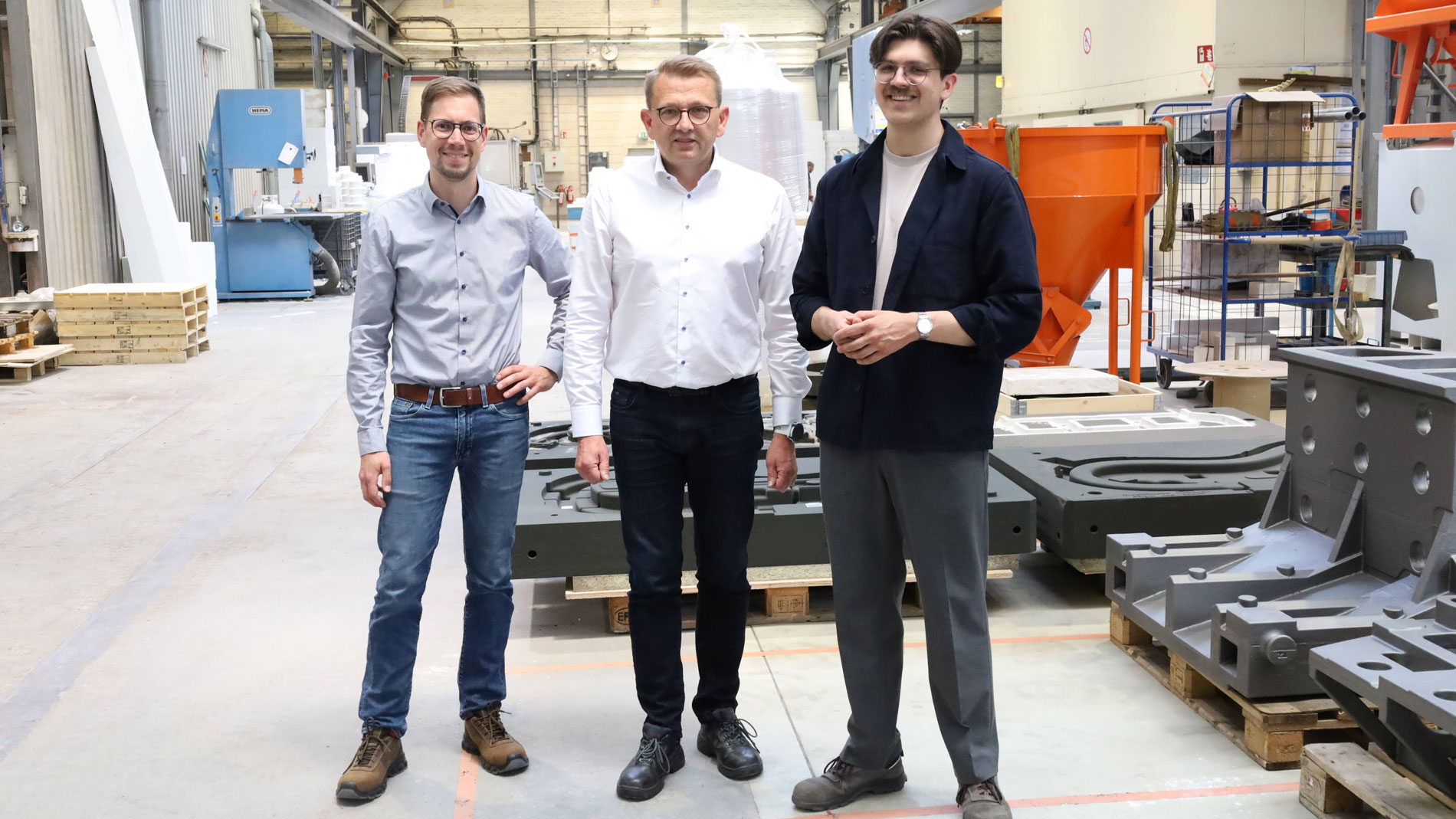 CEO Riedel wants to use printed casting and consistent digitization to further advance the foundry's progress, and update the image of the foundry industry as a whole. One aspect of the modernization is improved transparency of the production status at the company (from design to model creation, casting to delivery), which gives customers accurate information about adherence to delivery dates. Not only does this help with planning on the customer side, but it also gives employees within the foundry an extra push to meet tight deadlines," explains Riedel, who previously managed other industrial companies before joining Römheld & Moelle. "Other industries are already accustomed to this transparency; for the foundry industry, however, where little has changed in decades, it's still very new."
After casting, the cast parts are left to cool for a few days or weeks, depending on their size, and are then finished, first in a 6-meter-high sandblasting machine, which looks like a giant's shoe box. In another hall, some components are several meters in size: Some square and hollow inside, others elongated or round, all usually weighing several tons. Men use angle grinders to remove casting residues or metallic blocks that were integrated into the molds for controlled cooling. The castings made in the 3D-printed molds look comparatively small on the wall opposite, despite also weighing several hundred kilograms.
10 kg to 25 tons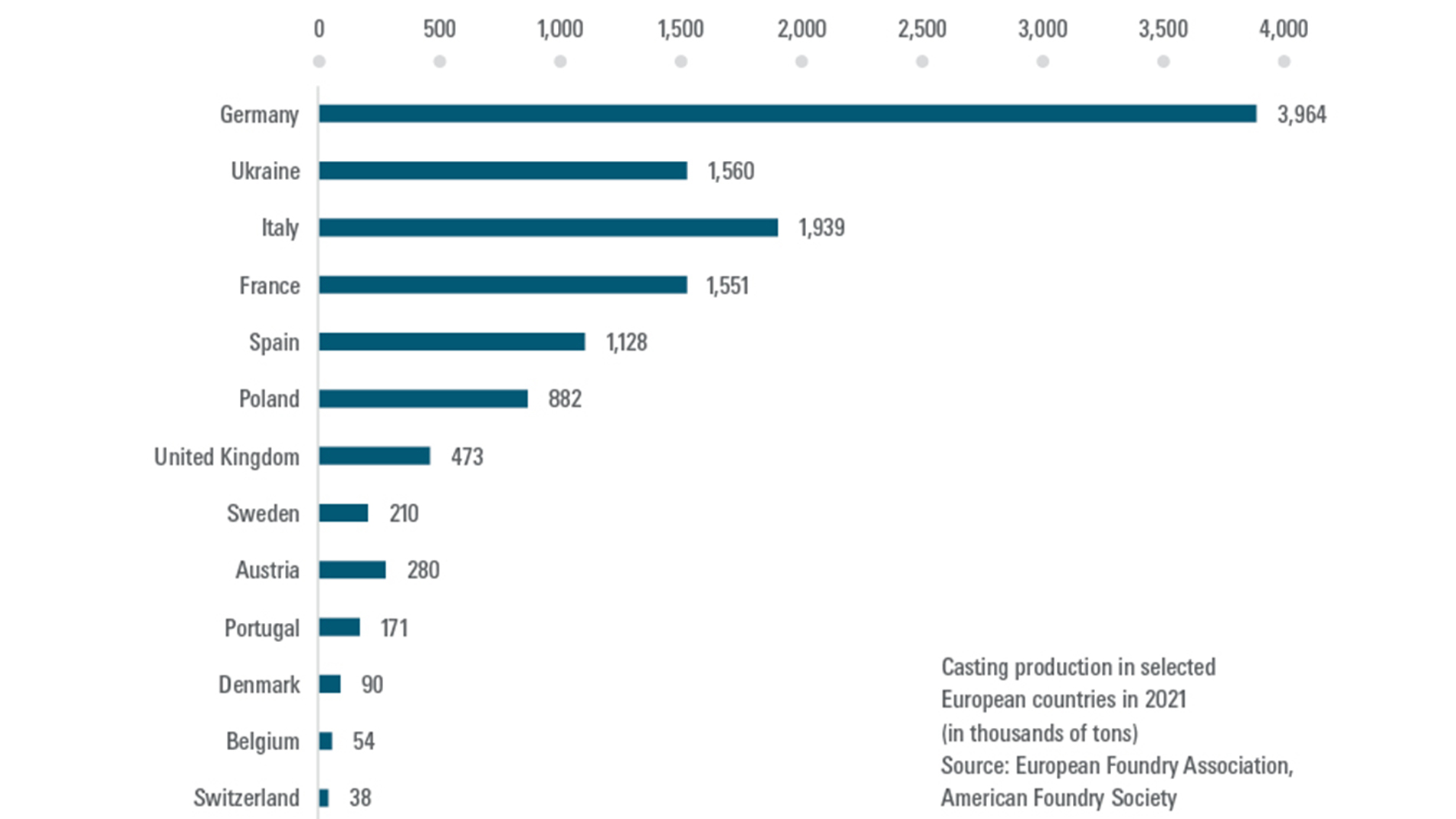 These components are more delicate and significantly more complex in design. The parts are later installed in machine tools or large plants or are used as drilling jigs. "We regularly use printed casting to produce special sizes for one of the largest machine tool manufacturers in the world, for example," explains Riedel. "Even parts that were previously welded, we now cast."
The core business of the large foundry is the production of forming dies weighing up to 25 tons for the automotive industry, but Riedel expects this sector to stagnate in the next few years. The new product area of printed casting therefore represents an interesting prospect for the Mainz foundry. "It means that we can now also handle inquiries for components weighing 10 kilograms or more, although our foundry operators would not previously get out of bed for components weighing less than one ton," Riedel jokes. Casting such lightweight components is far too time consuming for a traditional foundry.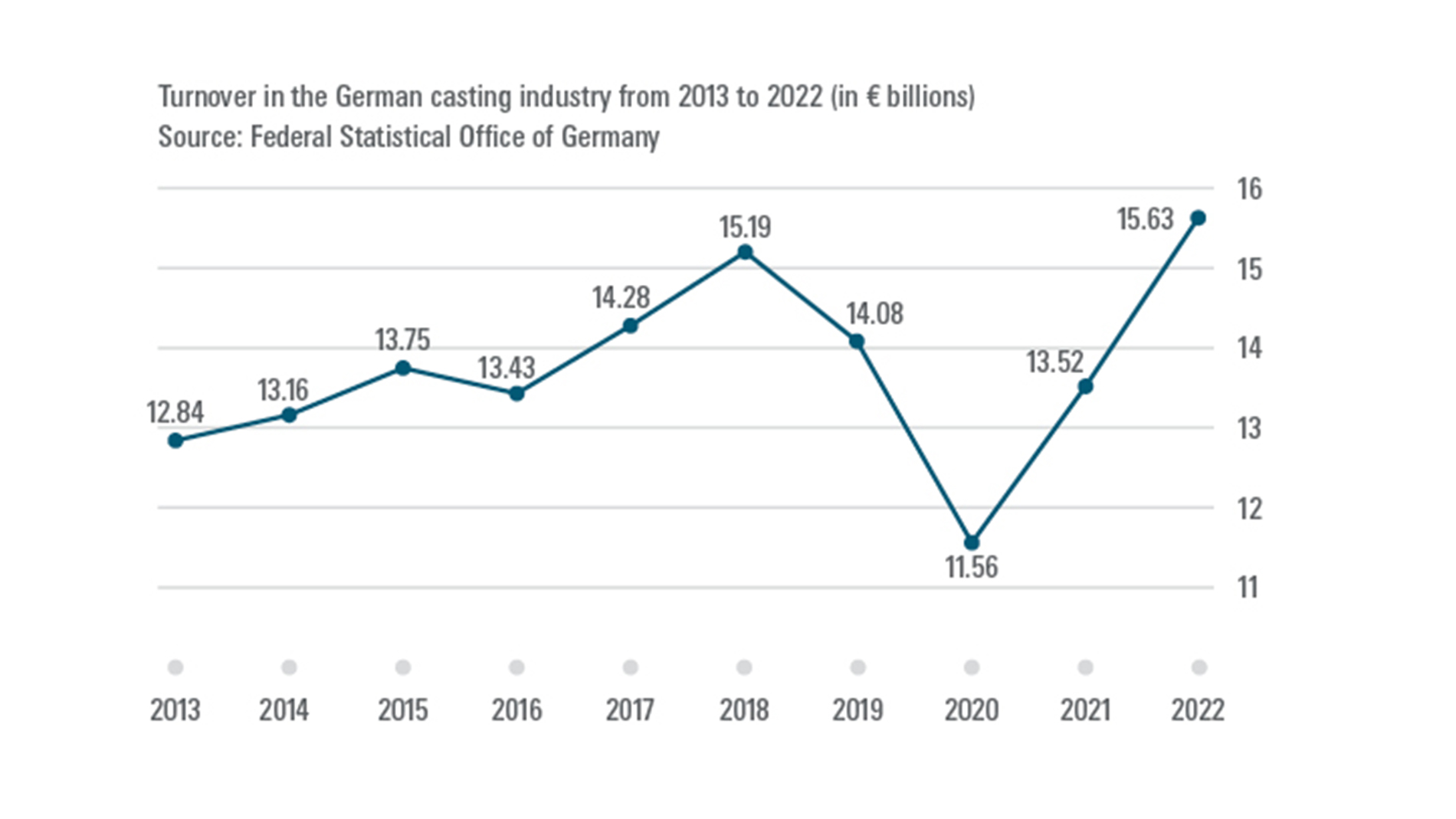 In this context, Riedel sees printed casting as a complementary manufacturing method, which also competes with casting using wood models as well as additive metal manufacturing. "Our customers can take advantage of the design freedom offered by 3D printing, while manufacturing at a fraction of the cost of metal 3D printing." This was the case for a drilling jig of around one meter high, which, according to Riedel, "could not have been produced using any other casting method."  With many orders, as the CEO explains, the time component is also a very important factor. "With printed casting, we can in some cases deliver within 2 weeks (depending on material and component size)." In an industry where delivery times of several months are the norm, this is very impressive. Thanks to this speed and flexibility, Römheld & Moelle has also become a subsupplier to other foundries to cover high order backlogs that they cannot meet themselves or when they need prototypes before the start of series production.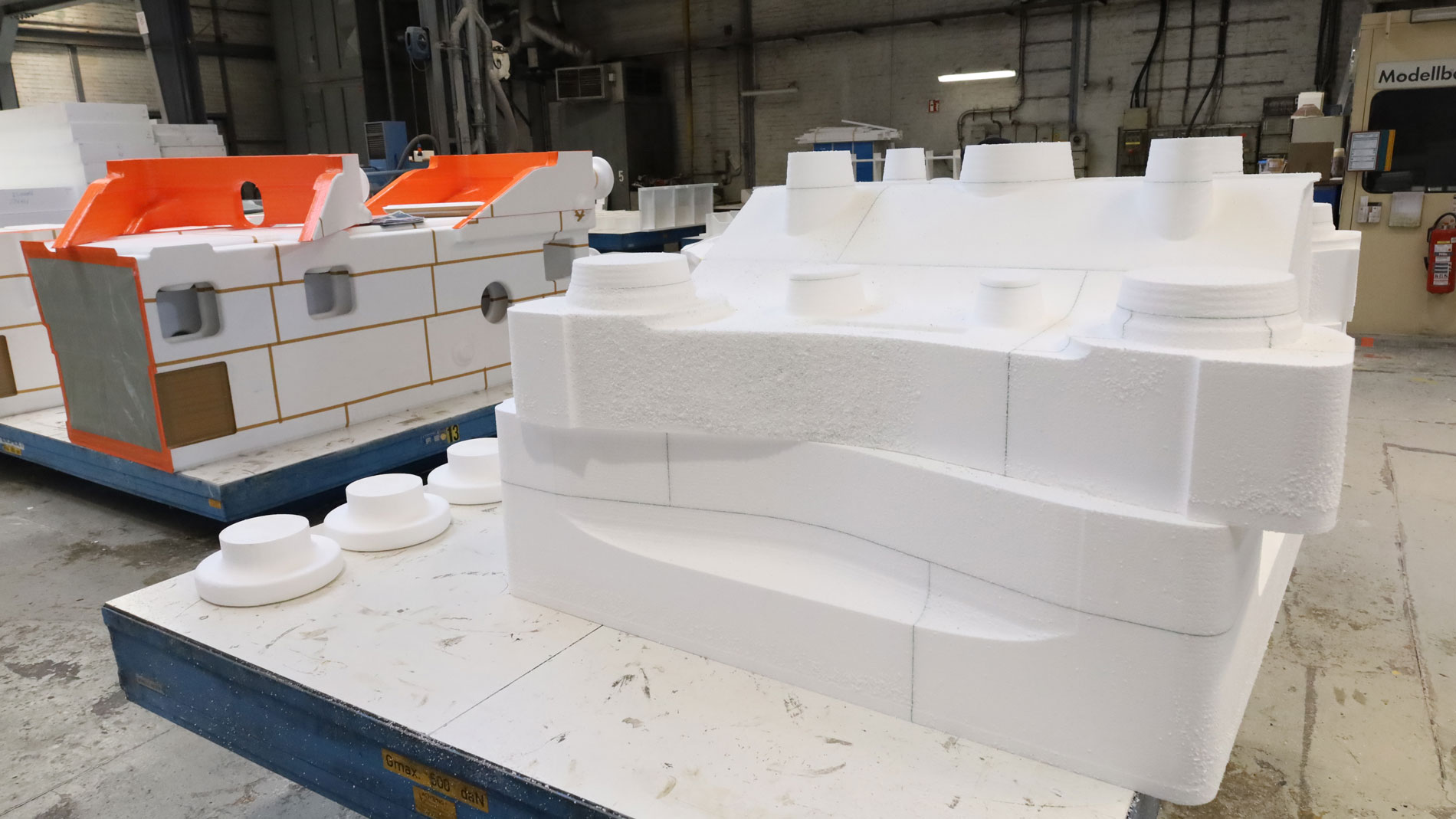 These classic styrofoam models are milled. Later, liquid iron will also be poured into these, replacing the styrofoam, which gasifies at the high temperatures. Image: Thomas Masuch
Christian Elspaß and Marcel Tschillaev in a conversation at the ExOne's 3D sand printer. Image: Thomas Masuch
"Too few foundry operators using the process"
For Riedel, therefore, it is unclear why the method is not in more widespread use; for example, for spare parts for the rail industry, construction vehicles or agricultural machinery. "It is often used only for mold cores, although the manufacturers of 3D printers for sand molds have now sold several hundred printers worldwide and also offer sand molds themselves. There are still far too few foundry operators using the process." The CEO sees further possible applications in engine housings, components for pumps, propellers, valves, or even "in companies that have not yet even considered casting." 
For process engineer Riedel, the casting industry is not even close to approaching the limits of printed casting. As for the potential for casting with 3D-printed molds, Römheld & Moelle considers a market share of 1 percent to be realistic. This may not sound much at first, but in terms of the casting industry in Germany alone, with sales of around € 15 billion, it still represents an amount of around € 150 million (see statistics). At Römheld & Moelle, according to CEO Riedel, printed casting may even attain a 25 percent share of sales in the near future – "and I don't expect that in ten years, but much sooner."
Riedel also sees printed casting as an alternative to metal 3D printing. "Printed casting can achieve equally complex structures, and for at least a tenth of the cost." Casting with printed AM molds also offers another significant advantage: According to Riedel, this technology and the materials used date back to the origins of cast iron, so "certification is not an issue."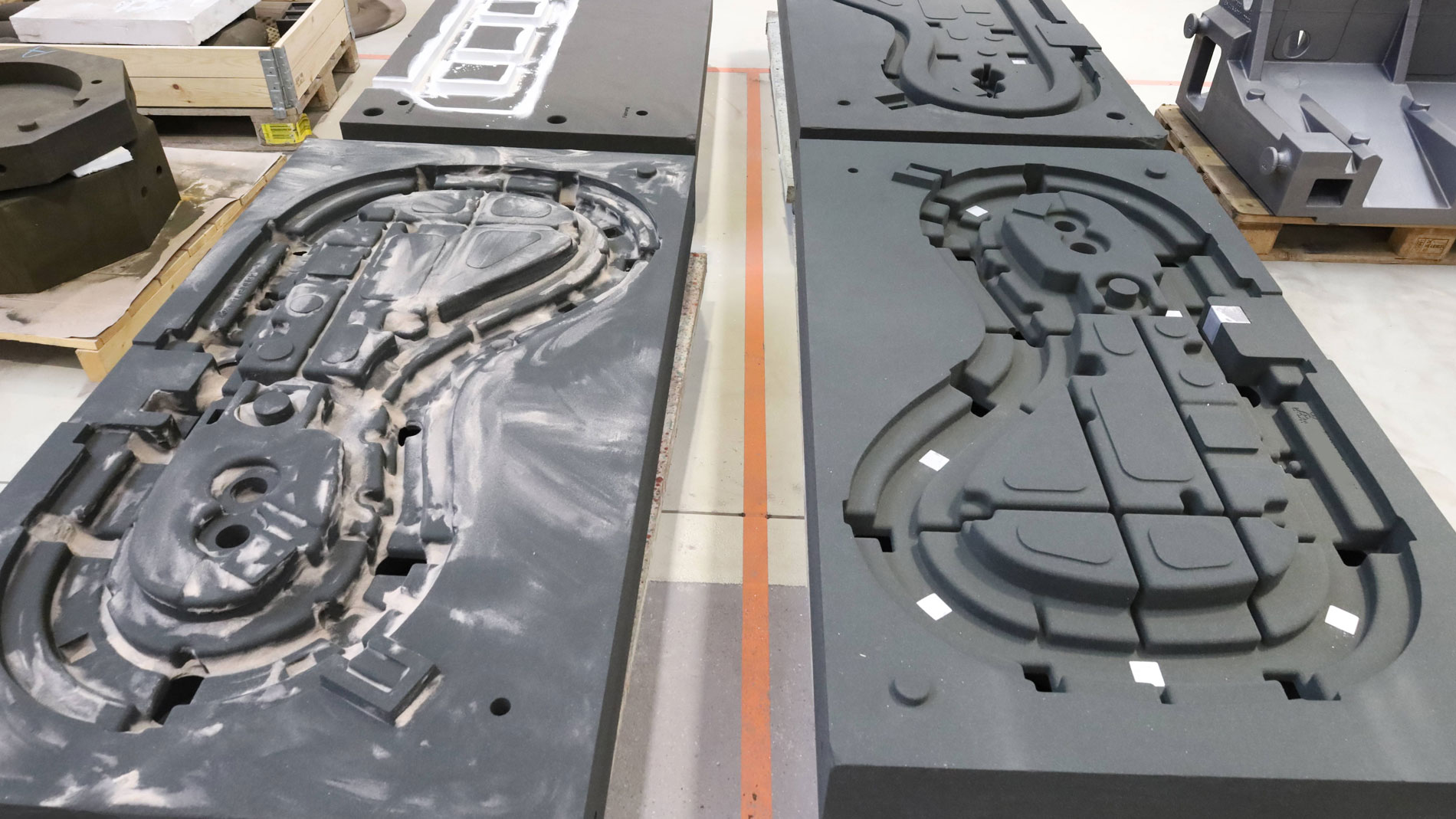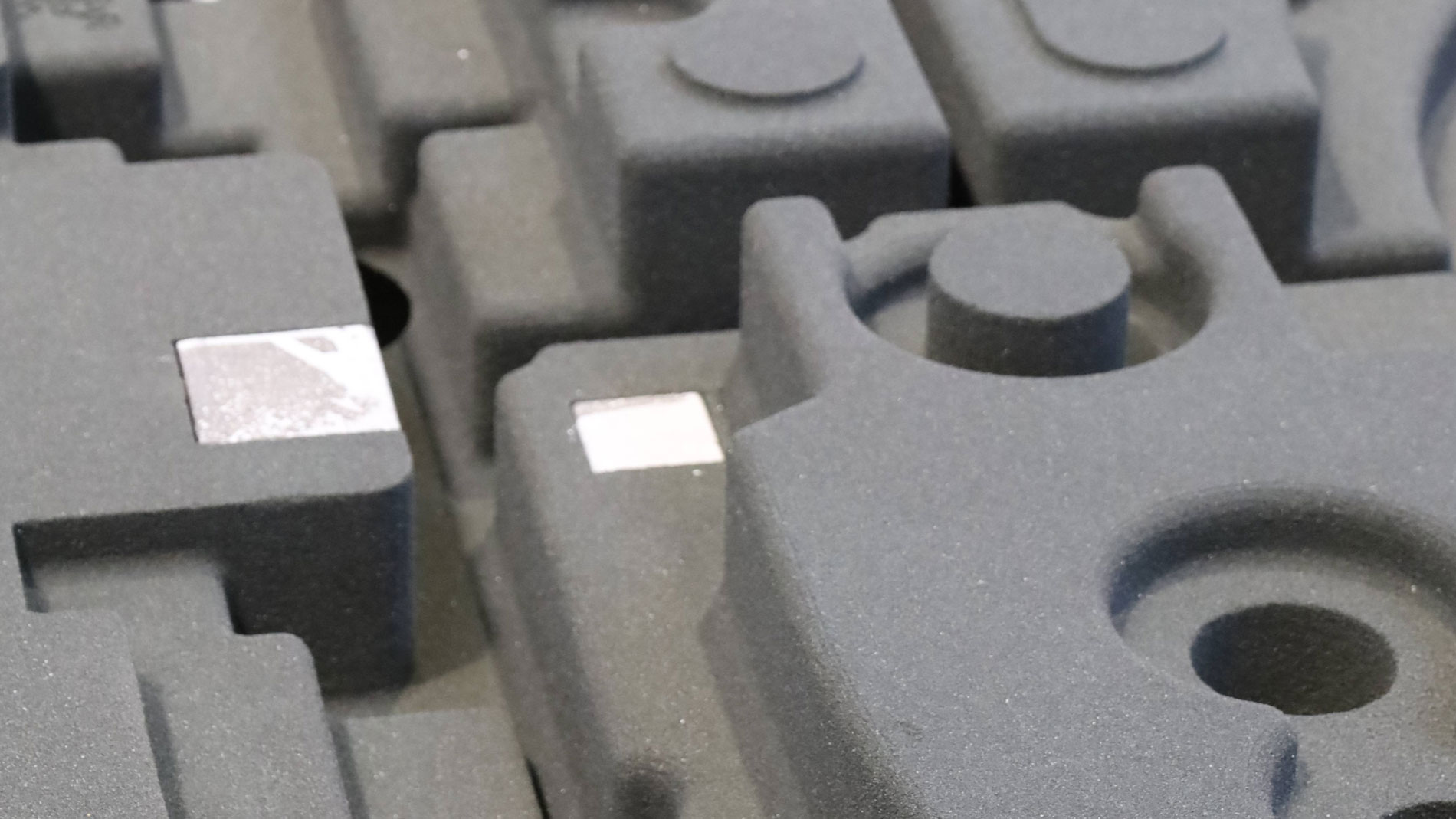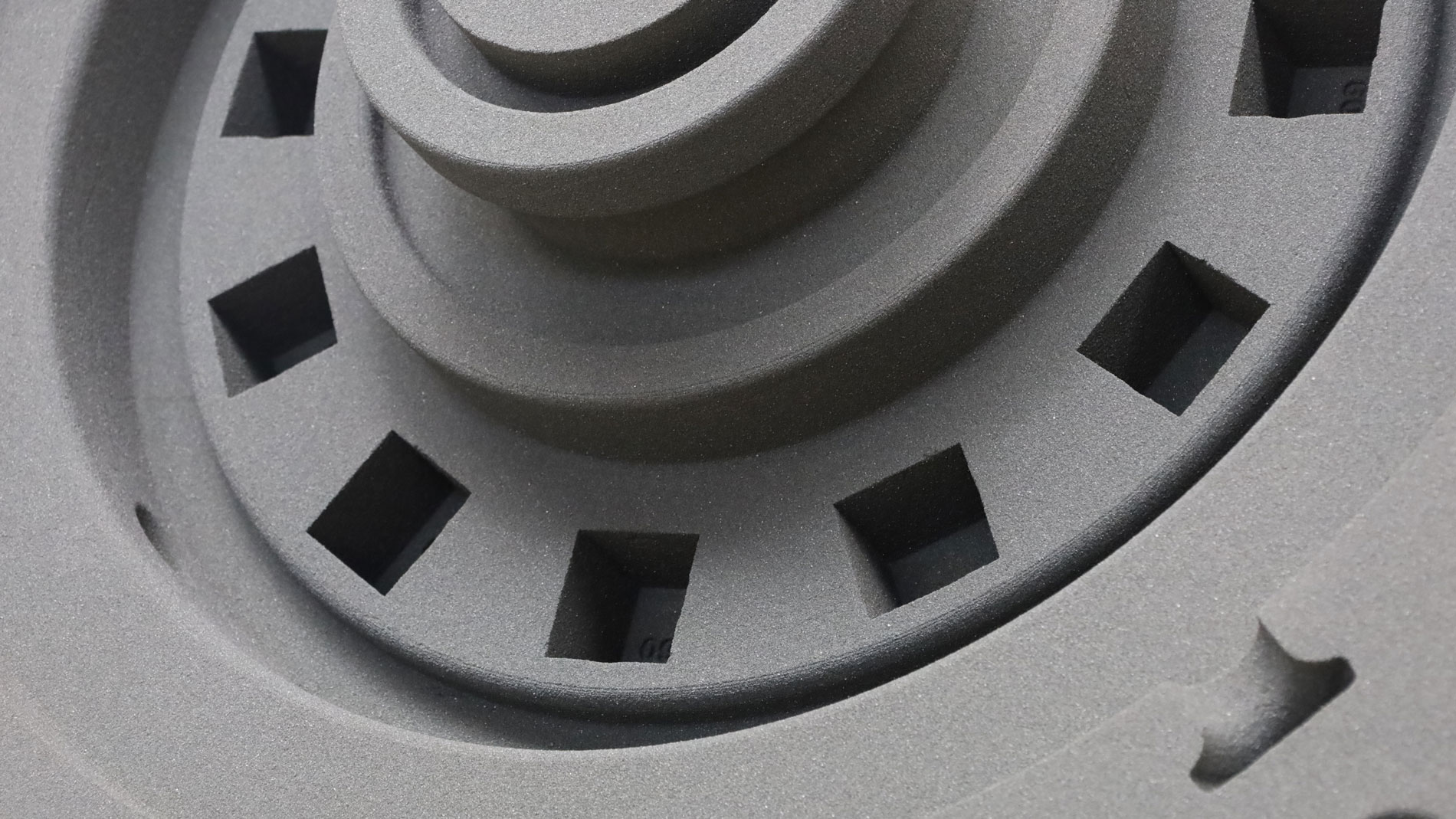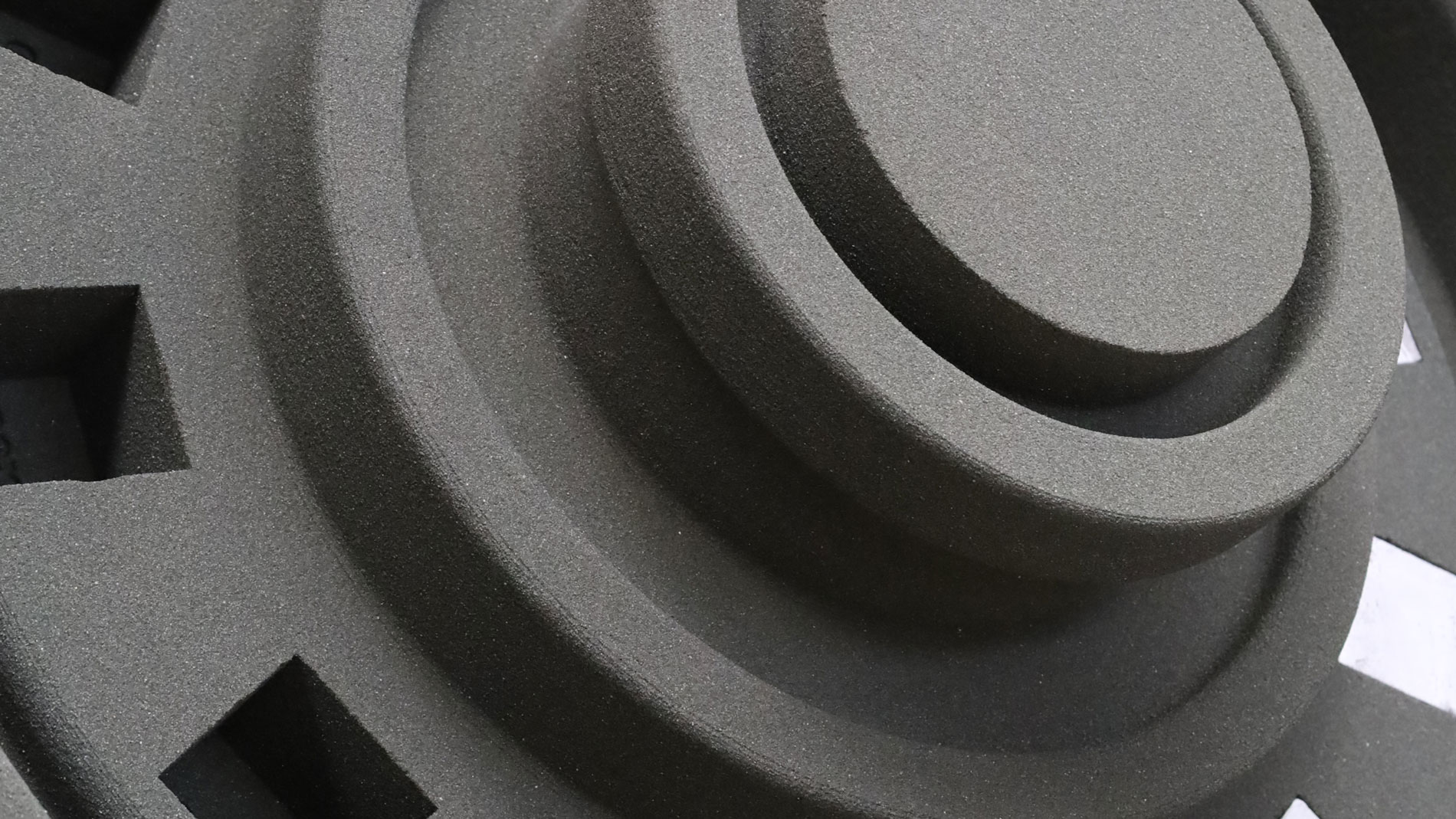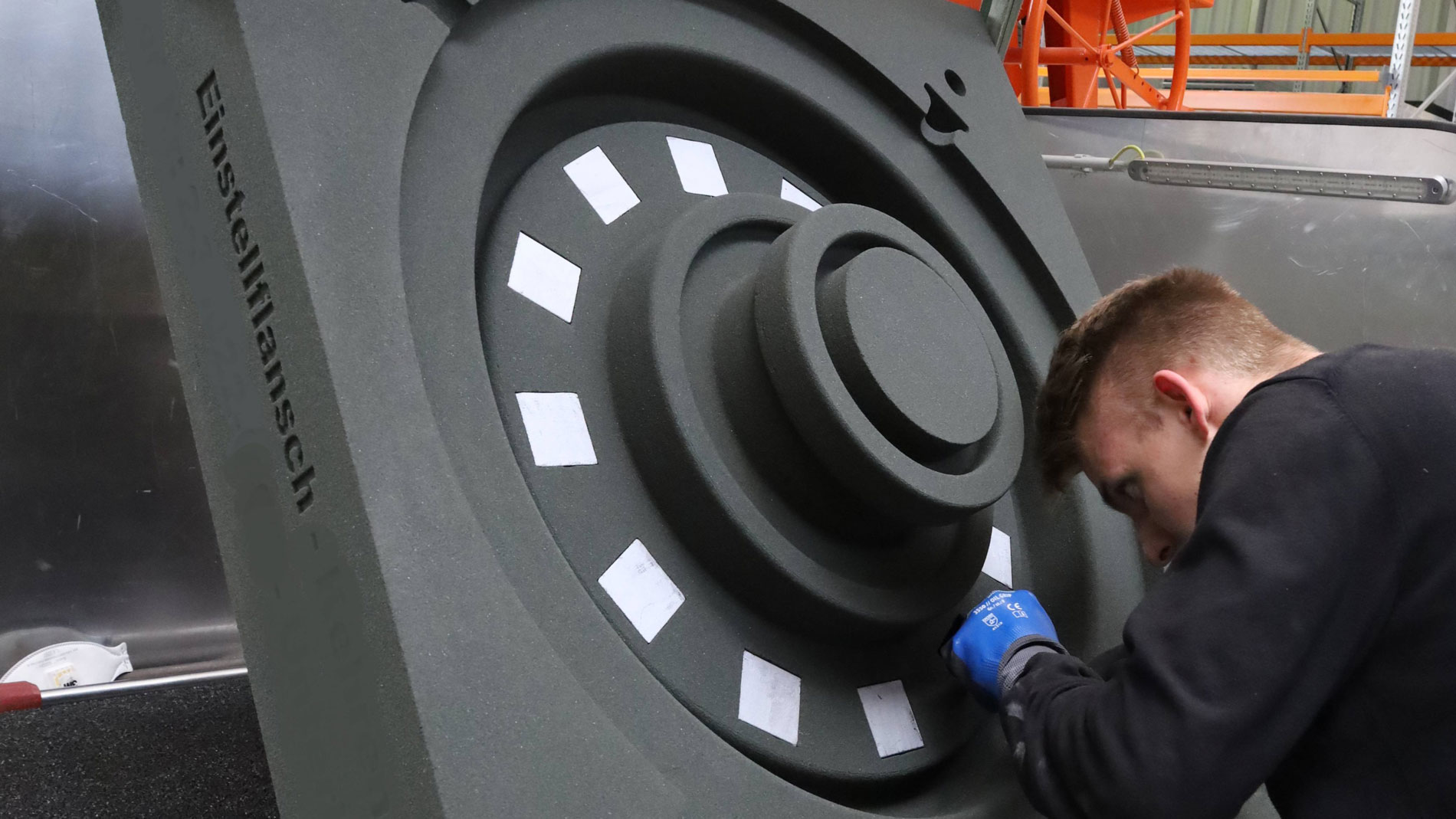 Inserted steel blocks, known as chill castings, later influence the temperature distribution during cooling after casting and improve the solidification process. Images: Thomas Masuch
Large molds made from 3D printed segments
The quietest production hall, where segments for the styrofoam models are machined on large gantry machines, is also home to ExOne's two 3D sand printers. To organize 3D printing more efficiently, a dedicated AM department was also set up in February 2023. Alongside department head Marcel Tschillaev, who joined Römheld & Moelle in 2021 after completing his mechanical engineering degree, the department includes three design engineers and four production employees.
Next to one of the machines, two employees carefully remove the light-colored sand from tapered vents that are darkened by binder material. "We print these as well, if there is still space on the printing plate. This allows us to further optimize printer utilization," explains Tschillaev. The vents are placed on the molds during the casting process to allow the gases, which exceed 1,000 °C, to escape in a controlled manner in a colorful flame.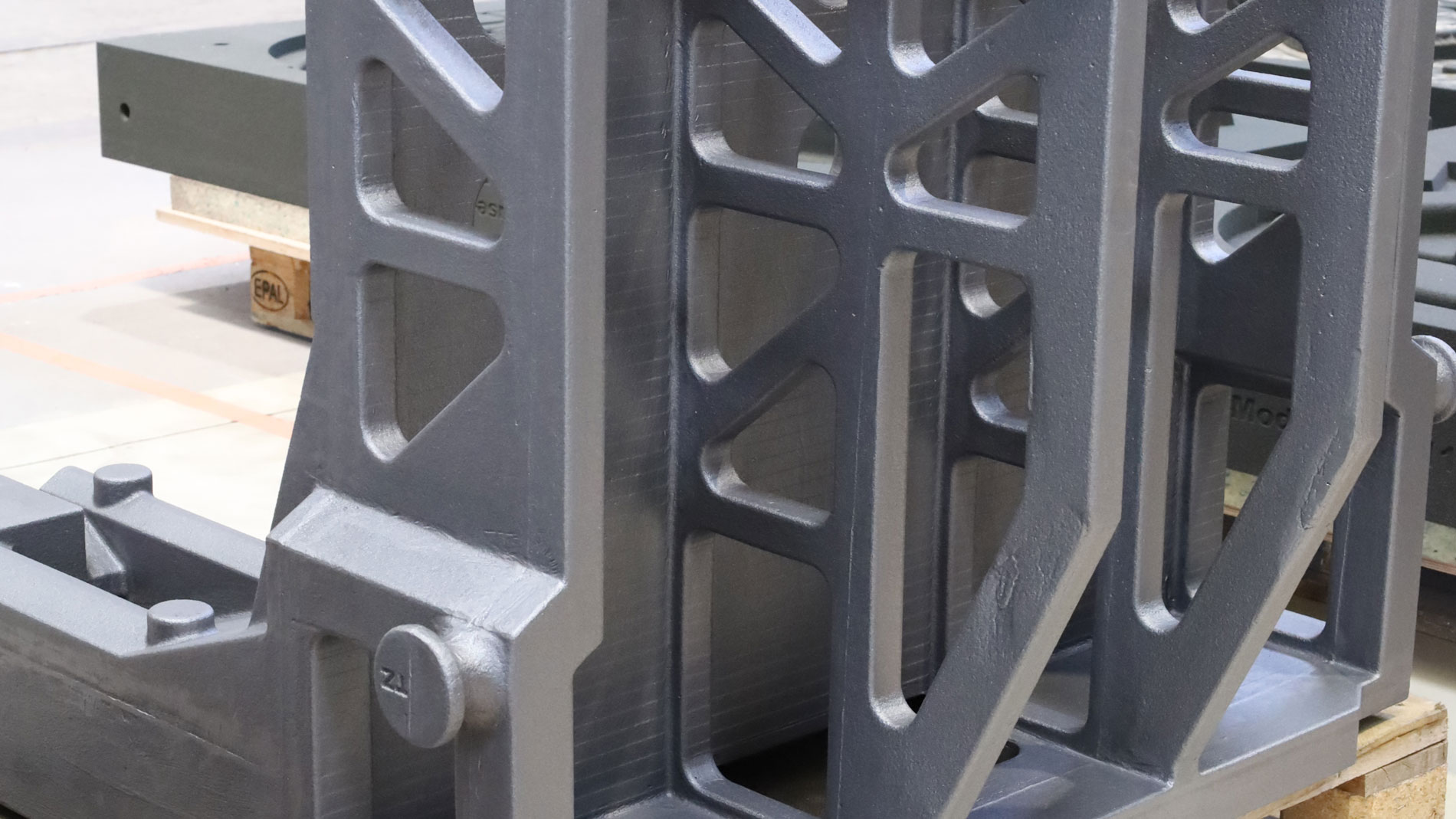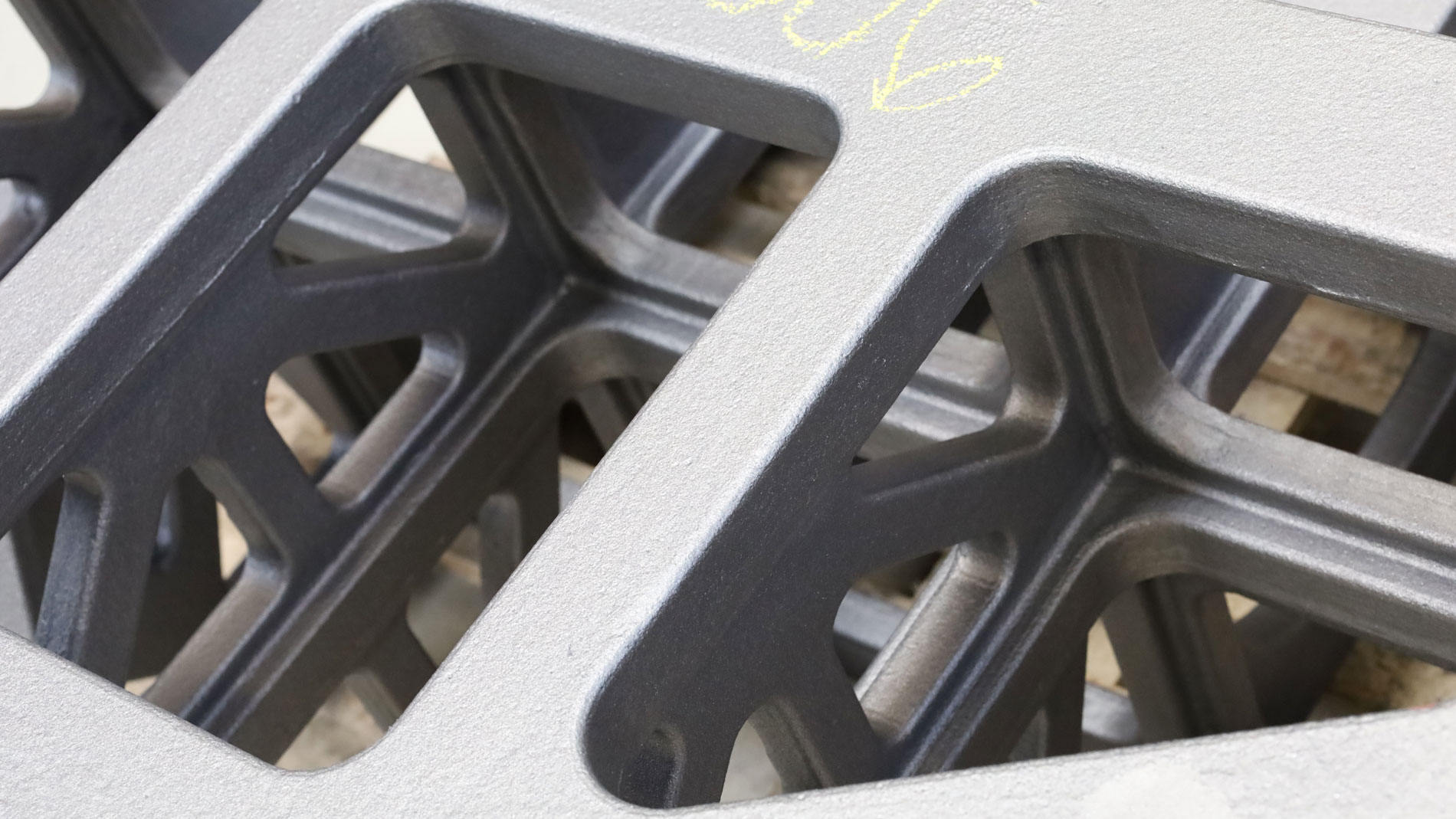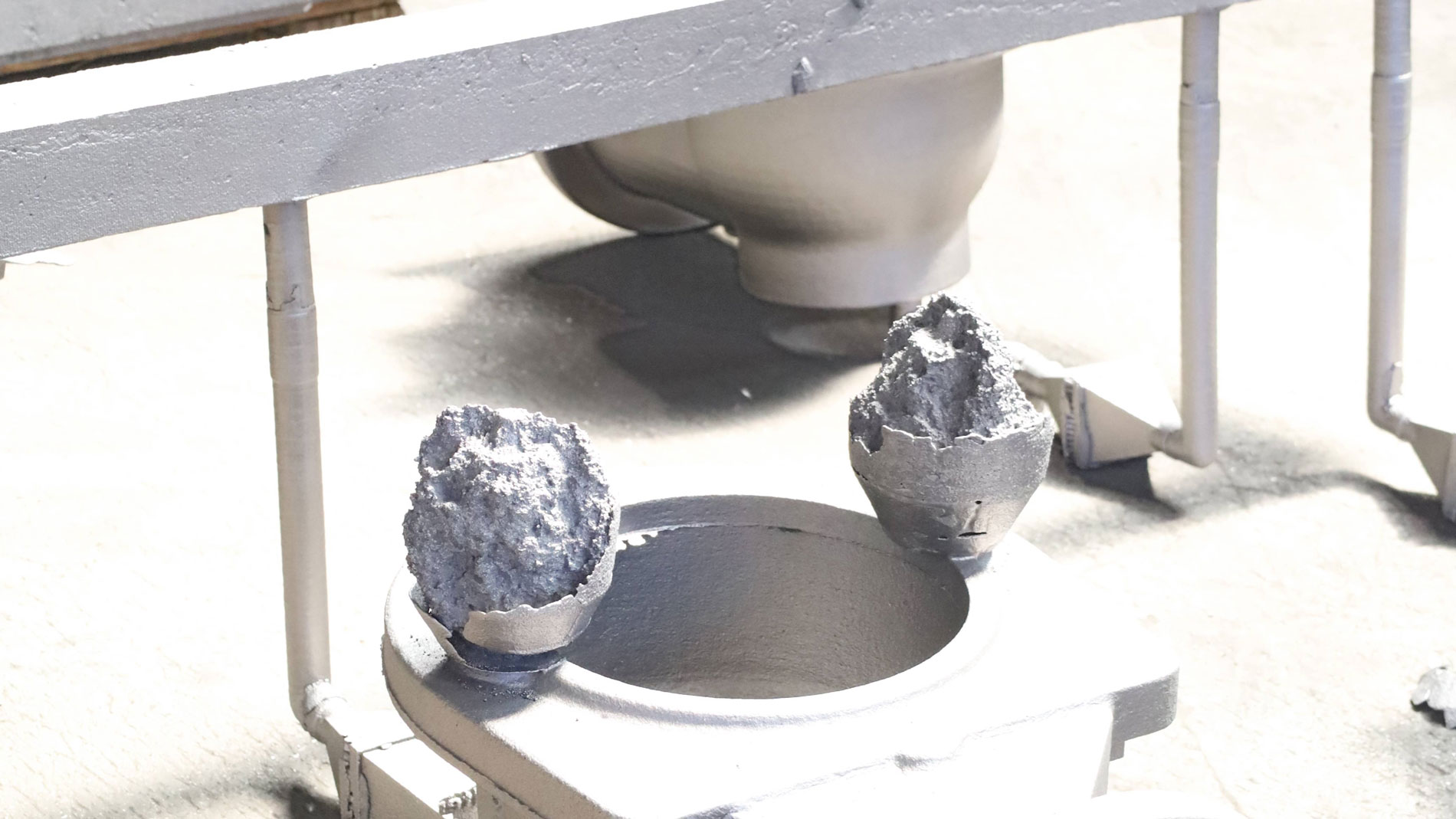 Thanks to 3D-printed molds, very complex and large components can be cast. Photos: Thomas Masuch
Another colleague carefully inserts a dozen steel blocks, known as chill castings, on a mold suspended from a crane. These later influence the temperature distribution during cooling after casting and improve the solidification process. For the styrofoam models, the molds are placed as carefully as possible on the model by hand at marked positions. "With 3D printing, the positioning is much more precise. Casting simulation has to perfectly match reality," says plant manager Elspaß.
Tschillaev and his team have also found a way to 3D print very large molds for castings weighing up to several tons. The process involves printing and fitting together a large number of sand mold segments to create the mold. This requires an extremely well-designed construction, however, to ensure that the molten iron gradually fills the mold from the bottom up. This method has already been used to manufacture castings for Andritz Kaiser industrial presses (as previously reported in issue 02/2023).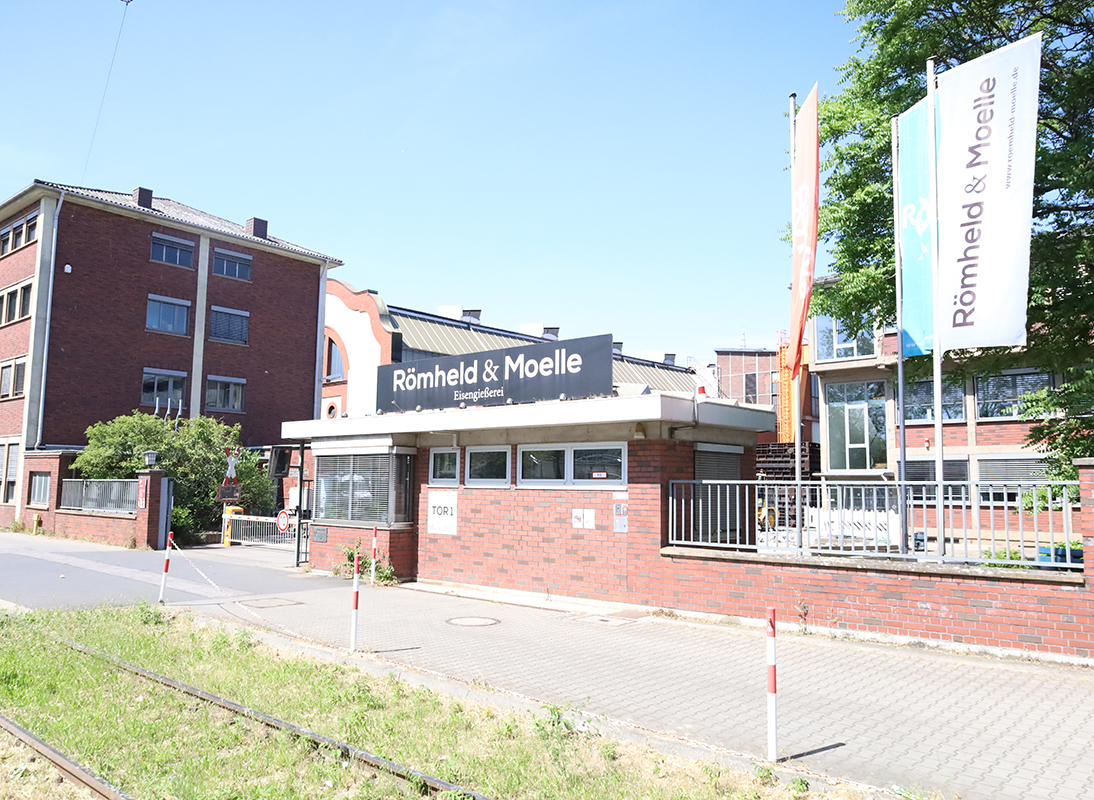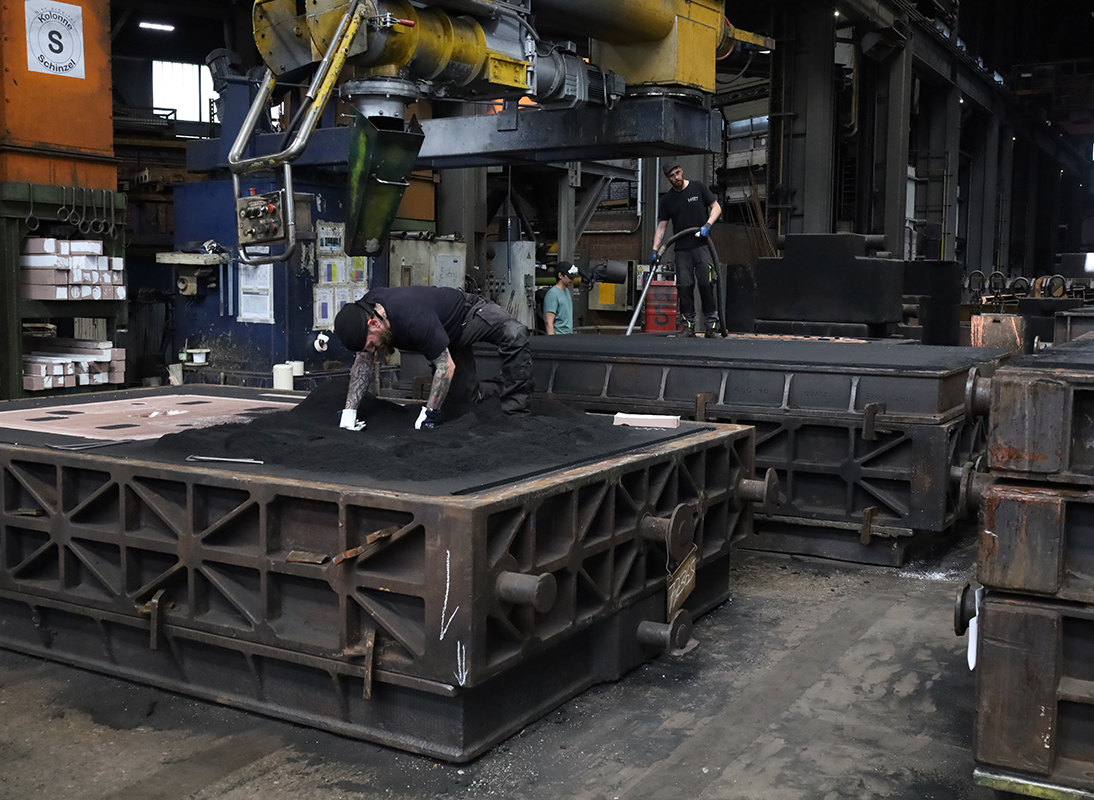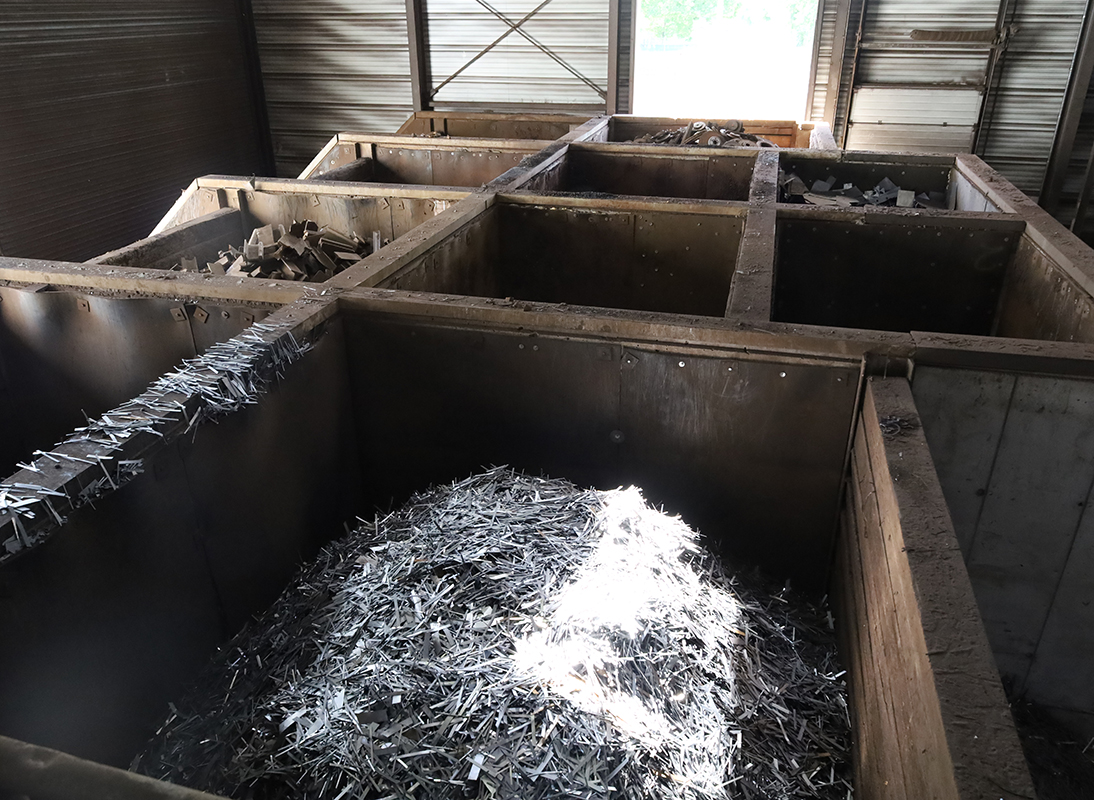 Despite having the name iron, cast iron isn't pure elemental iron, it is actually an alloy. It differs from steel in its higher carbon content, which changes the properties of the components (e.g. hardness and toughness) and also brings major advantages for casting. The high carbon content prevents significant shape changes during cooling, whereas a cast steel part would shrink considerably. Images: Römheld & Moelle
Dedicated platform for calculating prices and CO2 emissions
Riedel hopes to use his foundry's own success story and the different possible uses to encourage other foundries to take up printed casting. As he says, the market has enough business for more companies. His motives behind this industry-wide encouragement, which will surely be welcomed by 3D sand printer manufacturers, are not entirely altruistic, however. Riedel and his team have set up a digital platform called Castfast, which automatically calculates prices and CO2 emissions and significantly simplifies and accelerates the procurement process for casting customers. Orders are currently being accepted in the alloys processed by Römheld & Moelle. Riedel is looking for additional partner foundries to expand Castfast's range of materials.
More interesting than series production
"Our aim with 3D printing and a digital orientation is to make casting cool again," Riedel explains and laments the fact that this technology and casting design "are unfortunately neglected in apprenticeships and no longer a major focus of mechanical engineering studies." Printed casting offers much greater scope for designing parts than other manufacturing processes, agrees Marcel Tschillaev, who joined Römheld & Moelle directly after completing his mechanical engineering degree. "We make different parts almost every day, which makes it interesting for us engineers. It is very different from series production."
On taking our leave, we witness a further change brought about by 3D printing: Between the factory halls, workers are using jackhammers to tear up the cobblestone floor over which the molds have been driven across the yard for several decades. The rough ground represented a risk in the transport of complex sand molds from the 3D printer. In the future, the route between the halls will be smooth and flat. 

FURTHER INFORMATION:
To learn more about the about the BinderJetting process check out the AM-Field-Guide.
Tags