4 March 2022
While adhesives seem rather unspectacular at first glance, industrially made products from smartphones to entire vehicles would now be virtually unthinkable without them. This is why the industrial significance of the adhesives industry is so great – and the pressure to innovate so high. It's no wonder that this is another field in which companies are relying on the inventive power of Additive Manufacturing. One of the industry's leading companies, Tesa, recently joined forces with Arburg to develop 3D-printed adhesive solutions that could pave its way into new markets and open up fresh business opportunities.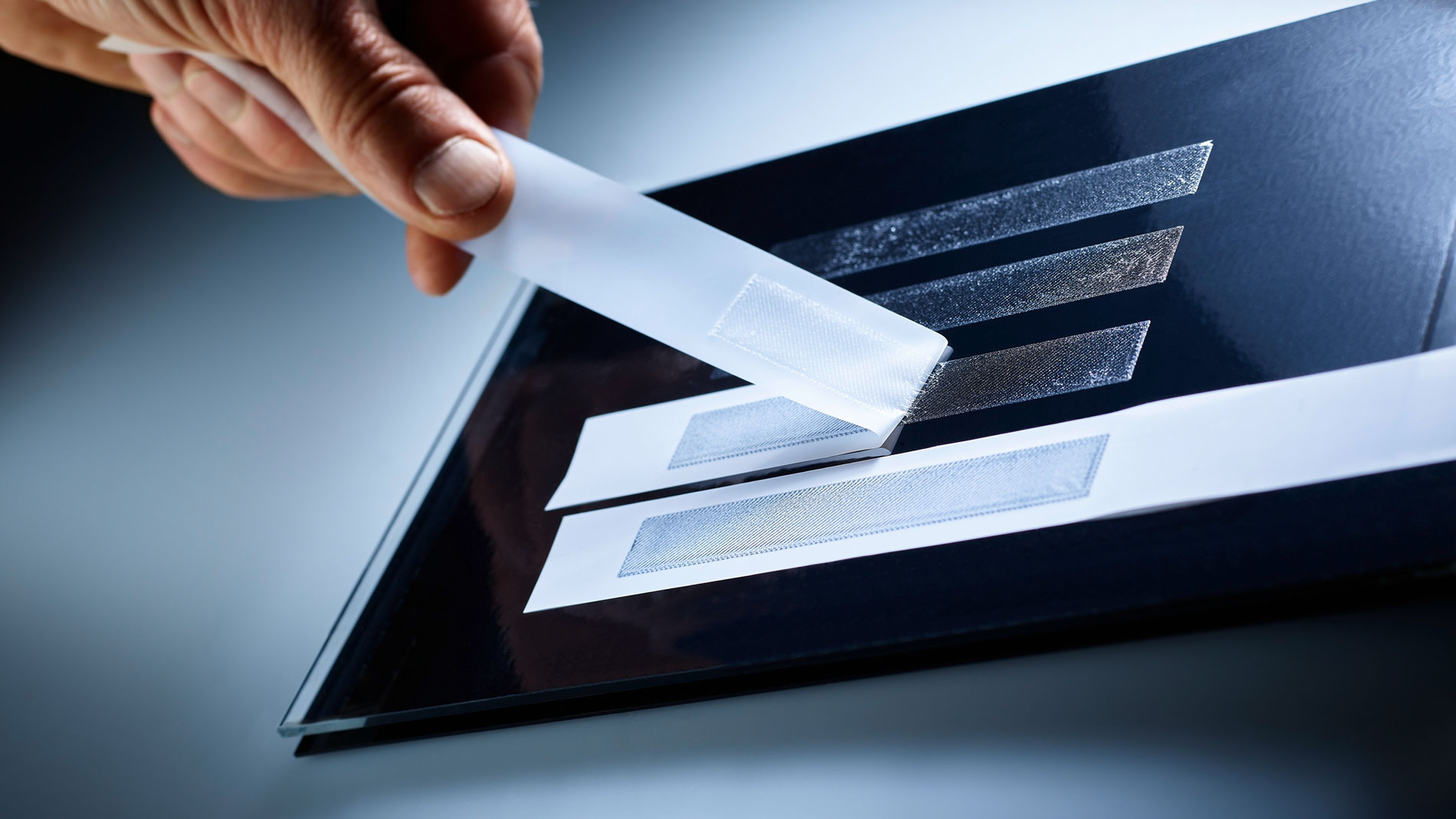 Adhesives are nearly as old as the cultural history of humanity itself. It was more than 100,000 years ago that our Stone Age forbears started affixing knives, spearheads, and axe blades to wooden shafts using tree sap and birch pitch. Today, the strong demand for adhesive bonds has given rise to a major industry that has a fundamental influence on how modern industrial products are made. "A smartphone can contain up to 70 Tesa tapes, and an electric car as many as 130," points out Frank Virus, who works in technology and product development at Tesa SE. Headquartered in Norderstedt (near Hamburg, Germany), this subsidiary of Beiersdorf AG employs around 4,800 people and specializes in self-adhering solutions of this kind.
In its development of new products, Tesa has also had an eye on 3D Printing for several years now. Its first related ideas and concepts date back to 2011. "The technology hadn't advanced far enough back then, though, and it didn't support industrial use," Virus recalls, noting that this has since changed. "The prerequisites in terms of technology and acceptance are very different now." Tesa dusted off the idea of 3D Printing tape a few years ago and has now been using a Freeformer from Arburg in product development since 2019. After borrowing a 200-3X at first, the company eventually purchased a larger 300-3X unit. It also uses machines from the Arburg subsidiary innovatiQ for some of its material recipes.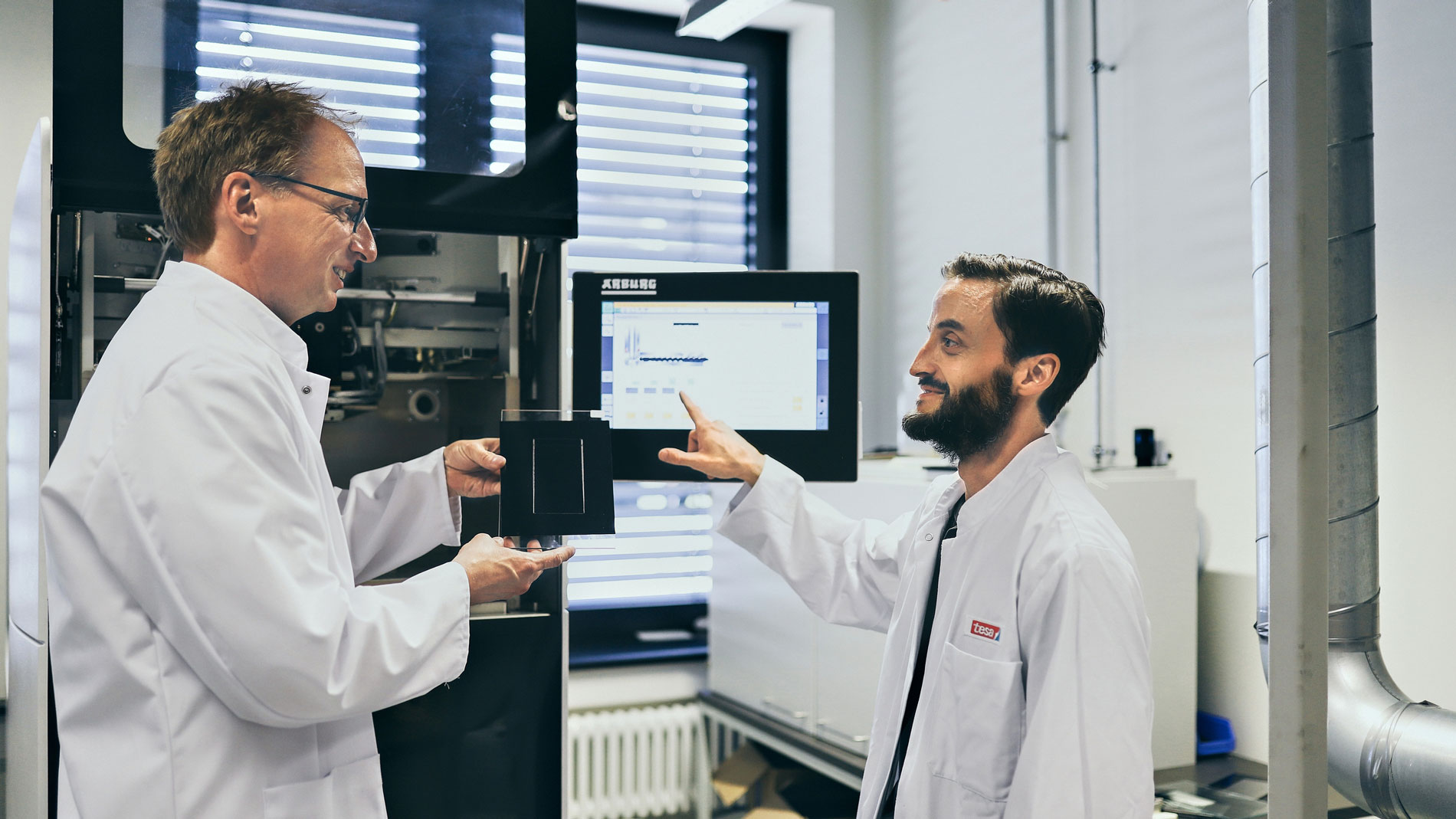 "Reactive 3D printing" of tape
3D-printing tape requires a sophisticated system. After all, adhesives contain a large amount of basic chemicals that are processed into the desired sticky substance. "Our process involves reactive 3D printing, which means the adhesive is produced during the process itself," Virus explains. Tesa's 3D-printed tape thus exhibits certain process-related properties. Unlike liquid adhesives, they have a specific thickness and retain their form, for example, which Virus says is necessary in manufacturing smartphones or parts of vehicle chassis.
To print tape using a Freeformer, granulate is first produced in a special procedure known as underwater granulation. This initially cools the granulate and keeps it from drying out, which would cause it all to stick together. In a subsequent step, the granulate is coated with powder so that it can be stored. Using it in the Freeformer heats it back up and mixes it together, which reactivates its adhesive properties.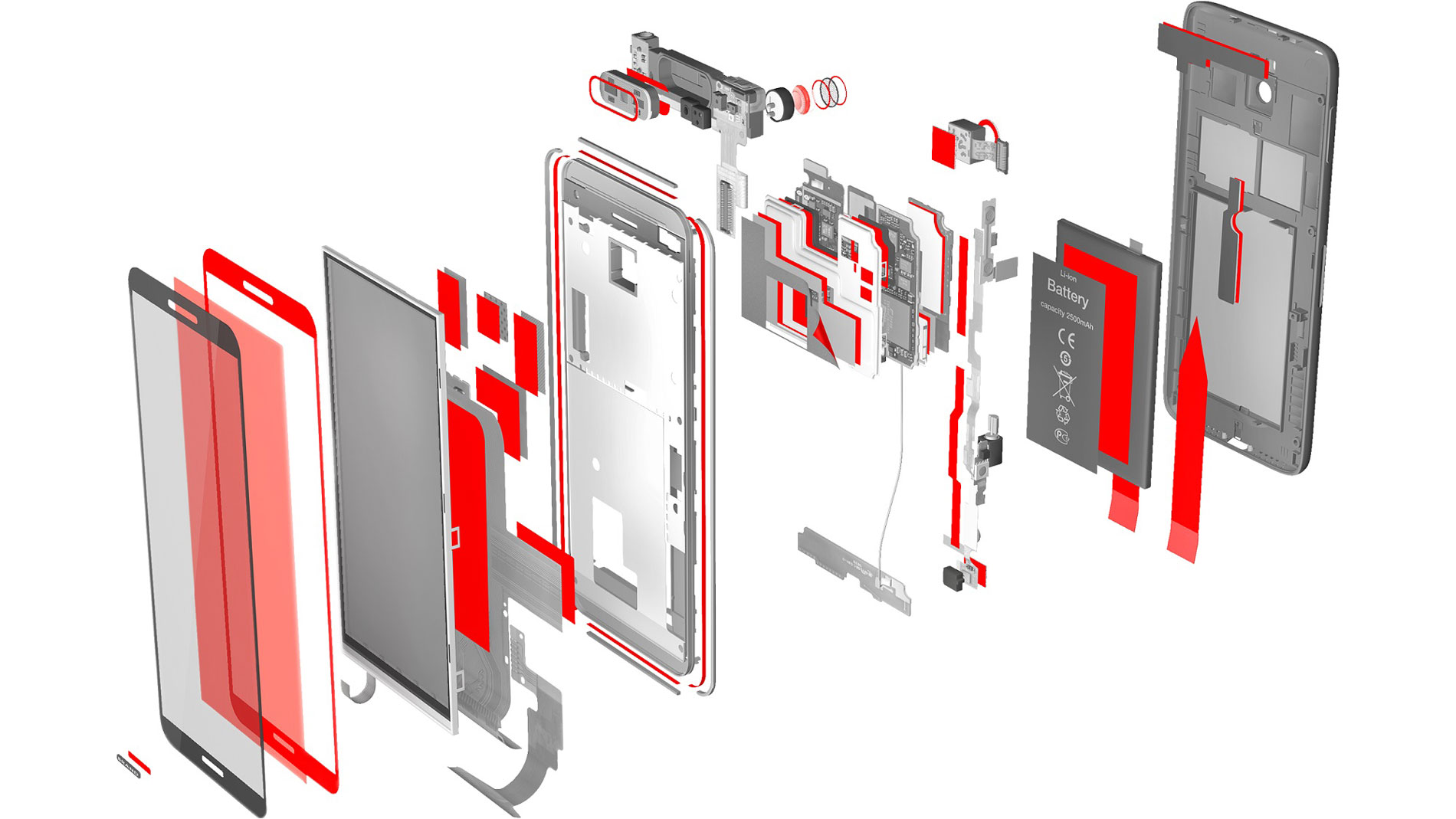 Tesa's methods of 3D-printing tape have already advanced to the point that a large part of its current portfolio could theoretically be produced using AM techniques. Compared to traditional tape production, however, these methods are significantly more complex. "When it comes to manufacturing our established products, we usually can't be competitive doing it that way," says Virus, who sees more possibilities for 3D printing in the development of new products. He considers it crucial that such offerings be able to offer additional value compared to previous adhesive solutions.
Virus sees the demand growing for more advanced products like these, particularly with Tesa's customers increasingly looking for more than a simple adhesive bond between two surfaces. They need solutions that also provide insulation, work as a sealant, or offer thermal or electrical conductivity. "3D printing is an excellent way to realize special characteristics like these," Virus reveals. As an example, he says it would be possible to make tape based on a sandwich design involving middle layers made of ABS and TPU or TPA, which would give the tape much stronger mechanical properties. Due to these wide-ranging possibilities, Virus is convinced that 3D-printed adhesive solutions will be much more than mere niche products in the future.
Promising ways to generate further value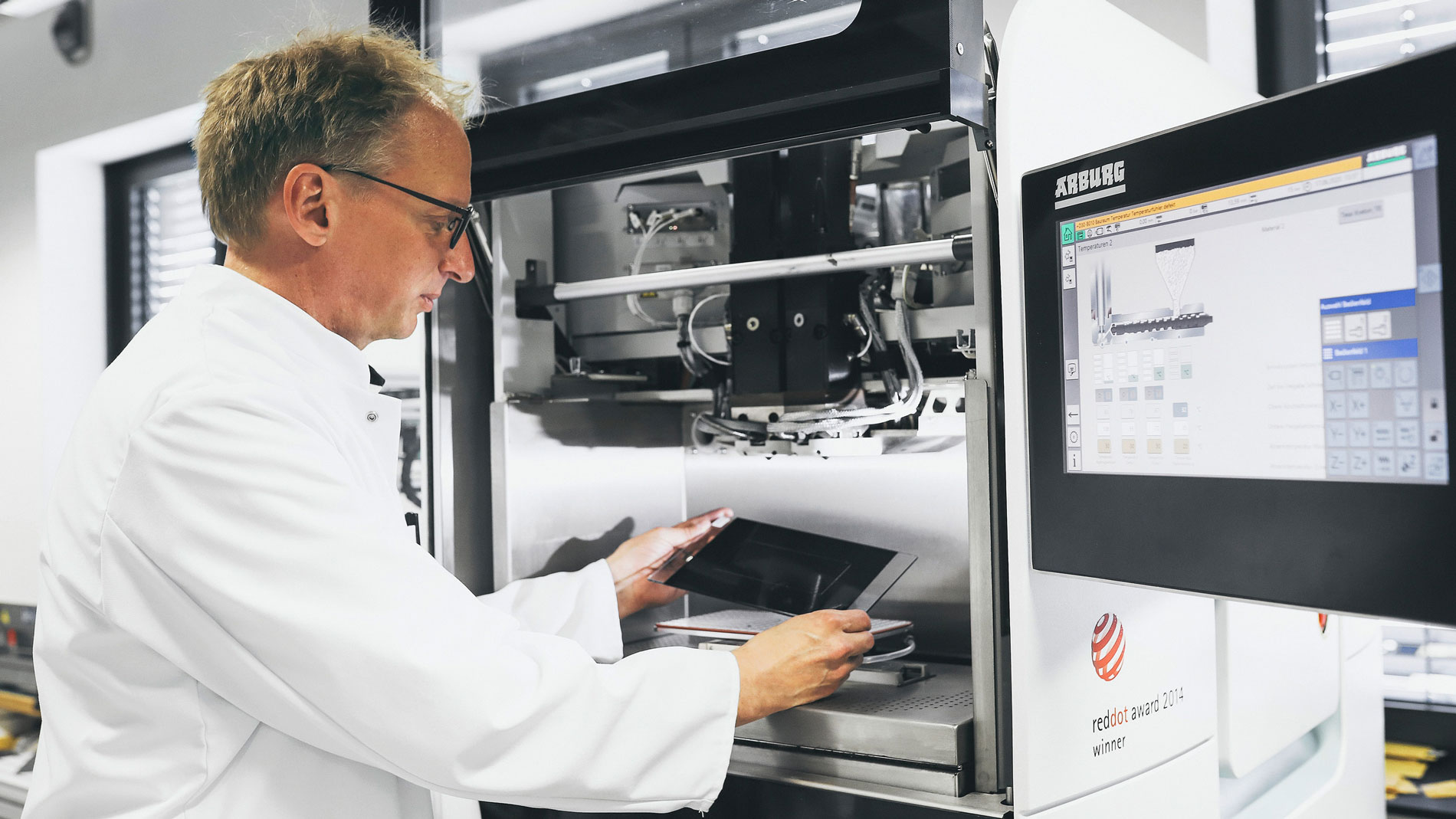 Another advantage of the tape printed on Tesa's Freeformer is significantly greater sustainability. Using the company's conventional method of stamping tape out of sheets, up to 90 percent of the material it starts with ends up in the garbage. "With 3D printing, 100 percent of our adhesive material goes into our products," says a happy Frank Virus.
Those who stopped by Arburg's booth at Formnext 2021 had the chance to marvel at an example of a 3D-printed adhesive application involving smartphone displays. Outside of electronics, Virus sees the most potential for applications like these in the automotive industry – and this may be the most promising area of all. "3D printing has been a topic of interest for a while now in that field, and the level of acceptance is somewhat higher as a result."
It's clear that AM technology is likely to play a key role in Tesa's development of new products going forward. Here, Virus is also contemplating other potential benefits, including the possibility of printing honeycomb structures or various materials in different layers. "With the Freeformer 300-3X and its three discharge units, these things are definitely possible," he says.
From adhesive products to system solutions
Thinking even further down the road, Virus can imagine an entirely new approach to product design in which Tesa bids farewell to the very idea of tape – at least in part. It would involve 3D-printing adhesive material directly onto components, which would significantly expand the company's business model. Instead of producing sheets of tape and delivering them to customers on rolls, for example, Tesa would offer an entire process including a 3D printer, material, and control components. This would enable firms like automotive manufacturers or suppliers to print their own custom adhesive solutions onto vehicle chassis.
It's hardly surprising that this idea is currently attracting a lot of attention at Tesa: After all, the company would go from exclusively offering adhesive solutions to delivering entire systems – and potentially tap into all-new opportunities in the process. This would require a great deal of development effort, though. At the moment, Frank Virus and his team are working on a variety of technical feasibility studies. The next step toward a decentralized production solution would entail certification and the need to ensure both data security and consistent product quality – all significant hurdles that Tesa would need to overcome.
AM TECHNOLOGY:
Additive Manufacturing for polymer - material extrusion
A structured overview of the complex and multi-layered world of Additive Manufacturing, the process chain and areas of application is provided by our AM Field Guide.
FURTHER INFORMATIONEN:
Tags
Additive Manufacturing
Electronic engineering and electronics