After a difficult 2021, the AM industry revved back up to its previous rate of growth in 2022. According to Wohlers Report 2023, the volume of AM products and services increased by 18.3 percent compared to the previous year, reaching U.S.$18 billion in size. Things are expected to continue at a similarly impressive pace for the next decade, which would put the market's volume at U.S.$102.7 billion in the year 2032.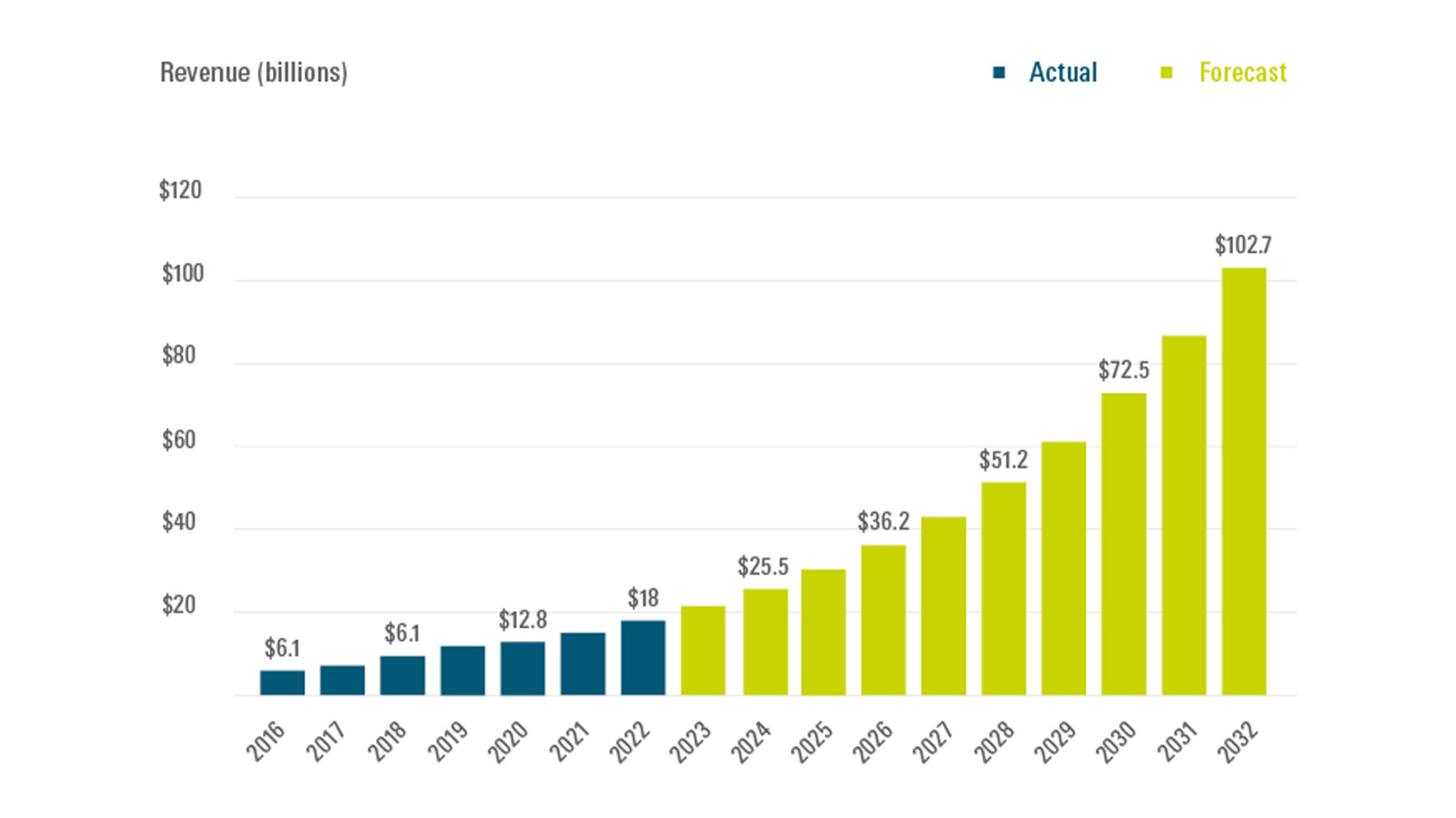 This positive development is also evident in the recent figures announced by well-known system manufacturers like SLM Solutions, voxeljet, Desktop Metal, and Markforged. On the whole, companies in the sector will continue to target growth in their future planning, but profitability is also becoming more of a focus.
The aforementioned SLM Solutions Group AG, for example, disclosed €105.7 million in turnover for the 2022 fiscal year – a remarkable increase of 41 percent compared to 2021. Recently acquired by Nikon, this firm attributes its strong performance to the launch of the NXG XII 600 production system and its growing business in after-sales.
Services driving growth
Another company that did well for itself in 2022 was voxeljet, a specialist in binder jetting and HSS 3D printers that generated €27.8 million in revenue (12.1 percent more than in the previous year). While its turnover from selling 12 new and three refurbished printers was roughly the same as in 2021 at just under €16 million, voxeljet managed to increase its revenue in services from €9.1 to €12 million. It cites the larger contributions made by its German service center and its subsidiary voxeljet America as the reasons for this considerable rise. Meanwhile, the German company also announced gross earnings of €8.2 million and a corresponding margin of 29.4 percent.
An 86-percent increase in revenue
In the case of Desktop Metal, a larger product portfolio is clearly reflected in the resulting sales figures. The Massachusetts-based company raised its annual turnover to U.S.$209 million last year, representing an increase of 86 percent. Desktop Metal generated 24 percent of that sum through consumables, services, and subscriptions. While the company did disclose a GAAP gross margin of 7.2 percent, it also reported a GAAP net loss of U.S.$740.3 million. This was one reason why founder and CEO Ric Fulop announced that Desktop Metal would be concentrating more on profitability going forward. "We've also taken measures to streamline the company and expanded our planned cost reductions to U.S.$100 million pear year," he stated. Desktop Metal currently expects to generate U.S.$210–260 million in turnover in 2023.
Organic growth
Finally, Markforged achieved an 11-percent increase in sales in the 2022 fiscal year, bringing its own total to U.S.$101 million. Also based in Massachusetts, the company was keen to point out that this growth was largely organic. Shai Terem, president and CEO of Markforged, attributed it to the increased demand for its Digital Forge platform. At the same time, Terem sees the disruptions in the global supply chain as a key ongoing catalyst for growth in the sector, as production companies can shorten their own supply chains by manufacturing parts right where they are needed. Markforged reported a gross margin of 50 percent for 2022, along with a (non-GAAP) net loss of U.S.$60.1 million. The company is projecting U.S.$101–110 million in turnover for 2023.
MORE INFORMATION:
wohlersassociates.com/product/wr2023
Tags
Market reports and studies