10 September 2022, by Thomas Masuch
VLM Robotics specializes in additive manufacturing with robots and has also developed customizable industrial manufacturing cells for this purpose. In this way, the family-owned company based near Bordeaux focuses primarily on producing the largest possible components in small quantities, or even batches of one.
The fact that a company from the world of 3D printing is also active in wine production is certainly possible in the first place in the country of sommeliers – and here, the proximity to the wine mecca of Bordeaux plays an important role. The headquarters of the family-run technology company VLM Robotics is located in an industrial area of Le Barp, about 30 kilometers from the capital of Gironde and halfway to Arcachon on the Atlantic coast.
At Formnext 2021, the 25-employee company presented its prototype of a 3D-printed mold for a wine barrel around two meters high. It was developed in cooperation with Siemens, the Strasbourg research institute Irepa Laser, and the Bordeaux wine barrel manufacturer Wine & Tools. The mold (and possible successor models) are to be used to produce new types of wine barrels that also make high-quality wine aging possible without barrique barrels  (see article).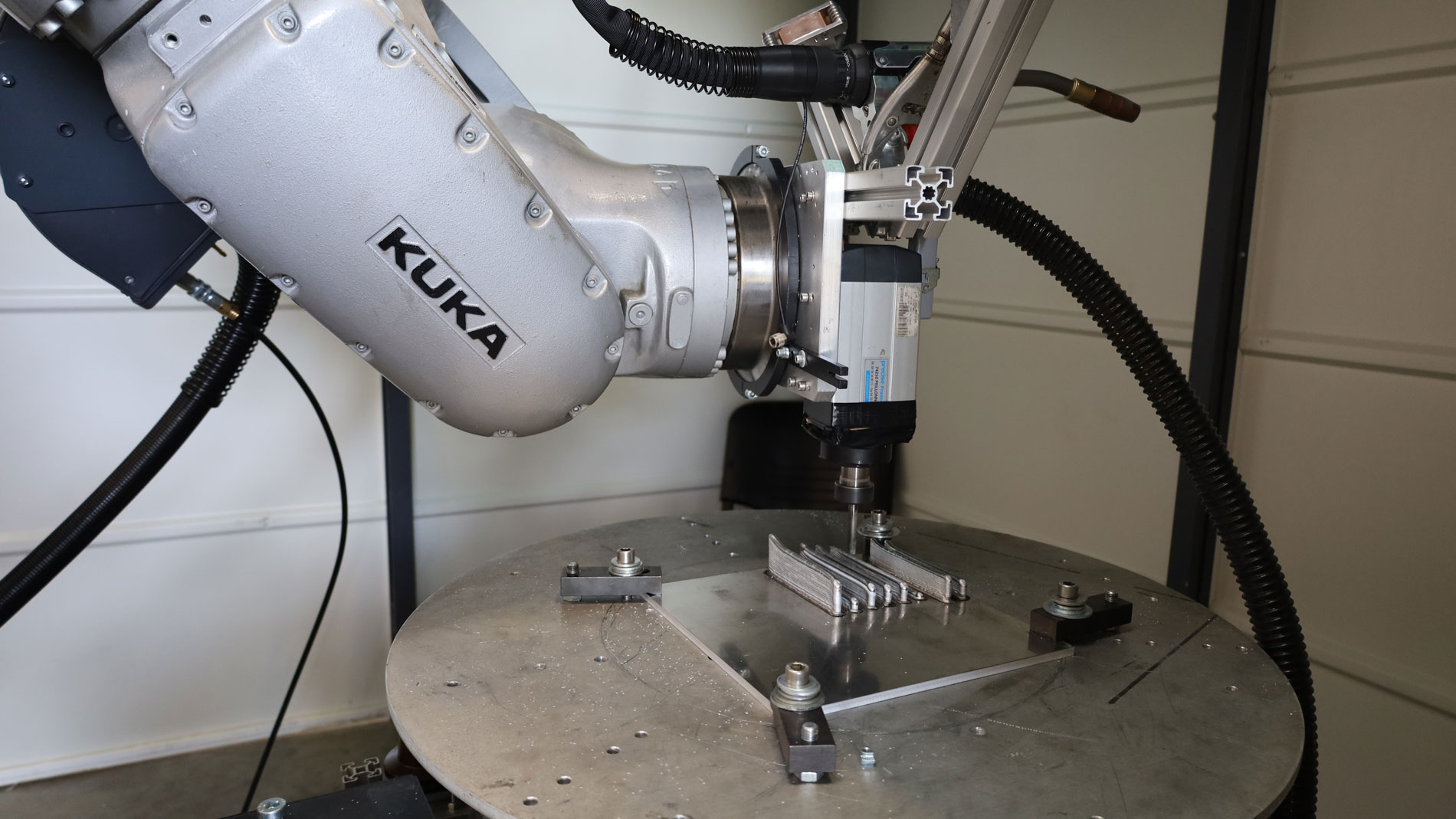 At the heart of VLM Robotics' manufacturing cells is direct energy deposition (DED) technology. Using a robot, wire (the preferred material, although powder is also possible) is deposited to form a component. "Our goal here is to 3D-print the largest possible parts – up to several meters in diameter – in very small quantities according to industrial standards," explains Philippe Verlet, founder and CEO of VLM Robotics. "This is less about productivity and more about agility and creating added value."
"A pioneer in the industrialization of 3D printing"
"In addition to engineering, software and machine control play a particularly important role in the development of AM cells," explains Béatrice Rivalier, who is responsible for R&D and competitive intelligence at VLM Robotics. That's why the company works closely with Siemens and is the only robotic Machine Tool System (MTS) solution partner in France. "This makes us a pioneer in the industrialization of 3D printing in France," Rivalier proudly explains. The company's partnership with Siemens also goes beyond just using Siemens components (CNC, Drive, NX, and others): "For example, we also exchange technical knowledge, work together on research projects, and develop special additive production solutions for our customers and partners," Rivalier continues.
The fact that the company from the south of France is currently working with Siemens has, among other things, a purely technical background. "For industrial 3D printing, you need more than just software; you also need a controller, solutions for integration into the production process, and much more," explains Verlet. In this way, VLM Robotics achieves numerical continuity – the prerequisite of providing turnkey solutions to its customers, which are predominantly end users from the aviation, rail transport, and energy sectors.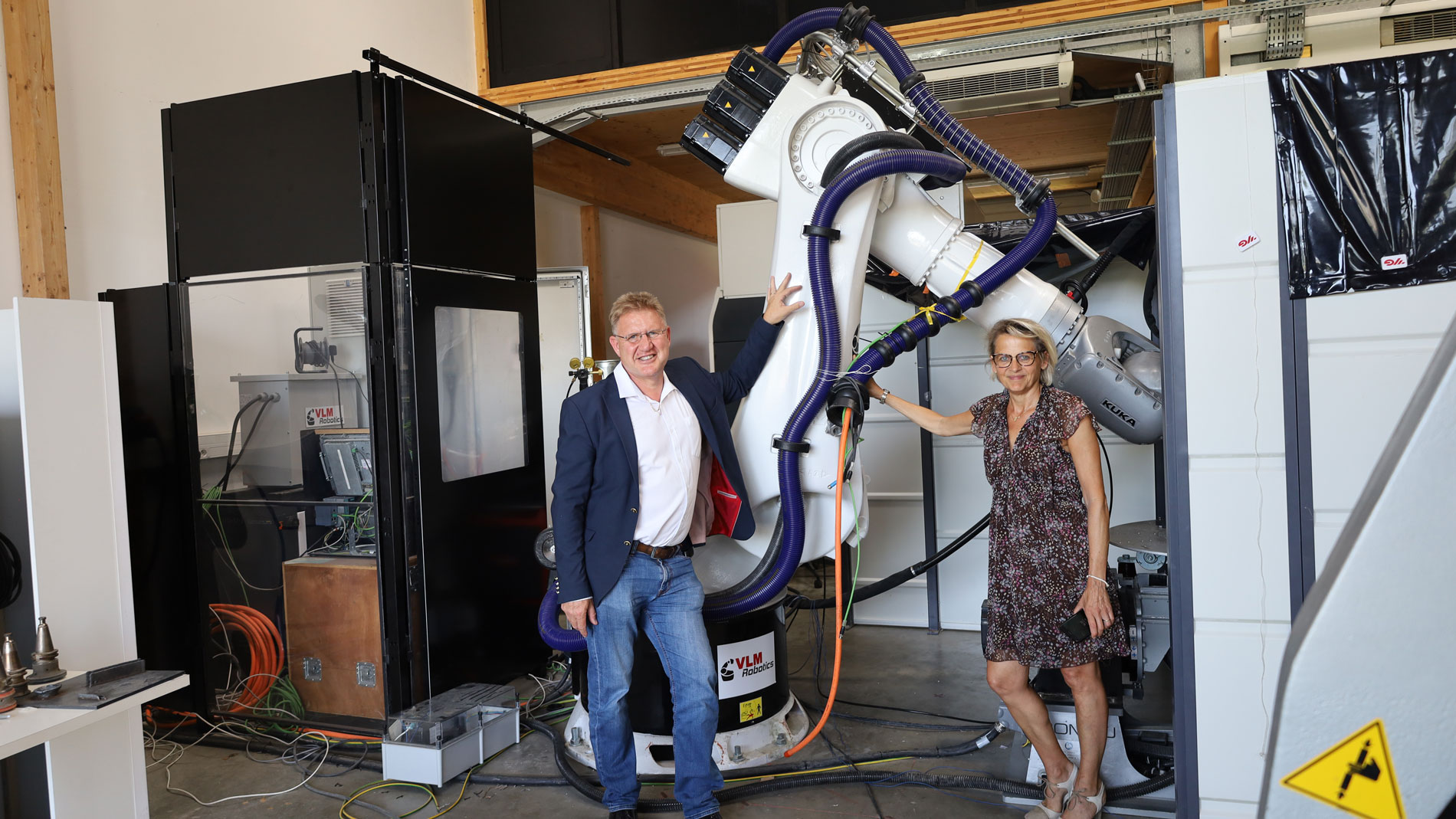 In addition to its standardized cells, VLM Robotics offers individual solutions; complementary functions for pre- and post-processing can be integrated, for example. To ensure that this works smoothly, VLM Robotics has tested things like how to mill several 3D-printed layers of steel 0.3 to 0.8 millimeters wide. This isn't as easy as it might seem: "We can't use any coolant in the cell, and therefore have to fine-tune the parameters so as not to overheat the tools and still be able to work productively," Verlet reveals.
VLM Robotics' industrial solution for 3D printing with robots also makes it possible to monitor the printing process. For this purpose, for example, a second robot can be equipped with process-monitoring sensors to document the setup at hand. "With this patented solution, we're pursuing our philosophy of having everything take place around the workpiece without moving the workpiece," says Verlet. "For this type of agile manufacturing, we're also experiencing an ever-increasing demand from industry."
Research and production
The production cells are used in research projects and at research institutes, for example, as well as in production by customers such as aeronautics subcontractors, Poly-Shape (in Aix-en-Provence), and SNCF. The French rail giant uses them to manufacture spare parts for its trains.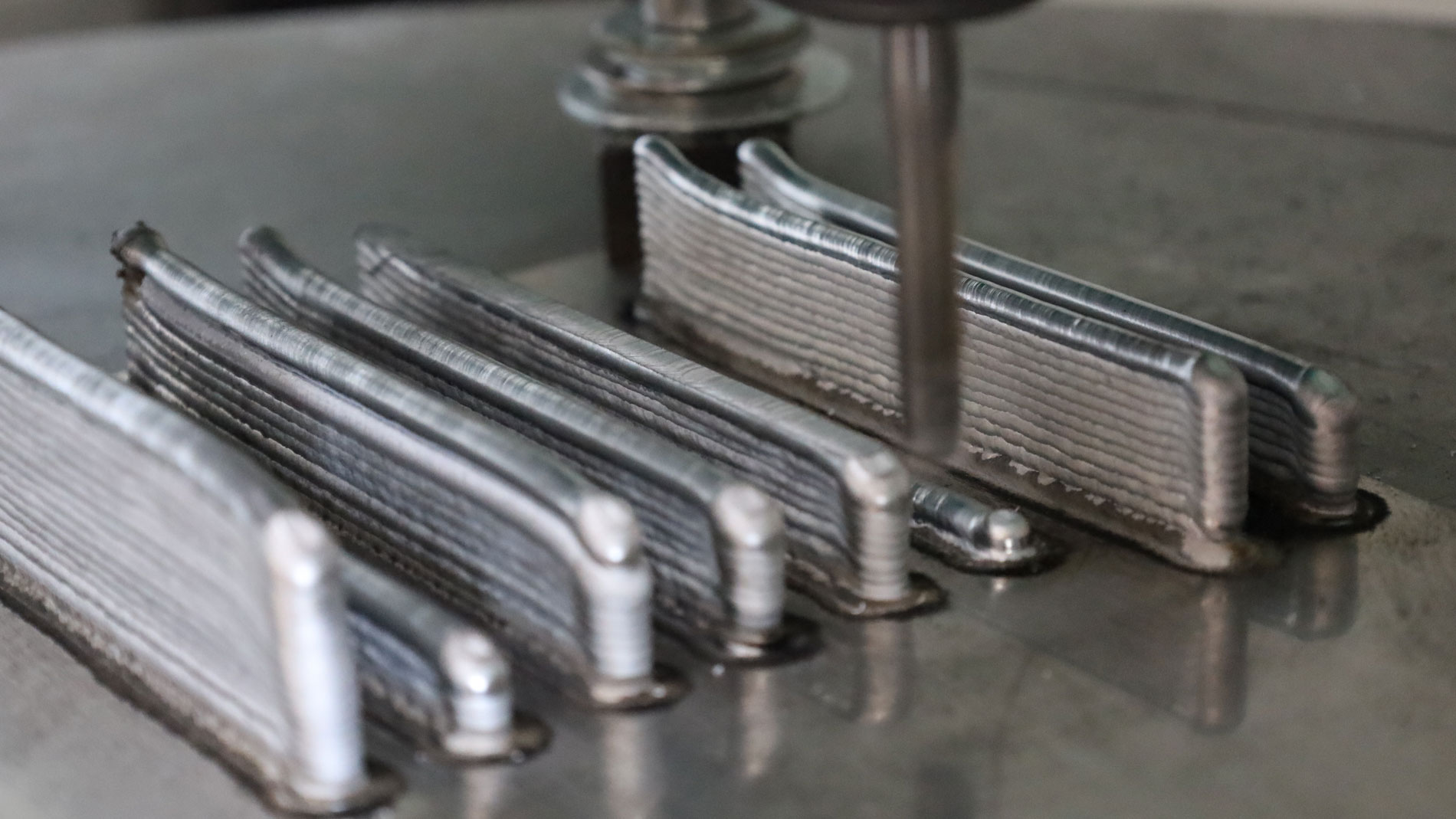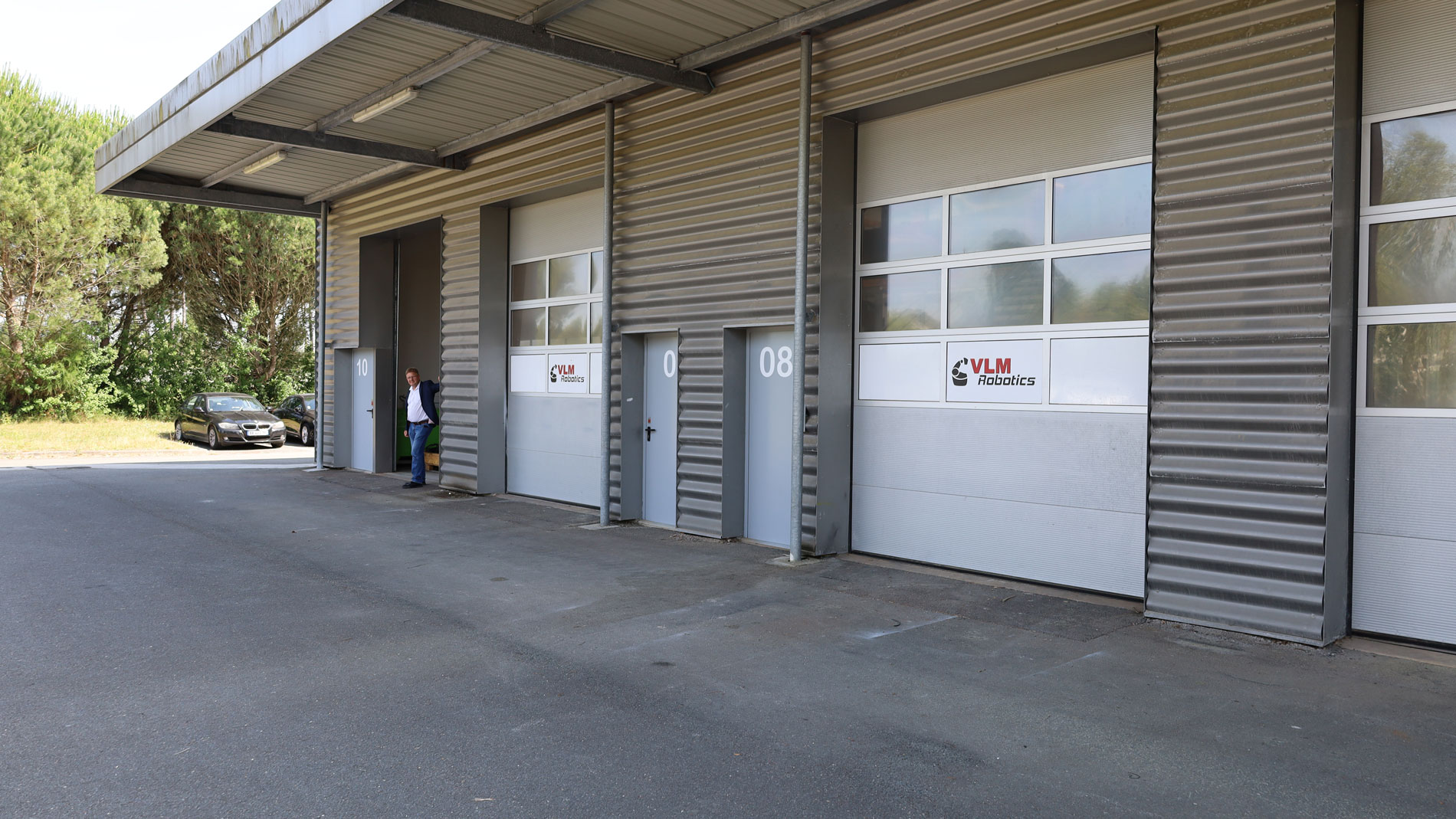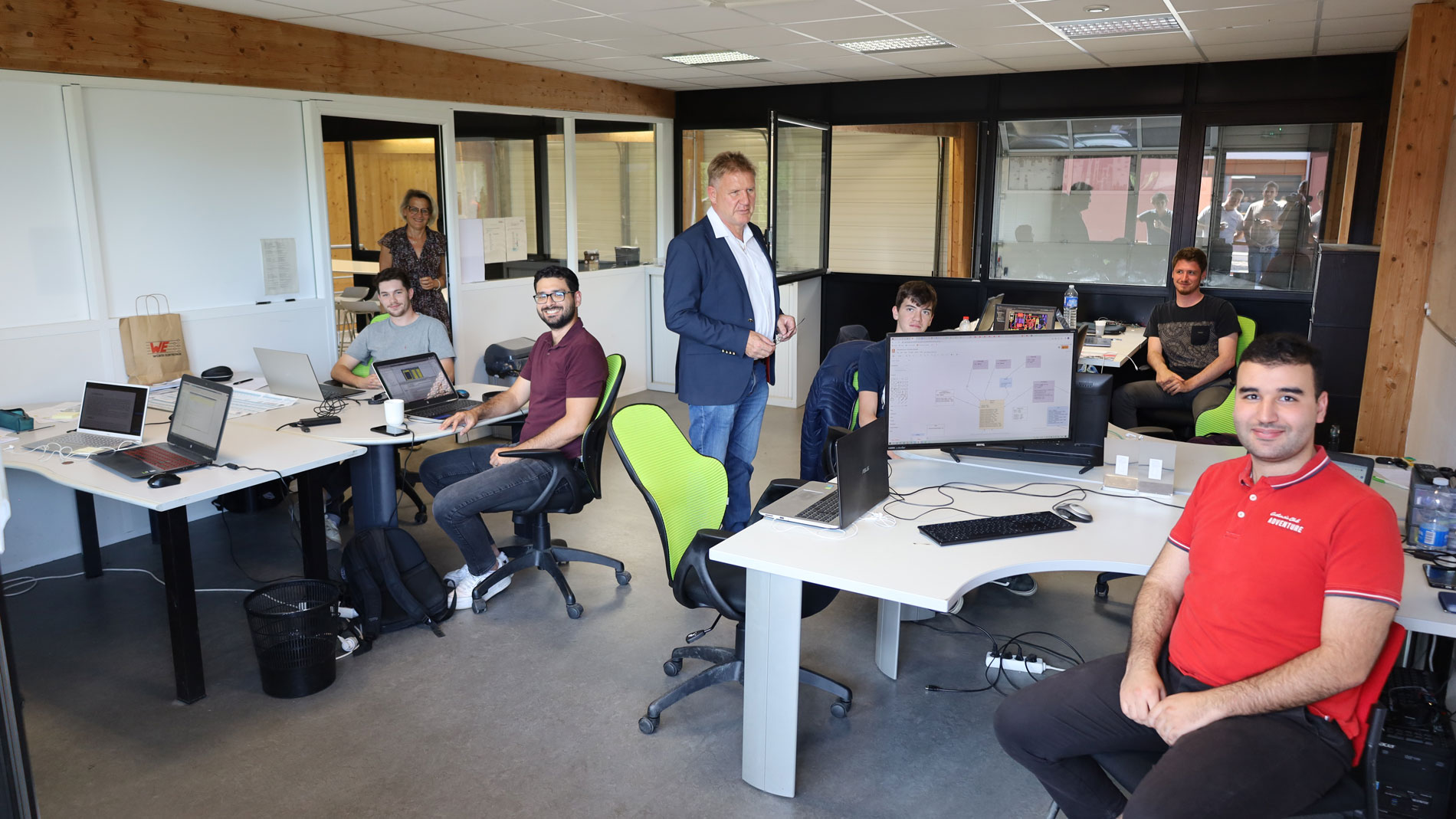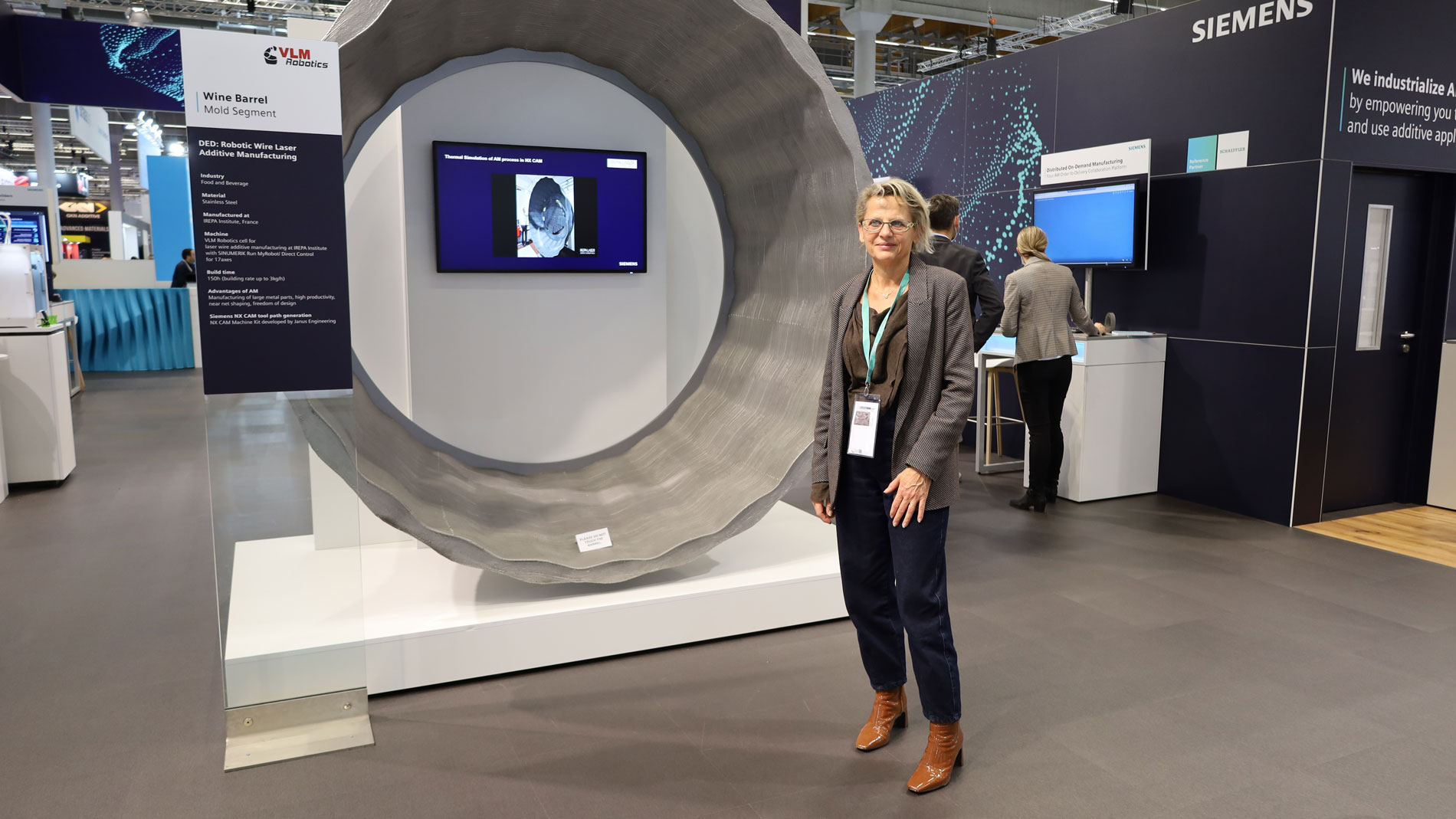 So far, VLM Robotics has focused heavily on the French market, but CEO Verlet wants to significantly expand its business radius with the help of machines like the Comp@qt, Solo, and Gemini. They range from approximately one to several cubic meters, and the Gemini includes two robots. "We have many large groups in France in areas like shipbuilding, aircraft construction, or nuclear power, but unfortunately, there are no large machine manufacturers anymore. That's why cooperating with Germany is all the more important," explains Verlet, who worked for a German company for several years before founding VLM Robotics and is fluent in the language.
In exchanges with existing and new business partners, Philippe Verlet's experience has been that DED technology in particular "is finding more and more applications at companies that need concrete DED components, but the quantity required is often so small that buying a machine doesn't make economic sense." However, no service provider in France offers appropriately sized DED components according to Verlet, who says this is partly because unlike SLM technology, DED is quite new and less established. For this reason, VLM Robotics manufactures such components itself on request and thus acts not only as a machine manufacturer, but also as a parts producer. In the long term, Verlet also expects this demand to increase among users and gradually result in machine sales.
The CEO sees opportunities for his technology in other areas, as well, such as large molds, spare parts, and space applications. "We can build molds for rocket tanks just like we do for wine barrels," he points out. Another thing Verlet sees as crucial here, however, is that users recognize the potential of additive manufacturing and decide to make it work for them. VLM Robotics wants to showcase this potential at Formnext 2022, where it will be participating in the joint booth of the Nouvelle-Aquitaine region and presenting part of its new extra-large manufacturing cell.
FURTHER INFORMATION:
Tags
Automotive
Additive Manufacturing