4 March 2022
3D-printed inserts have already seen use in making tools and molds for a number of years. Here, tools built using AM techniques can make the production processes involved in plastic injection molding or aluminum extrusion much more efficient. In the rather conservative world of mold-making, however, AM hasn't had the easiest time gaining acceptance in comparison to other industries. This has now changed of late, with new materials and improved machine performance driving an apparent increase in demand for 3D-printed mold inserts. The surrounding market – which has a potential volume of hundreds of millions of dollars – is coming back into the frame for manufacturers of 3D printing systems, as well.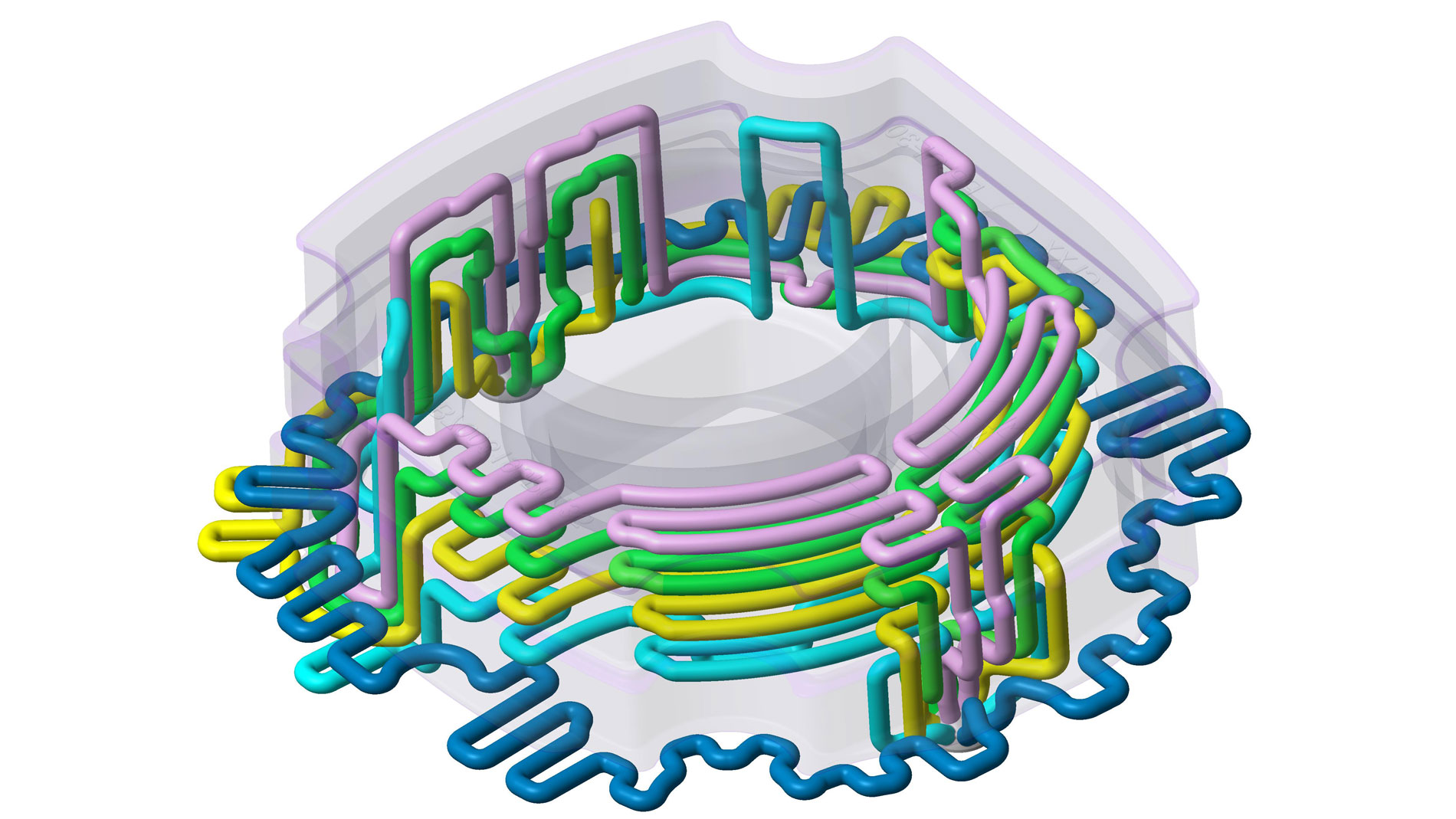 While 3D-printed shoe soles are considerably more stylish and eye-catching, the world's shoe production methods remain largely conventional in nature. Molds are used to manufacture most soles that aren't made of leather, and corresponding injection molding systems churn them out by the hundreds of thousands (or even millions). That said, this is another area where companies keep AM tools close to hand. To increase the efficiency of their injection molding operations, manufacturers sometimes utilize 3D-printed mold inserts. These are typically produced through powder bed fusion.
In 3D-printed mold cores of this kind, cleverly positioned, flow-optimized cooling channels facilitate much better cooling rates, which in turn makes for shorter cycle times. This ultimately means that injection-molded plastic soles roll off the line faster. It's a fairly simple concept, and it can be applied to everything from shoes to plastic bottle caps or operating controls in vehicles.
You'd think that this would set an ideal stage for AM to see more widespread use in tool and mold making. The mold production industry was, after all, one of the first to realize how it could benefit from this technology. 3D-printed mold inserts have been on the market for more than 15 years now, but at the beginning of that period, traditional mold manufacturers struggled mightily with the technological limitations and lack of economic viability they perceived in these products.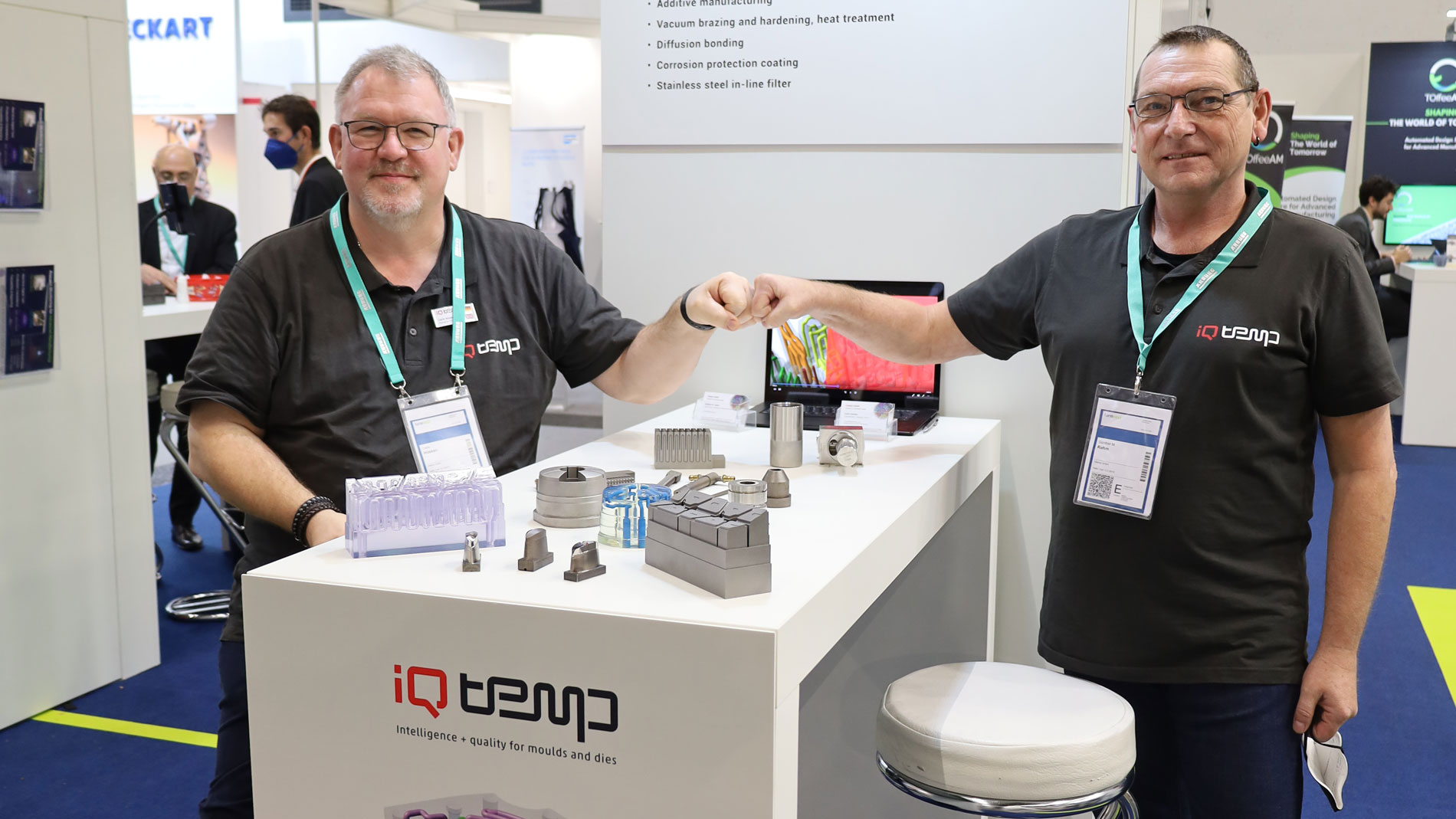 Shorter cycle times and more confidence in quality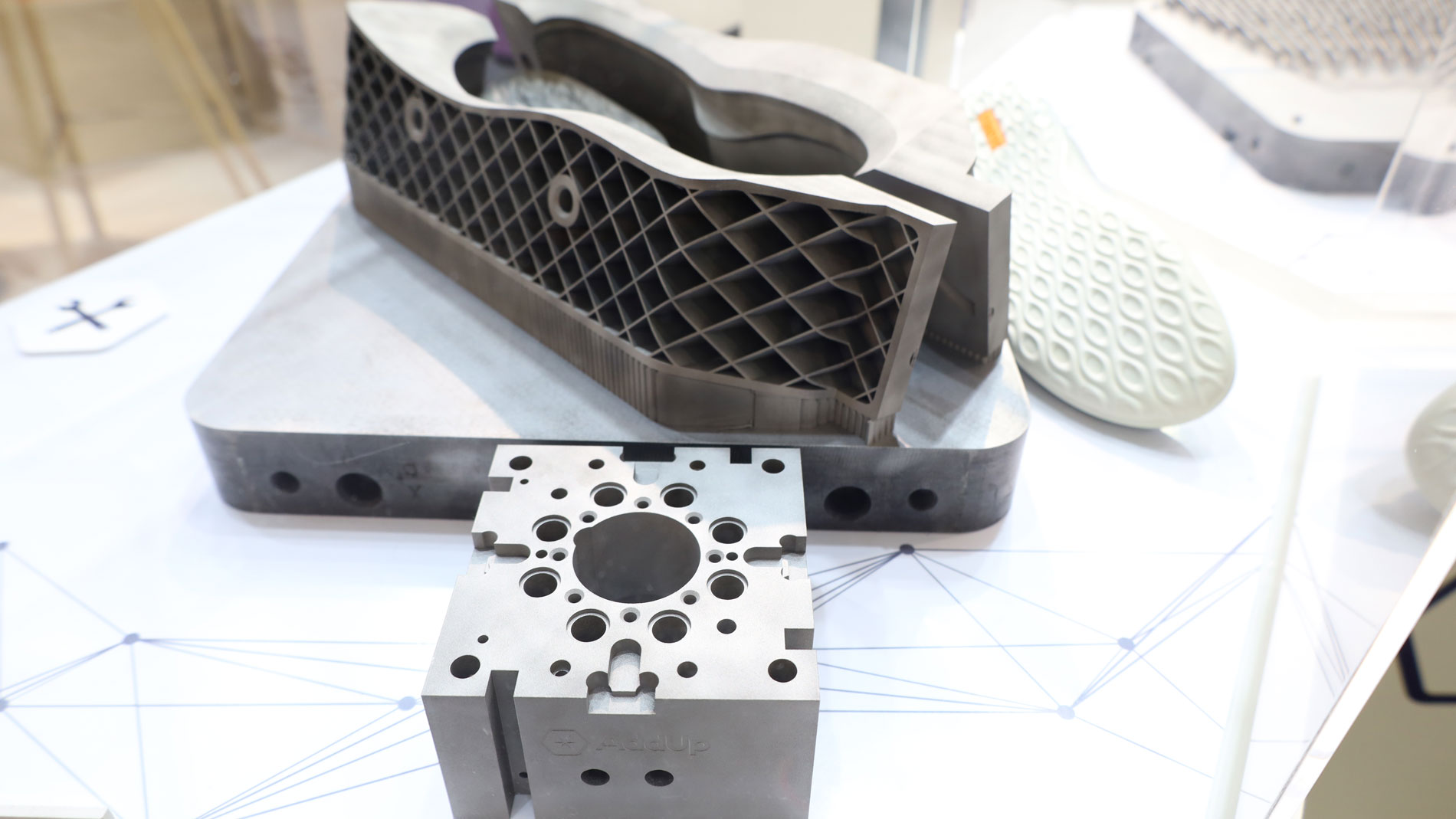 A subtle change in this trend was in the air at Formnext 2021, where a number of manufacturers and service providers dedicated some of their booth space to their latest 3D-printed mold inserts. "Overall, we're seeing stronger interest in the market; 3D-printed mold inserts are becoming more and more popular," affirms Günther Rehm, sales and marketing manager at Liechtenstein's Listemann group and co-founder of the start-up iQtemp GmbH, which specializes in inserts of this kind. "The mold-making industry continues to gain confidence in the quality of these inserts."
Meanwhile, Mathias Schmidt-Lehr has observed a similar trend in forming tools. "We've noticed an increase in the use of tools containing 3D-printed components, particularly in the automotive industry," the co-founder and CEO of the AM consulting firm Ampower (Hamburg) reports. "When hot-forming steel, for example, tools with 3D-printed inserts and active local cooling appear to offer an advantage: Apart from optimizing cycle time, they make it possible to achieve higher degrees of deformation."
Greater material diversity, faster AM systems
The rise in demand for 3D-printed tool inserts in mold making also has to do with the technological advancements made in 3D Printing more broadly, especially with regard to materials and powder bed techniques. "Around 10 years ago, for example, there was only one material we could use to make molds: 1.2709, which is a martensitic steel that doesn't hold up very well to corrosion," explains Günther Rehm. He goes on to report that five to seven types of steel compatible with mold construction are now available, and iQtemp uses three of them (in addition to 1.2709). Along with the corrosion-resistant variants M789 and W360 from Böhler, it works with an advanced version of 1.2343 that Rehm says supports extraordinary levels of hardness, which makes it particularly suitable for aluminum extrusion.
At the same time, considerable improvements have been made in 3D printers in recent years. Many now come with four lasers instead of one, and some feature heated build areas that mitigate differences in temperature during production. This makes the resulting components less brittle and reduces their residual stress. "This hasn't just lowered the costs involved in 3D-printed mold inserts quite a bit," Rehm says. "We're achieving an entirely different level of material quality, as well. We can reproduce the structure of rolled steel, and the surface of it can be polished to a shine."
AM makes sense in 15% of injection-molded inserts
According to Günther Rehm, whether or not a 3D-printed insert is economically advisable "always depends on the application at hand". He says that in technical terms – that is, when the components involved aren't too big – AM methods can be used to make inserts for around 30% of all molds.  Actually doing so is only cost-effective around half the time, though.
If one estimates the volume of the global mold manufacturing market at U.S.$68.5 billion (2020; source: Business Wire), 15% corresponds to approximately U.S.$10.3 billion. Since a mold insert accounts for 1–5% of the overall cost of a corresponding tool, 3D-printed inserts have the potential to generate U.S.$100–500 million every year.
This falls far short of sectors like sporting goods or components for dental, aviation, or automotive applications, but it's enough to make mold construction an intriguing market for companies that build 3D printers – especially in light of the industry's growth rates, which have consistently hovered around 5% per year.
"We want to make a difference"
"The field of tool and mold making is definitely one that interests our company," states Frédéric Le Moullec, sales director at Addup. Le Moullec cites the size of the German market – which is four to five times larger than that of France, where Addup is based – as the reason why he and his team are concentrating mainly on their neighbors to the east. "As a French company, it was crucial that we position our machines in the German market without getting into industries where the competition was already intense," he continues. "Those industries are also important to us, of course, but we wanted to make a difference. That's why we decided to really focus on tool and mold making."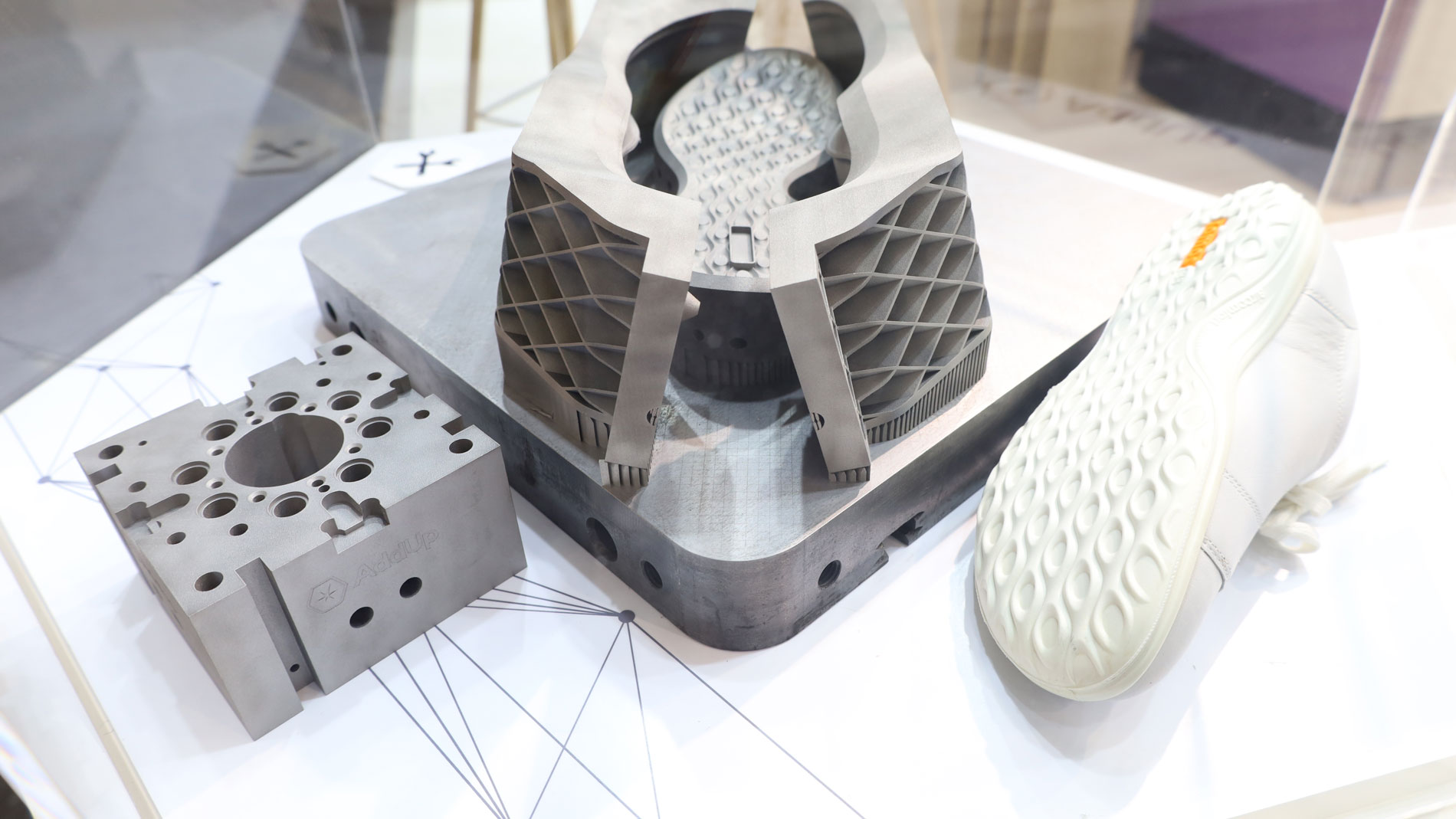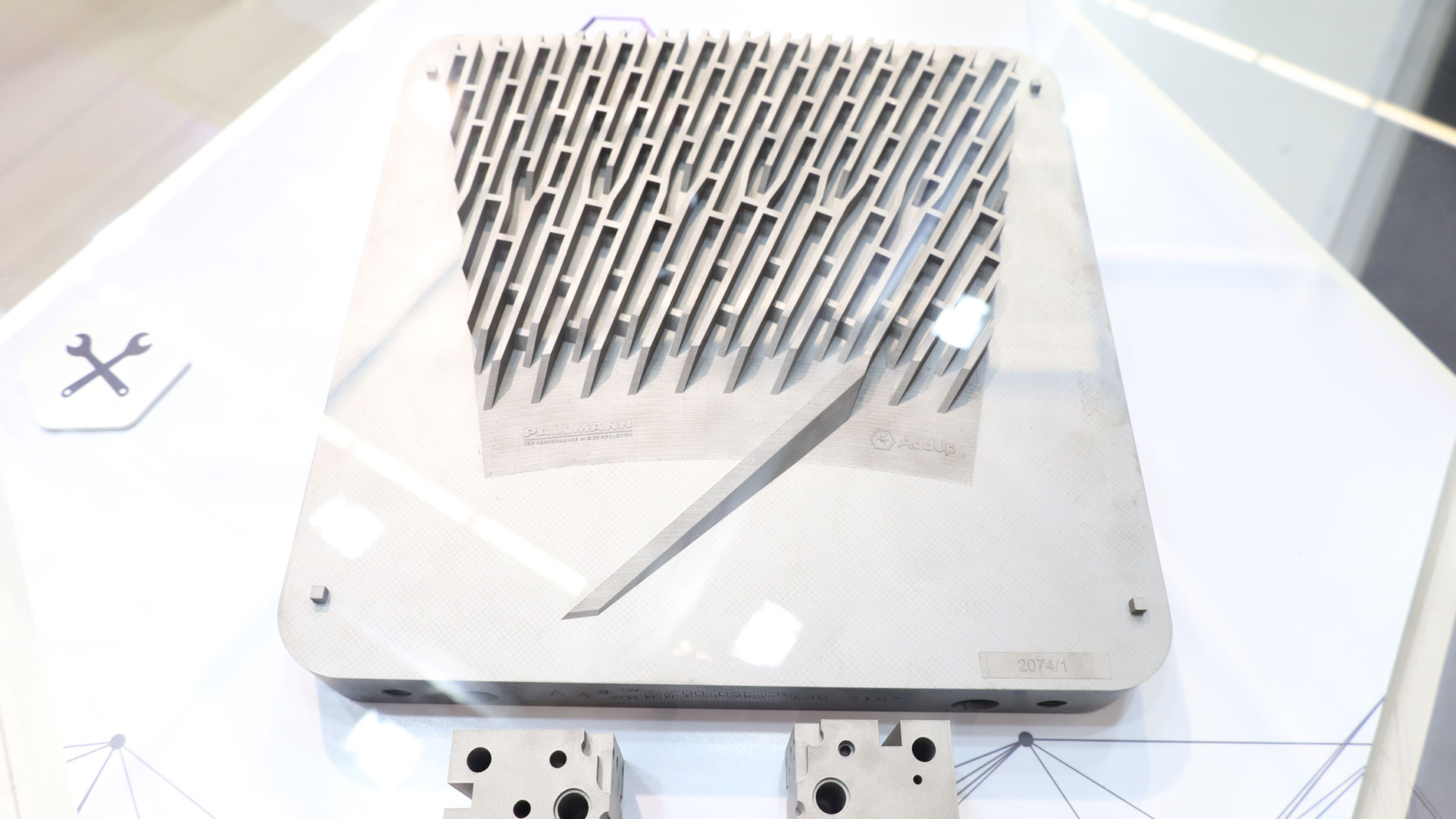 This clear orientation was also apparent at Addup's Formnext booth last November. There, the company showcased inserts for shoe molds and mold components that had been 3D-printed on its own FormUp 350 machines, which Michelin has also been using to manufacture tires for many years.
Weathering COVID with aplomb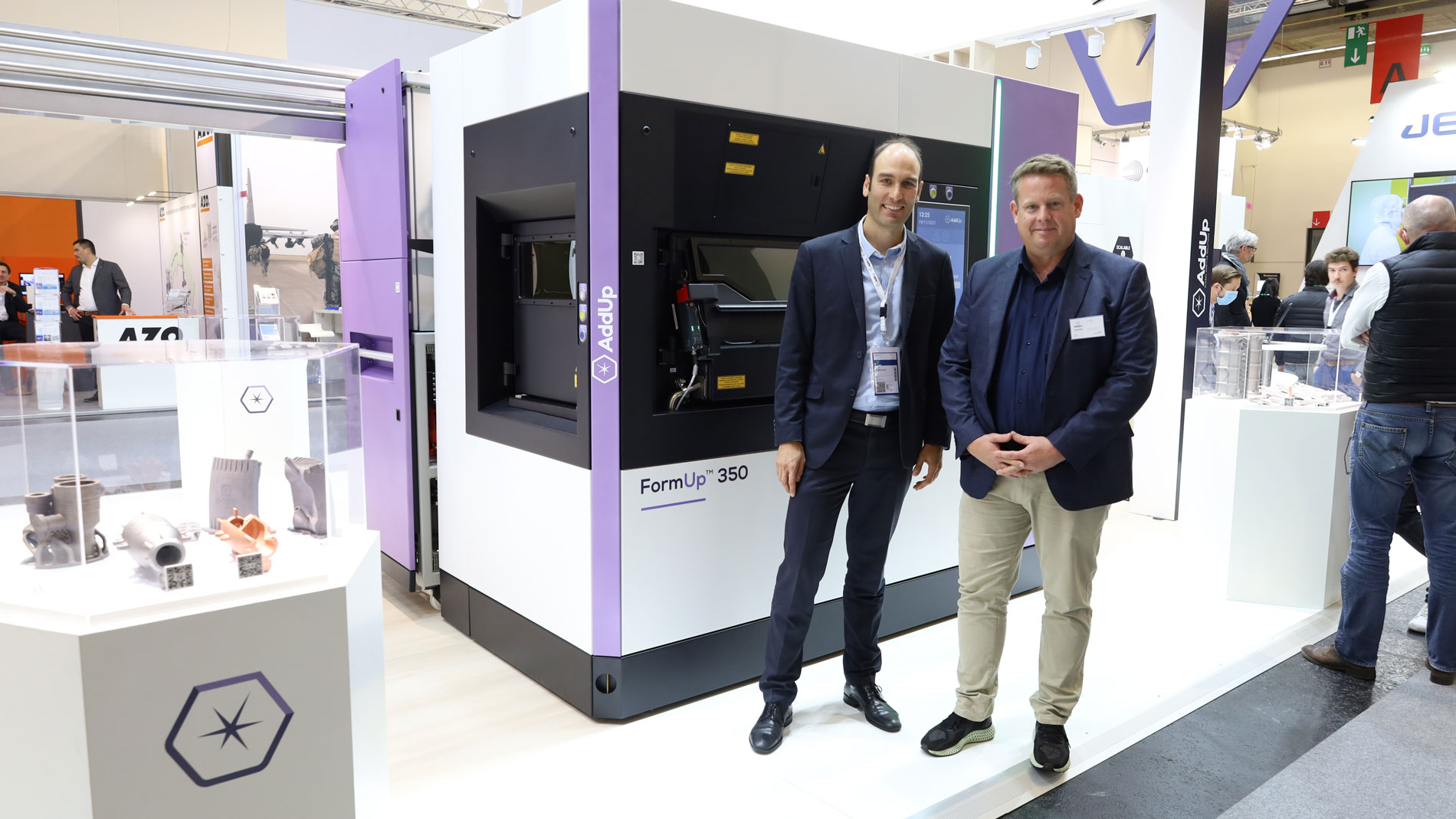 Meanwhile, Le Moullec is another industry figure who sees material developments as a key element of AM's revival in tool and mold making. "Thanks to new and purpose-specific materials, we're now in an even better position to increase the quality of our 3D-printed tools and offer more value compared to those made using conventional techniques," he reports. This is an important argument from the economic perspective, as well. "After all, that's what ultimately determines whether or not a company invests in Additive Manufacturing."
Besides its potential for business, tool and mold making is an interesting field for Addup because it "presents an opportunity to get into real-world applications quite quickly – without having to go through a five- or 10-year certification process like we would in aviation, for example," Le Moullec explains. Furthermore, the industry seems to have withstood the effects of the coronavirus crisis better than other sectors. "Aviation was an area that saw significant cutbacks in investment, but the strong demand for tools and molds for things like shoes or new models of cars hasn't let up," Addup's sales director points out.
The difference is in the design
Along with the technical prerequisites at hand, the question of whether 3D-printing new molds like these is a good idea depends on a number of other variables. "Additive Manufacturing alone isn't enough to guarantee a quality mold," says Günther Rehm. "The designs are what counts, and they can vary quite a lot." According to Listemann's resident expert on the subject, this is why the differences in performance between 3D-printed mold inserts and those produced conventionally are difficult to quantify. In order to reduce cycle times by 10–30% (thereby increasing output), he says the design phase is where companies in the space will first need to devise sophisticated ways of maximizing the wide-ranging possibilities afforded by AM. "Under ideal conditions, we can even get 50% faster," claims Rehm, who cites the improved quality that can typically be achieved in plastic components as another benefit.
He goes on to describe how technological advancements in production systems have driven down the cost of 3D-printed mold inserts, leaving less and less of a difference between these and their conventionally manufactured counterparts. "This is also due to the fact that AM components usually don't require nearly as much post-processing after the hardening phase because AM gives us more of an ability to compensate for the warping that can occur during heat treatment," Rehm reveals. "That's why 3D-printed mold inserts don't always have to be more expensive when you consider all the factors in play." And even if AM does result in 10–30% higher costs, Rehm says the technology pays for itself in just a few weeks or months through the resulting increase in production output.
AM TECHNOLOGY:
Additive Manufacturing for polymer - powder bed fusion

A structured overview of the complex and multi-layered world of additive manufacturing, the process chain and areas of application is provided by our AM Field Guide.
FURTHER INFORMATION:
Tags
Additive Manufacturing
Tool and die making