Text and Photos: Thomas Masuch — 12 June 2020

How Additive Manufacturing is bringing a free-thinking tech head closer to his true purpose.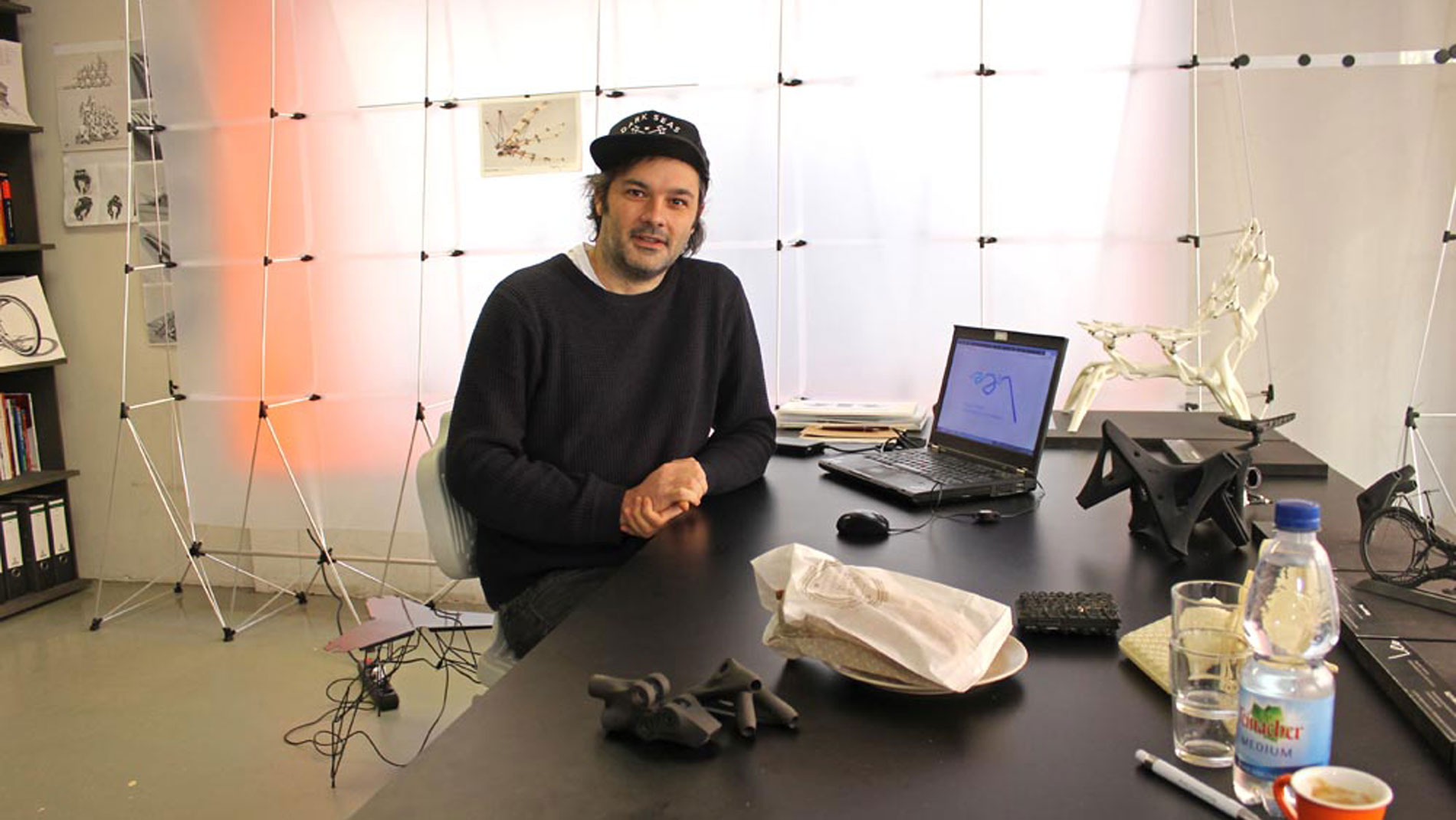 If the wizard Merlin had practiced his arcane arts in the 21st century instead of back in the early Middle Ages, it's possible he would have tinkered with 3D printers instead of brewing up eldritch potions. As for his modern sanctum of magic, it probably would have looked a lot like the studio inhabited by Stephan Henrich. After crossing a rear courtyard, we enter the first floor of a long-standing edifice in Stuttgart and find ourselves in a trove of technological wonders. Here, Henrich has collected an array of inspiring 3D-printed ideas and innovations – from a bionically formed wallet and a 3D concrete printer a meter and a half tall to the futuristic model of a chair that would fit right in on the Starship Enterprise.
The diverse range of subject areas and technical aspects covered by all these individual objects makes it difficult to capture what the 41-year-old does in a single job description. The motto »Robotic Design and Architecture« adorns his label, but Henrich wears various hats – architect (his field of study), designer, engineer – depending on the task at hand. »And there's a bit of ›artist‹ in all of it.«
"You have to have a few products that are adaptable enough to sell."
When he enters a narrow adjacent room separated from the rest of his studio by a plastic curtain, he's usually about to work on something more technical in nature. Amidst desktop sandblasting equipment and a collection of jars of dark powder, we find a Sintratec S1 – the SLS plastic printer Henrich uses to produce smaller objects, such as the aforementioned wallet or components for his other projects.
From the outside, the building offers few indications of just how much technological creativity lies within in Henrich's additive workspace. In the five-meter-wide window that faces the street, passers-by only find numerous black-and-white photos of various objects, along with a pale yellow model of a 3D-printed robotic gripper. The latter represents part of Henrich's Fungus concept, which involves a robot that will serve as an autonomous gardener on a wall of mushrooms.
When he first moved into this location in 2014, Henrich offered more glimpses of his studio's inner workings. »Some projects demand a certain amount of confidentiality, though, so I had to block up the window somehow, « he explains. Henrich designed the necessary protection on his own laptop, of course. Sheets of milky, translucent plastic now hang from a delicate framework of thin metal rods and black, 3D-printed connectors. The black top of his elegant desk rests on a similar construction of his own design.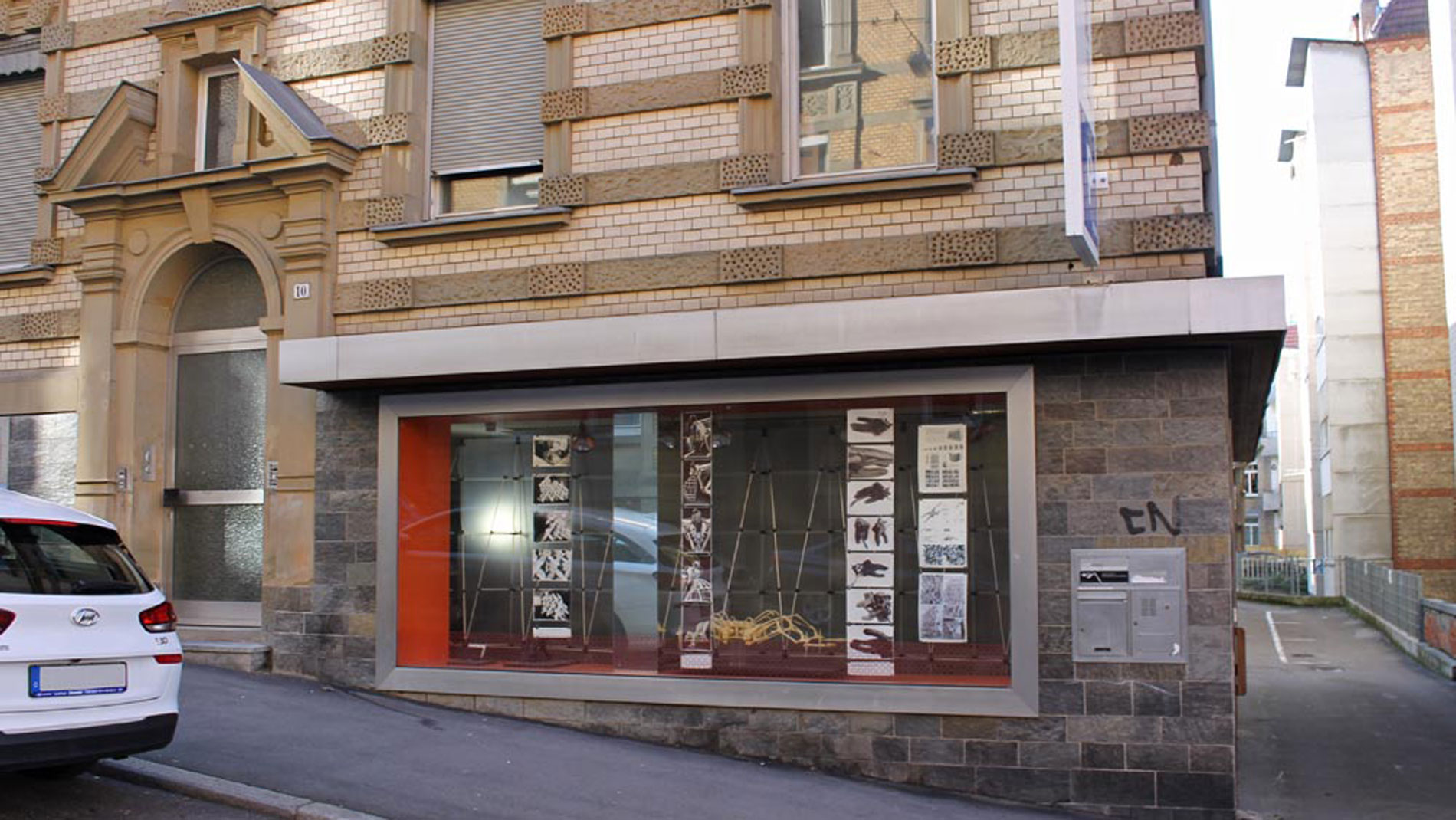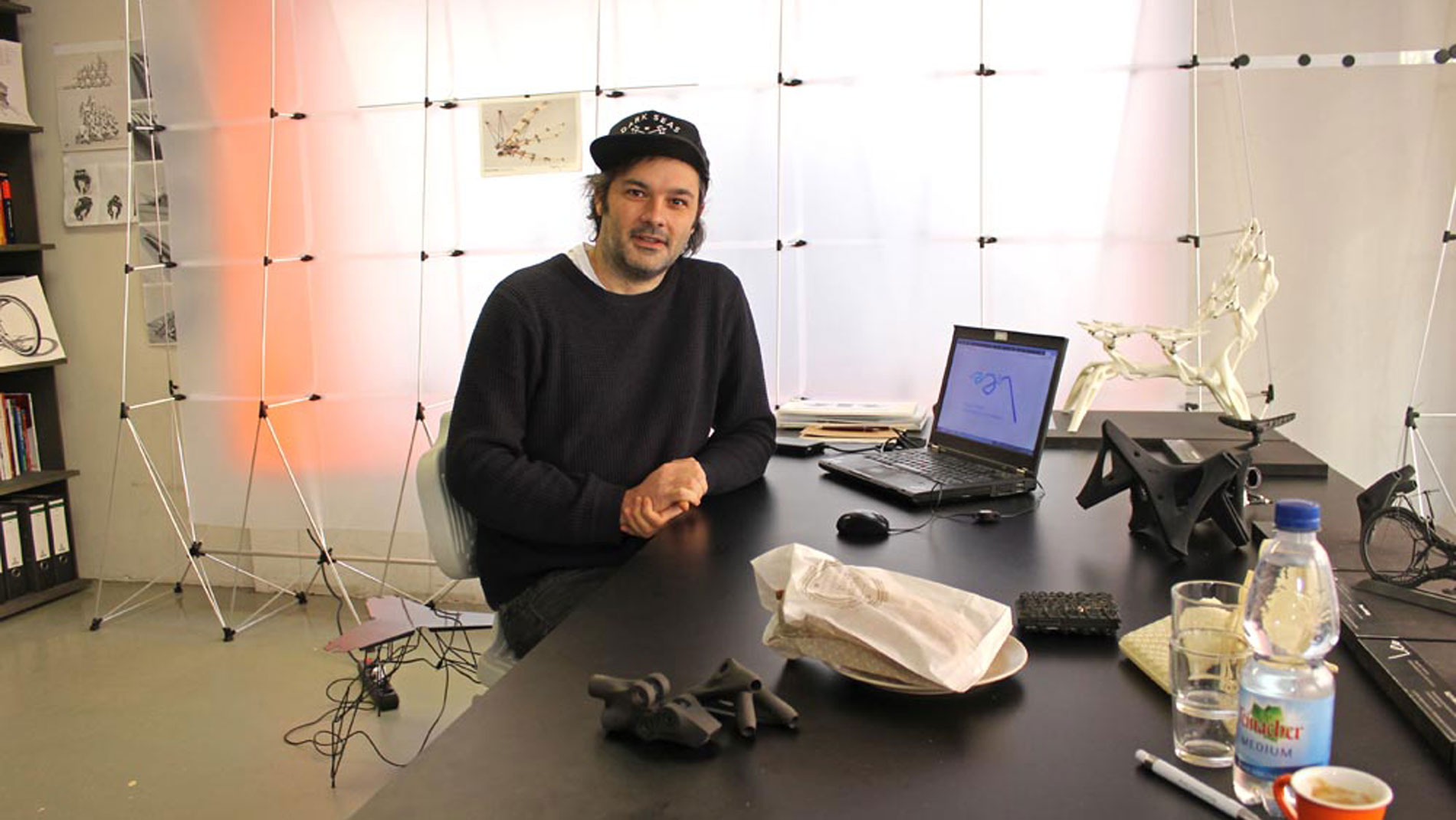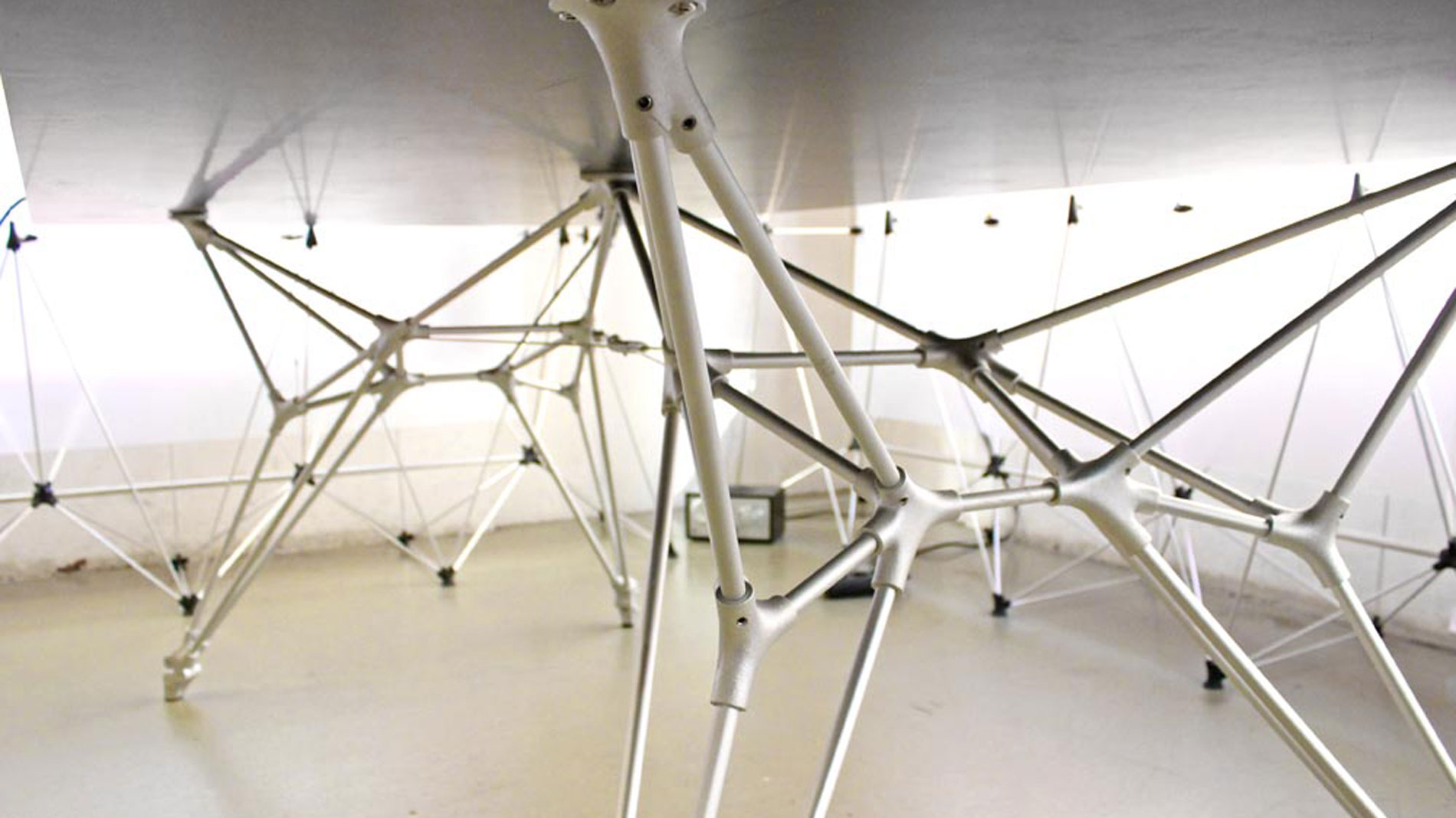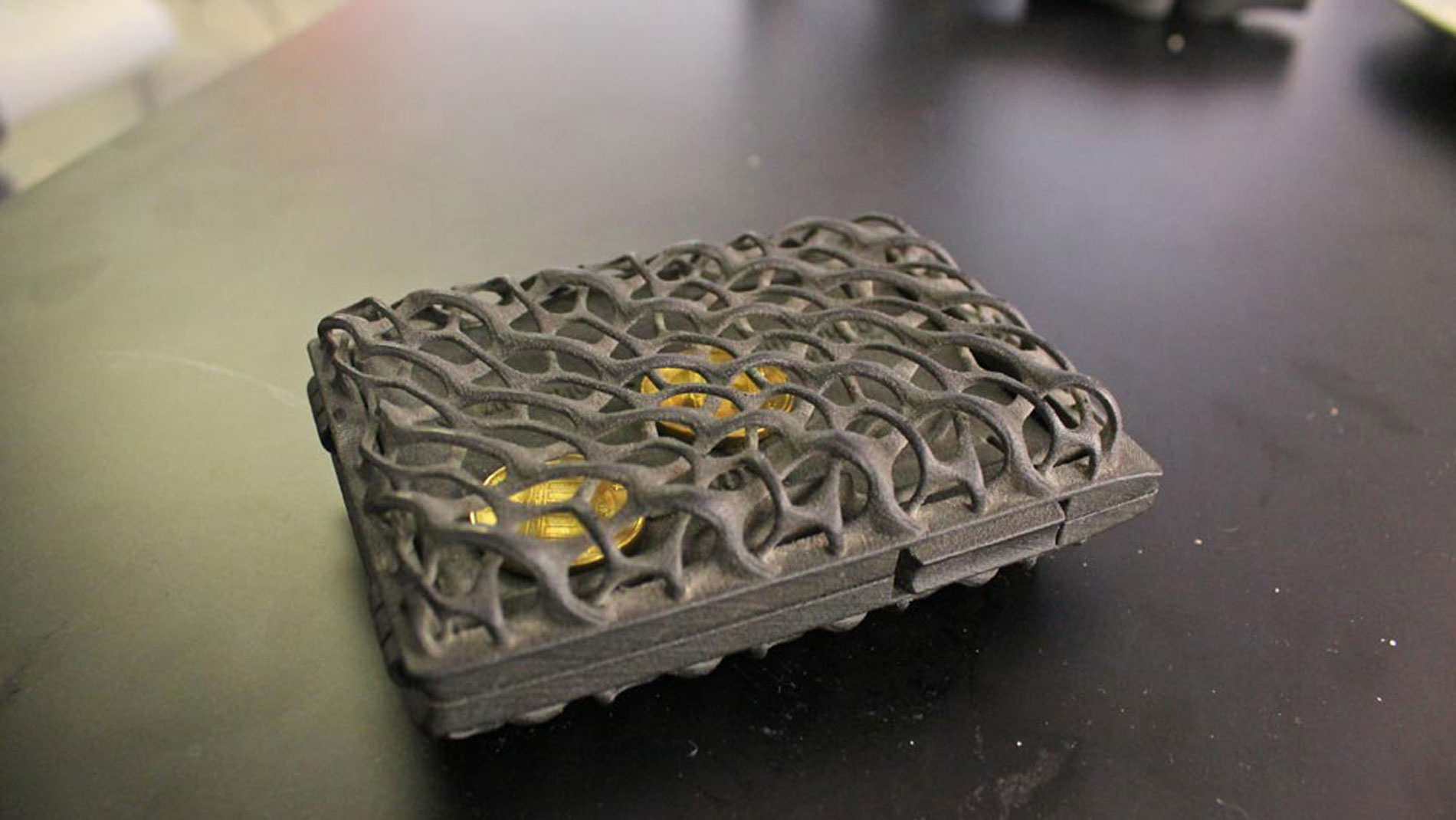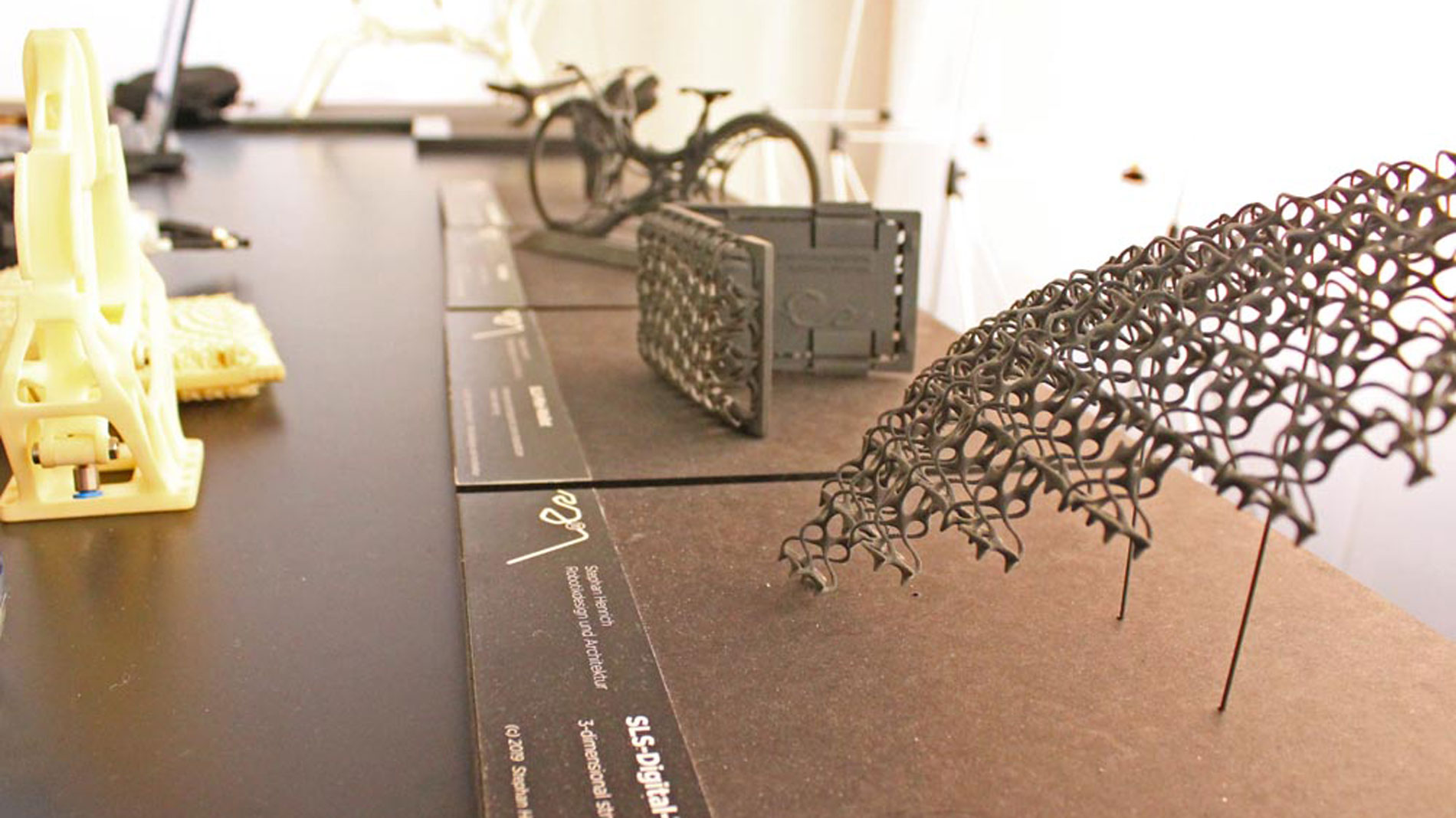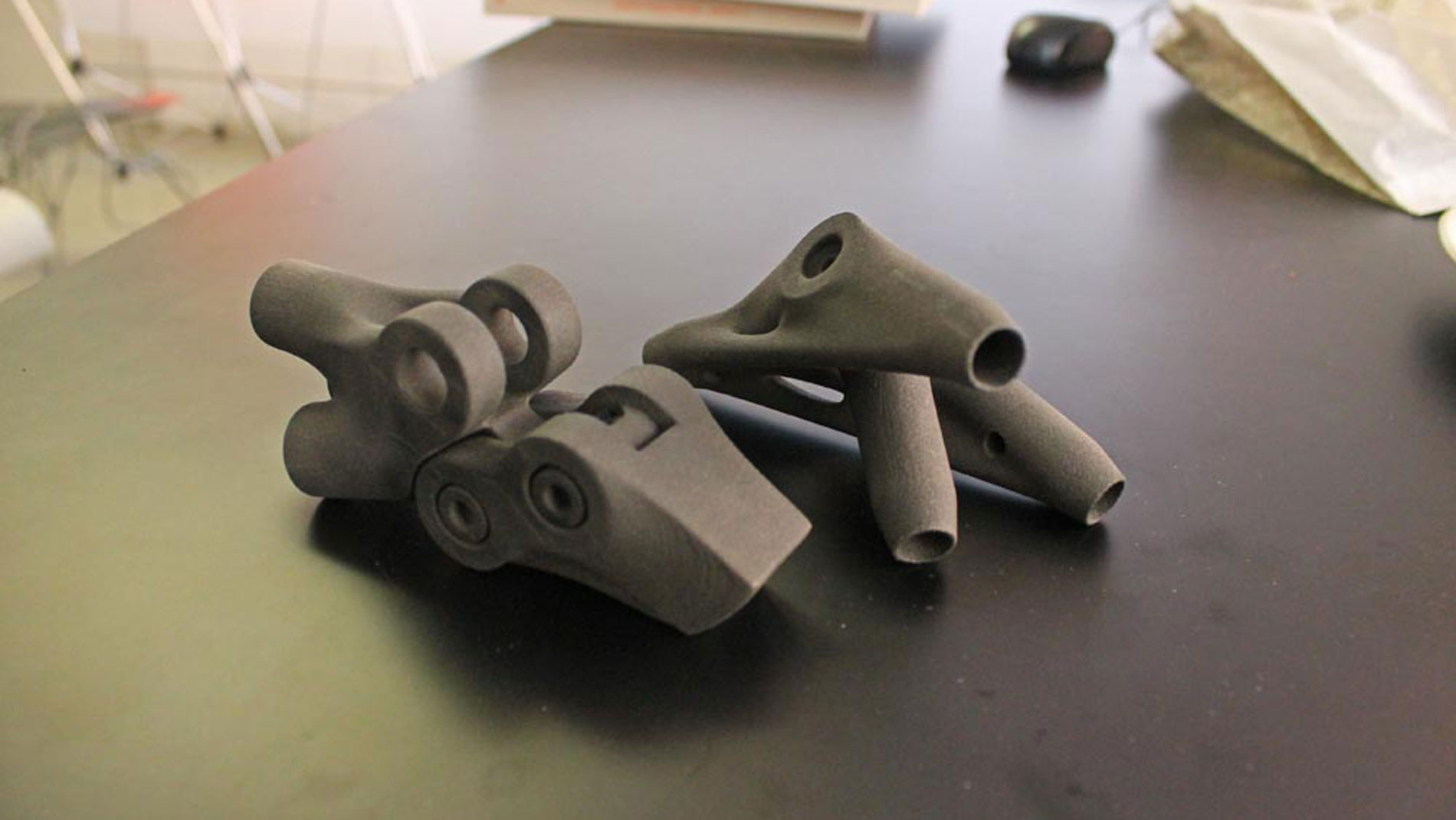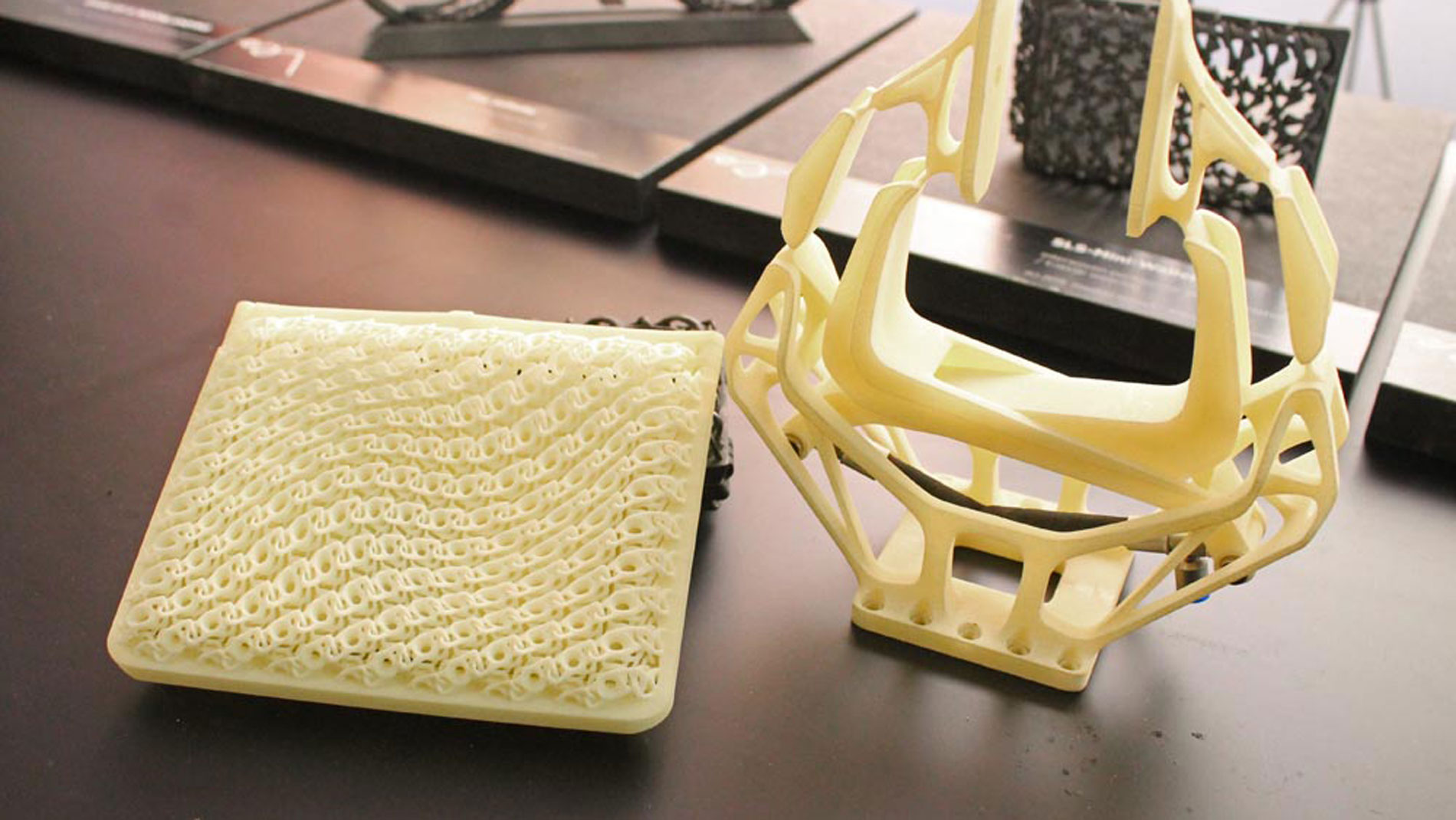 Before Henrich moved into his studio in southern Stuttgart, he had worked at various architecture firms, including in Berlin and Paris; he had also taught at universities in the United States and Austria. He had already come into contact with 3D Printing in 2004 and gone on to incorporate the technology into a skyscraper concept.
Henrich's affinity for 3D Printing has since resulted in a great many other concepts and projects that run a long gamut between art and real-world application. They include a lightweight 3D-printed gripper, a 3D printing head that can create objects on its own in open space, and a pen holder he designed for the robot of an artist in Paris. Attendees also had the chance to marvel at other projects – involving »The Infinity« (a futuristic bicycle), the fungus robot and wallet, and various 3D-printed surfaces, for example – at Sintratec's booth at Formnext 2019.
"Shorter production times, a great deal of design freedom"
This Swiss start-up, which develops compact SLS 3D printers, is happy to be working with Henrich because he and his complex designs are an ideal representation of its philosophy, »Print your mind«. »In his works, Stephan Henrich does an impressive job of combining what we consider to be the primary advantages of selective laser sintering,« affirms Sintratec CEO Dominik Solenicki. »Shorter production times, a great deal of design freedom, and the outstanding mechanical properties of SLS constructions are just a few ways in which this technology has opened up all-new design possibilities for creative minds like Stephan.«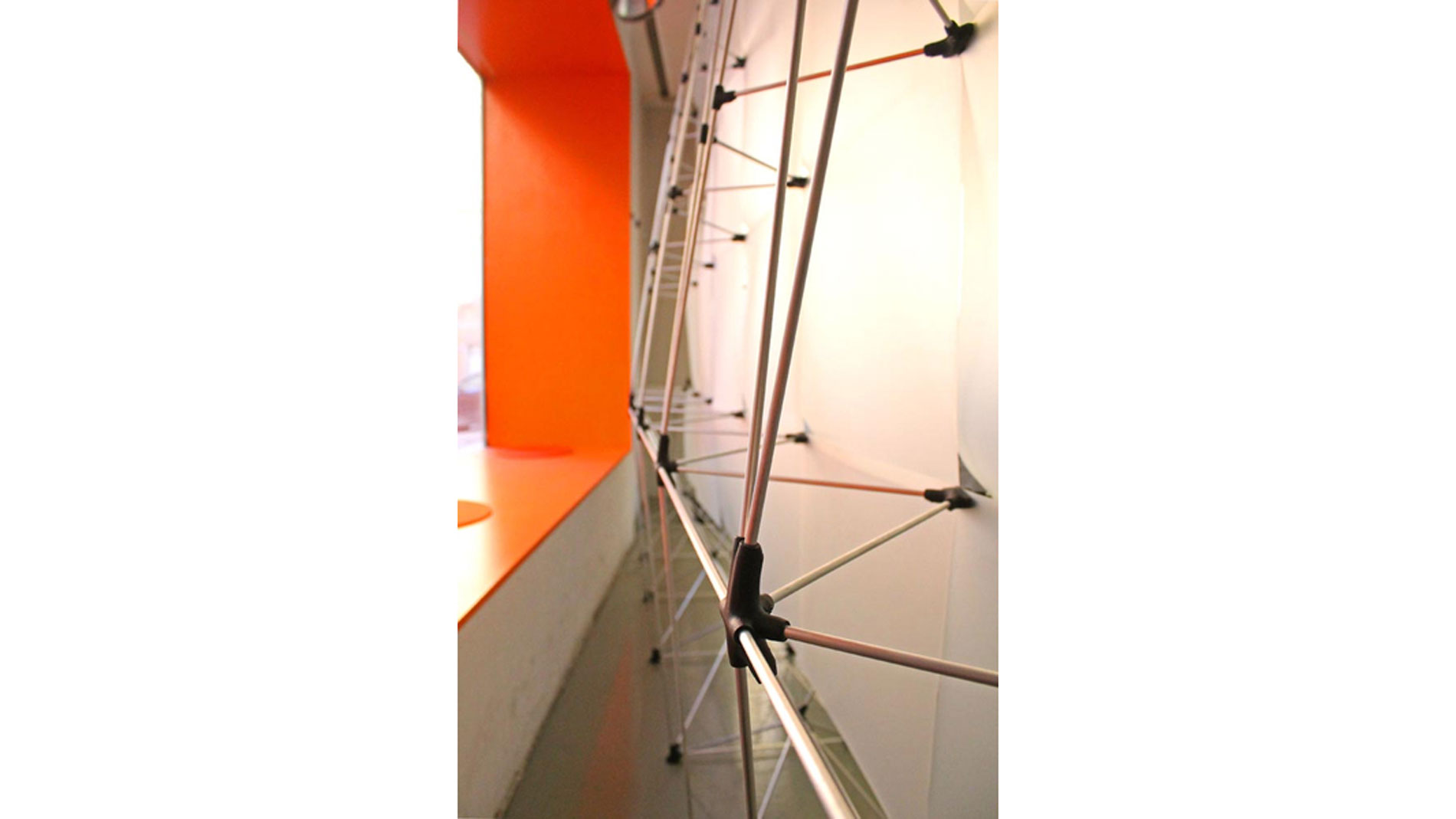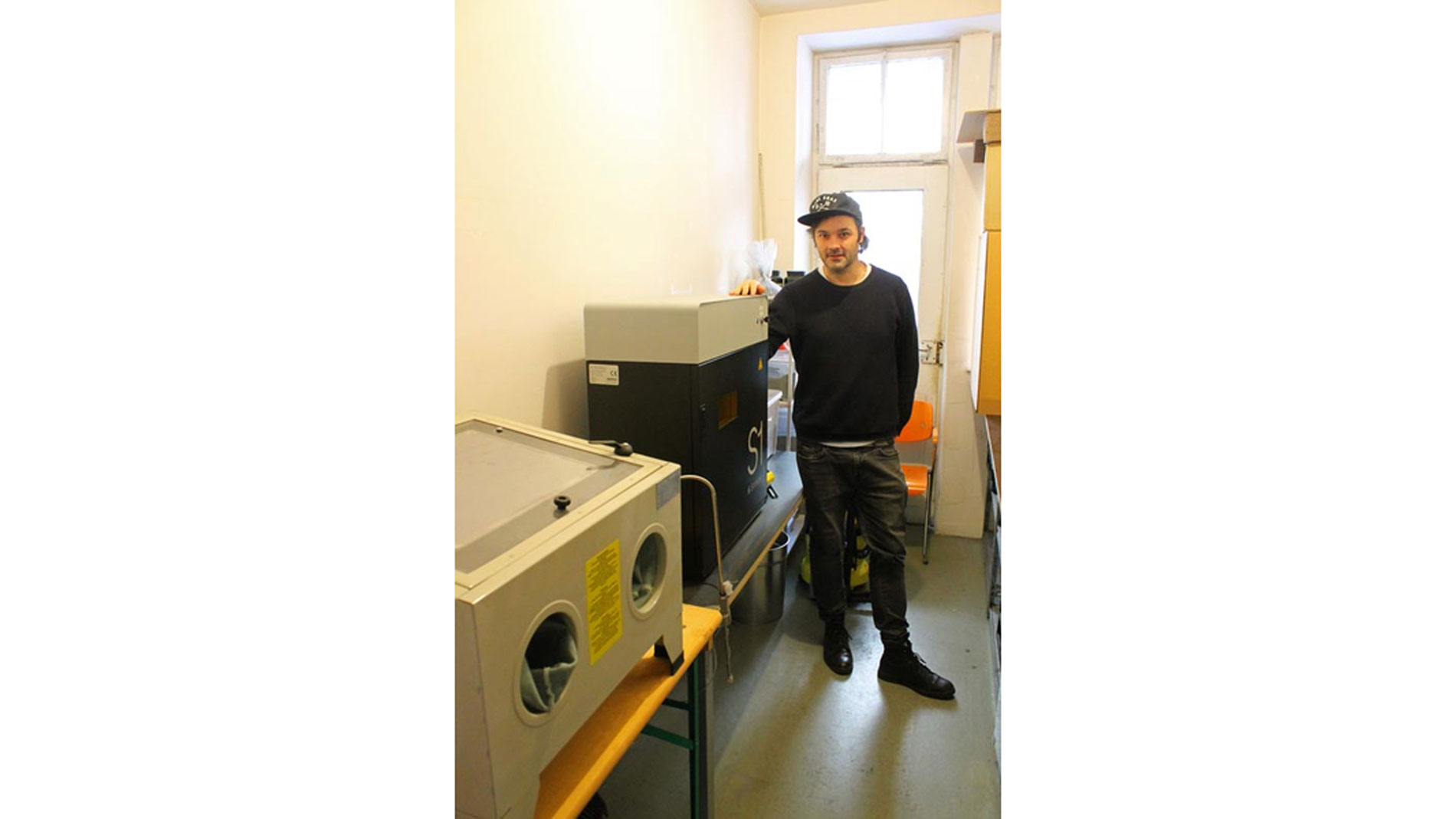 Although that creativity has certainly resulted in a wide variety of works, Henrich's efforts seem to be taking on a more practical focus since he put down roots in Stuttgart. »You have to have a few products that are adaptable enough to sell,« he points out. Luckily, Henrich can tap into a wealth of ideas far larger than the collection of creations that already inhabit his workspace. This is another area where 3D Printing has helped him along. He has the option to produce small quantities of objects quickly, either on his own or through a service provider. »For me, this is a dream job,« Henrich says.
Indeed, Additive Manufacturing has brought this free-thinking tech head closer to his purpose in life. It has been more than two years since Henrich used his earnings from a robotics project to purchase his Sintratec S1. »In some way, it was always a dream of mine to not just design or build things, but do everything in-house – from development all the way to sales,« he reveals.
Tags